Following a dramatic first day of Louis Vuitton America's Cup Challenger Playoffs Semi-Final racing on Monday, the action returns today [June 5] with four more scheduled races on Bermuda's Great Sound.
The major talking point from yesterday was a disastrous afternoon for Sir Ben Ainslie's Land Rover BAR when a technical issue with their wingsail forced the British team to retire early from their first race against Peter Burling's Emirates Team New Zealand.
The day then went from bad to worse for Sir Ben Ainslie and Land Rover BAR as they were unable to replace the damaged wingsail with their spare wingsail in time for their second race of the day, meaning they were forced to forfeit the tie to their rivals.
That meant that Emirates Team New Zealand won both races, their second one by default as Ainslie's Land Rover BAR were unable to make the start.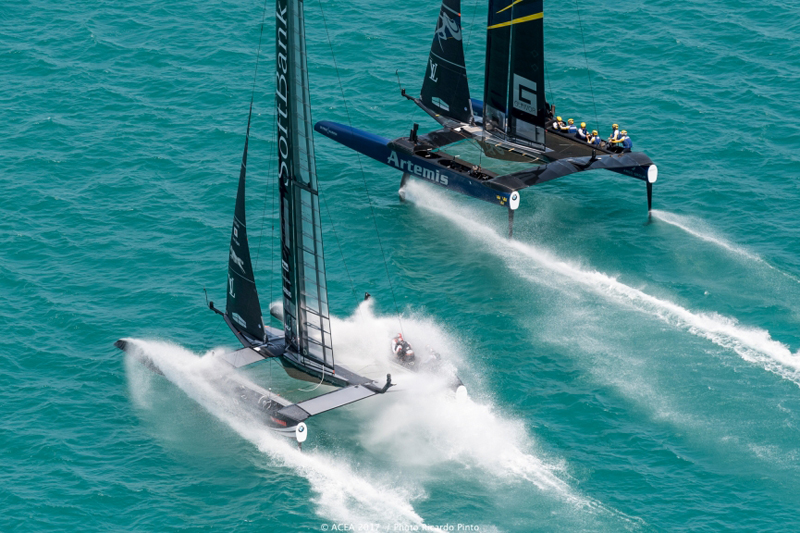 Despite already facing a 2-0 deficit, leaving Peter Burling's team only needing to win three more points to progress through to the Louis Vuitton America's Cup Challenger Playoffs Final, Ainslie is refusing to be beaten just yet.
"It is extremely disappointing to lose two races to Emirates Team New Zealand in that way but a positive to take is that we had some good gains in our speed and we will keep fighting all the way," said the determined British helmsman following the drama on Monday and ahead of resuming the battle with Peter Burling today in two more encounters.
"The shore crew will be working into the night to fix the wing. They have been fantastic throughout the whole competition and no doubt we'll come back stronger tomorrow."
In response, a sympathetic Burling has urged his Emirates team New Zealand team to stay focused despite enjoying a healthy advantage over Sir Ben Ainslie's team already.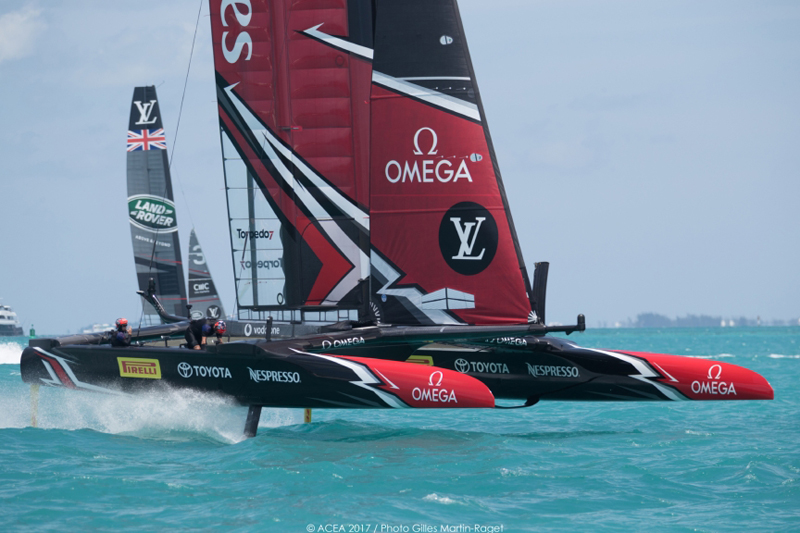 "It's never nice to see that sort of thing happen to anyone but unfortunately that's part of sailing," he said on a unfortunate day for his British rivals.
"Obviously for us it is great to take the two points and enjoy what proved an easy day for us.
"However, the pressure is certainly not off us. We've seen in the races so far that the teams are so close and things can change quickly so we have to stay focused going forward."
Meanwhile, the duels between Nathan Outteridge's Artemis Racing and Dean Barker's SoftBank Team Japan provided close competitive racing, both teams recording a win and a loss in their opening two races of the Louis Vuitton America's Cup Challenger Playoffs Semi-Finals.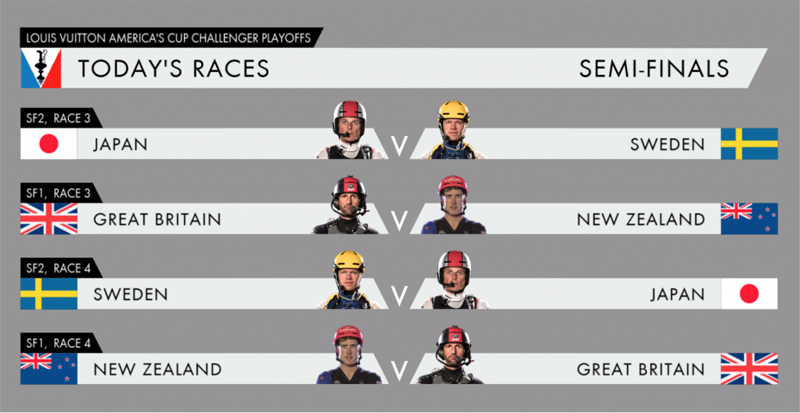 The pair will lock horns again today in two more races with the tie finely poised.
"We had a really good first race and we were delighted with our sailing to take that first victory," said SoftBank Team Japan helmsman Dean Barker, whose team won the first race, and led the second, until a bad manoeuvre handed the second race to Artemis Racing.
""It is never ideal to have a poor manoeuvre like that but we go away and refocus on what we need to do going forward."
In reply, Artemis Racing's helmsman Nathan Outteridge was satisfied with his team's performance overall in what proved a close battle against Dean Barker.
"I'm very happy overall to get a point on the board," said Outteridge following his team's two races yesterday.
"We had two tough battles but we sailed really well and I thought the pace of the boat was great throughout the day."

Read More About