The PLP held a press conference today [June 21] to announce more of their election candidates for the upcoming General Election with Jason Hayward to run in Constituency #19 Pembroke West, Graham Maule to run in Constituency #20 Pembroke South West, and Scott Simmons set to contest Constituency #32 Southampton West.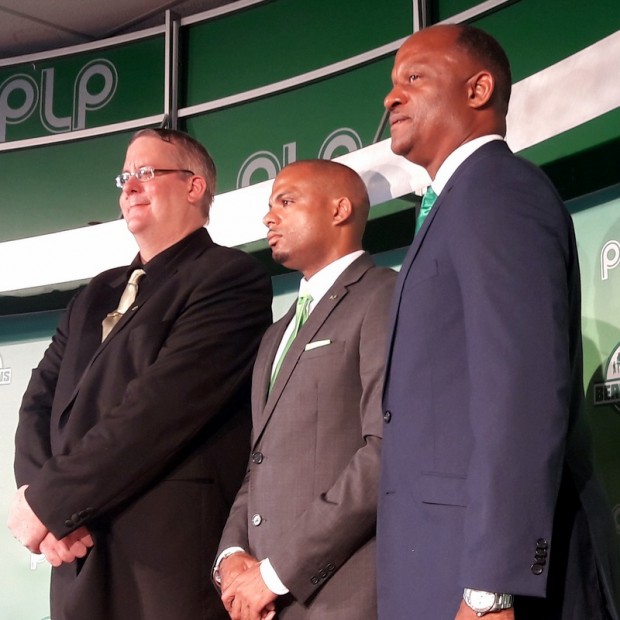 Opposition Leader David Burt's Remarks:
Good Afternoon and Welcome

I have the distinct pleasure of announcing three candidates today who individually represents a different element of the PLP, and who collectively, show the best of what the PLP stands for.

First I'd like to announce the Candidate for Constituency Number 20 Pembroke South West, Mr Graham Maule. Graham is a true Blue…or should I say 'true green' Bermudian!

Having been educated at Saltus Grammar, and then the Bermuda College, Graham's early development was varied and brought him into contact with Bermudians from all walks of life; as a result he celebrated every single opportunity to interact with his fellow Bermudians and took them as learning moments.

Graham and his parents subscribed to Bermuda's original economic promise, and so he studied Hospitality in Glasgow, Scotland at the University of Strathclyde's Hotel School; eager to be on the frontline of Bermuda's tourist industry.

On his return Graham not only jumped into the industry but he also deeply pursued his love for music and became the first Bermudian to successfully pass the Royal School of Music's Advanced Certificate in trombone. In keeping with his values, Graham decided to use his talents for his Community and for the last 30 years he has been a Member of the Somerset Brigade Band where he currently serves as the Vice President.

Under the PLP's "Our Stories, Our Bermuda" initiative, Graham wrote about the role of music in his life:

"I remain convinced that Music, as well as being the universal language, can also become a valuable tool to erase division and hatred while empowering Bermudian brothers and sisters of all races to eradicate injustice and inequality in Bermuda." It is for this reason that I know that Graham is equipped and suited to represent all of Bermuda.

Graham's musical ability has also given him the privilege…or should I say…his ability has given top international artists the privilege to work with Graham, in some of Bermuda's largest concerts and shows.

Graham has been a vocal protector of Bermudian opportunity and in 2015, when the OBA announced it was going to allow foreign artists to perform in Bermuda without requiring a local component; Graham wrote a column representing the Bermuda Entertainment Union. Graham wrote:

"My beliefs may not be shared by all, but I can unequivocally state that I am trying to make a positive difference for our island home by raising our awareness of the importance of music and the arts in Bermuda."

Graham, along with his wife April and their two children, represents that PLP supporter who is strong, fearless, stands for family; and who loves, sacrifices and overcomes for their Family and Community.

Scott Simmons is the Party's current Chairman and he has provided good and dedicated service to the PLP for years, which culminated in his ascension to the Party's Chair in 2016.

Scott is well known throughout our Island and has served Society in many different facets; from serving in the Police Service to serving in Hospitality; and from representing the PLP as PRO, to representing successive Premiers as Communications Consultant and Press Attaché.
Scott represents of that element of the PLP who places "service before self"…and who considers "the right before the reward".

Scott has often been seen on the flank, or on the shoulder of other leaders and his counsel has helped to advise PLP Leaders between 2003 and 2012. In addition to serving at the Cabinet Office, Scott served our Country on Government Boards of, Tourism, Works & Engineering, and Immigration. He also served on the Bermuda Land Development Company [BLCD] and the West End Development Corporation ensuring that stewardship of public land is utilised with future generations in mind.

When you are a committed, switched on, and capable executive member of the PLP, you seek out ways to serve and that is precisely what Scott has done at each turn. Whether it was serving on Party Committees, being the Public Relations Officer, or as Chairman when the Party needed stability, Scott has been a willing participant in every circumstance in which he thought he could offer assistance.

By running for elected office, Scott is seizing the chance to use his gathered experience and wisdom to represent the Constituents of #32, Southampton West, in the House of Assembly. Having offered himself in every role in the Party; having served two PLP Premiers in Cabinet; and after chairing the Party, Scott again seeking to serve; has earned the right to represent constituents of #32, and I am certain that his service to them will be as sincere and energetic as his service to the Party and our Premiers has been.
We are proud to announce Scott Simmons as the Candidate for Southampton West.

The PLP Candidate for Pembroke West almost needs no introduction at all.

If I may swerve a moment here; it just occurred to me that our Candidate does not need an introduction because he represents that final side of the PLP…the Champion of Labour! Had the OBA been a good government, one that respected its workers…in fact ALL workers; if the OBA had not hijacked the country in a disastrous airport deal, if the OBA had not tried to force-feed Bermudians its selfish vision of Immigration reform, and perhaps if the OBA had been basically decent and honest regarding furlough days, I might need to give a fulsome introduction of our Candidate…

But….as sure as night follows day, the OBA has governed in a way that has caused thousands of Bermudians to fear for their mortgages, their children's education, and their overall quality of life; to worry whether they will EVEN BE ABLE have the 'luxury' of living pay-check to pay-check…and so they set the stage for labour disputes, the formation of the People's Campaign, and the rise of Jason Hayward, President of the Bermuda Public Services Union [BPSU]; and our Candidate for Pembroke West.

Jason provides the final piece of the PLP element; fearless leadership and staunch support for workers. A product of the Berkley Institute and the Bermuda College, Jason went on to earn his Bachelor's and a Master's degree in Business Administration; yes, you heard me correctly, the Head of the Public Services Union has a master's degree in Business! Jason's effectiveness as a labour leader is directly related to his upbringing, his education, but more importantly his unbreakable bond to his people…us Bermudians.

To say he is unbending when it comes to Bermudan workers' rights is an understatement, but Jason has combined his fierce protection of workers with sound qualifications and promotion. In addition to leading the BPSU, Jason is also the President of the Bermuda Trade Union Congress, is an Executive Member of the Caribbean Public Services Association, and serves on the Board of the Bermuda Industrial Union's Credit Union.

Professionally, during 11 years at the Department of Statistics, Jason was heavily involved with producing the reports for Gross Domestic Product [GDP], the Retails Sales Index [RSI], and Bermuda's Balance of Payments. His experience in understanding the Government's accounting processes and procedures means he is well positioned to ensure the Public's purse works for everyone and not just those at the upper echelon whose voices are regularly heard.

Jason holds a Level 7 Certificate in Strategic Management and Leadership from the Chartered Management Institute, and served as an Executive Member and Officer of the North Village Community Club between 2007 and 2014.

As the proud father of 9-year-old twin boys and a 4-year-old daughter and a committed Christian, Jason personifies all that is promised if you work hard, put the people first and have strong moral fibre.
Jason Hayward Remarks:
Good morning to the Party Leader, David Burt, fellow candidates, family, friends and to the media.

I am humbled by the opportunity to represent the wonderful people of Pembroke West. I am committed to ensuring that the next PLP Government is one that has a priority focused on the people, their families and their communities.

I am here today representing the PLP's commitment to the labour movement. I am here today representing a commitment to putting the people first and most importantly I am here today representing the future of the Progressive Labour Party.

Over the past decade I have demonstrated my commitment to my community and the people of Bermuda, whether it be coaching a youth football team, participating in Salvations Army's food truck initiative or being a vocal advocate for equality, jobs and justice in Bermuda.

I am a strong leader that understands the importance of having a Vision that inspires and motivates people. The PLP's Vision 2025 is a framework that will lead Bermuda on a continued path of success. This is a vision that I boldly support, one that puts the people first and one that is in alignment with my personal constitution. I strongly believe that:

Quality and higher education should not be limited to only those who can pay for it.

Seniors should be able to enjoy their golden years in peace and dignity.

Healthcare should be affordable and universal.

Crime must be reduced by upholding the law and reducing the key contributing social factors.

A tax structure that is fair and just must be developed

An immigration policy that puts Bermudians first, while recognizing the legitimate needs of businesses to ensure growth and stability is essential.

It is important to broaden our reach for global investors and actively promote new economic opportunities.

I am no stranger to Pembroke West; I have spent many of my teen days roaming this area with a number of my childhood friends. These are lifelong friendships built from my time spent at the West Pembroke Primary School and the Western Stars Sports Club. This neighborhood was the mecca of ranging races, fishing and rock diving for me.

The residents of Constituency 19 can be assured that I will represent and uphold their best interest at all times. I will not waiver from my commitment to serve and I truly believe that serving people equates to serving God.
Graham Maule Remarks:
Good afternoon, to the Party Leader, David Burt, fellow candidates, Party members, family and friends

I am honoured to be here with you today. As the PLP candidate in Constituency 20, Pembroke South West, I am committed to working diligently to ensure that the concerns of every constituent are heard and action is taken to propel all Bermudians forward collectively.

Some of my constituents might ask, "Who is Graham Maule?"

I am a husband, a father, and a fifth generation Bermudian who has been actively contributing to the Bermudian community for more than thirty years.

I am a musician who understands that our Tourism industry has faced many challenges in the past, but which still has enormous potential for growth in the future. The importance of our Bermudian culture cannot be overstated. Our world class Bermudian entertainers and musicians must be actively involved and empowered to contribute to our future success as a tourism destination. I will work to ensure that we are nurturing and supporting Tourism development by focusing upon the key factor which has historically been proven to bring return visitors to our island again and again: our culture.

Many in Constituency 20 might not be aware that I was a participant in the Edinburgh Tattoo in 2003. This event was televised globally to approximately 100 million people. I will always feel very humbled and proud to be given the opportunity to represent my country on the global stage then, just as I will be in the future, if I am given the opportunity to represent Constituency 20 in the House of Assembly.

This pride that I have felt as a Bermudian has influenced my commitment to represent my community in the Bermuda Public Services Union, as a Chair, and in the Bermuda Entertainment Union, as a member. Both of these organisations have made valuable contributions to the island of Bermuda, and I personally feel, have encouraged me to provide higher standards of representation to the voters of Constituency 20.

I am convinced that a sustainable future for Bermuda has to depend upon the ability of all Bermudians to work towards a common goal. I believe in a Bermuda where we all recognise cultural differences within various groups, and still live in Harmony, with mutual respect shared between these groups.

This Harmony sustains me, and gives me hope for a brighter future for all Bermudians. Thank you, and may God Bless you all.
Scott Simmons Remarks:
Good afternoon everyone.

I acknowledge the presence of the Party Leader and this distinguished group of candidates assembled here today.

I would like to take this opportunity to thank the past and present Executive Committee members of PLP Constituency 32, Chairman David Greene, Deputy Chairman Delano Bulford, Joanne DeSilva, Deane Martin and Agent Sharleen Webb. Your devotion to the PLP and Constituency 32 and your hard work in the Branch over the years is appreciated by the Party and the members and supporters of the Branch. Thank you again for your service.

Since offering to serve in Constituency 32, Southampton West my ability to sit here today and accept to be the adopted candidate would not have been possible without the unwavering support of the PLP members and supporters of Constituency 32. While the list of members who stood in support of me is extensive, I wish today to acknowledge key members of the Branch who embodied the true characteristics of togetherness, community commitment and Party spirit. Mrs. Betty Wellman. Ms. Joyce DeRosa and Cal DeRosa, Diane Hunt, Mrs. Donna Smith, Mr. Nigel Burgess, Mr. Quinton White, Mr. Wendal Hassell, the Lambert, Greene, DeSilva and Landy families, Mr. Goodwin Bean, Mr. Michael Amory, Robert and June Horton and Mrs. Maxine Esdaille. I also acknowledge those Party faithful outside of the Branch who supported us, Pastor Leroy Bean, Rev. Nicholas Tweed, Mrs. Karen Dill and numerous party members who called or wrote emails. Your support was greatly appreciated.

During my canvass of Constituency 32, I have noted three main areas that I wish to focus on during my term as the Parliamentary Representative for the area should I be successful at the next general election. They are Seniors, Community Infrastructure and Jobs in Tourism.

Our seniors are our greatest natural resource and remain the foundation for the Bermuda that we love and enjoy today. For many of our seniors, life has distilled to a constant struggle to balance shrinking earnings to meet ever increasing financial responsibilities. I have met many in the Bermuda Housing Trust residential complex in Rockaway, Southampton and I commit to spend this term assisting my Party in finding solutions that will financially, physically and socially improve their quality of life, in recognition of their sterling lives of individual and collective service.

As the recent community activities at White Hill field demonstrated, a commitment by the Bermuda Government to work with Developers and the Committee at White Hill Field to fully redevelop that site is long overdue. It is my intention to make this redevelopment project a priority and work with all to restore this community treasure to its former glory.

And finally, the hotel redevelopment project at Morgans Point must demonstrate a commitment to Bermuda by Putting Bermudians First. As a provider of countless jobs for present and future generations of Bermudians, we must demand that the majority of jobs available at every stage of its redevelopment and operation be given to Bermudians. Our survival as a community depends on it.

Thank you.
Jason Hayward, who is well known through his work with the Union, will run in Constituency #19 Pembroke West, which is currently held by the OBA's Jeanne Atherden, who won with 61.77% of the vote in the last General Election. The results from C#19 in the 2012 election are below.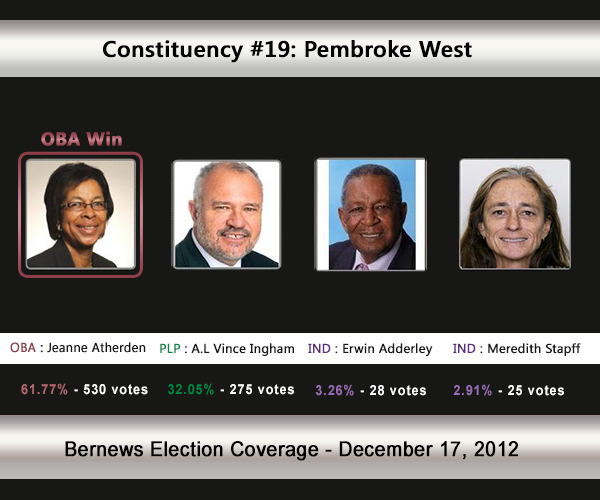 Graham Maule will run in Constituency #20 Pembroke South West, a seat which is currently held by the OBA's Susan Jackson, who won with 78.23% of the vote in the last General Election. The results from C#20 in the 2012 election are below.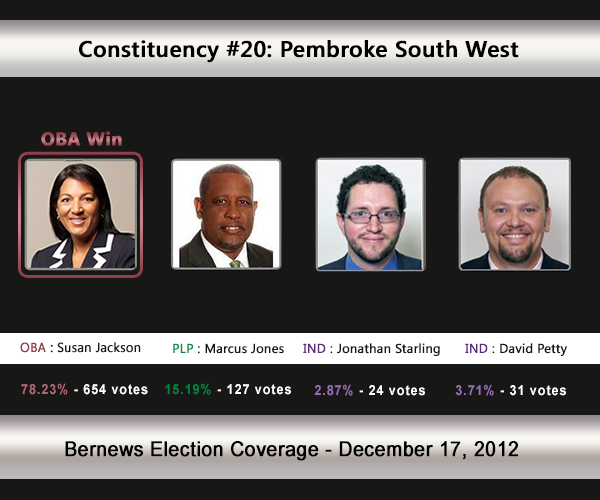 Scott Simmons is set to contest Constituency #32 Southampton West, a seat which is currently held by Randy Horton, who won with 61.81% of the vote in the last General Election. The results from C#32 in the 2012 election are below.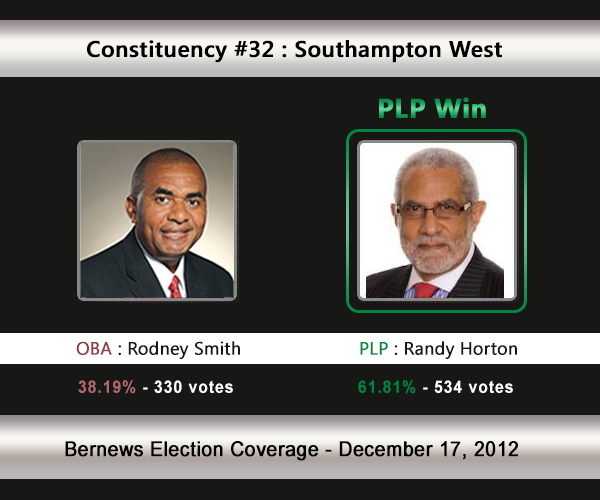 The previously announced confirmed candidates for the July 18th election are:
Constituency #1 St Georges North: Kenneth Bascome [OBA] Renee Ming [PLP]
Constituency #2 George's West: Nandi Outerbridge [OBA] Kim Swan [PLP]
Constituency #4 St George's South: Suzann Roberts Holshouser [OBA] Tinee Furbert [PLP]
Constituency #5 Hamilton East: Peter Barrett [OBA]
Constituency #6 Hamilton West: Simone Barton [OBA]
Constituency #7 Hamilton South: Sylvan Richards [OBA] Anthony Richardson [PLP]
Constituency #8 Smith's South: Rose Ann Tucker [PLP]
Constituency #10 Smith's North: Rev Dr Ernest Peets [PLP]
Constituency #12 Devonshire South Central: Craig Cannonier [OBA]
Constituency #13 Devonshire North Central: Fabian Minors [OBA]
Constituency #14 Devonshire North West: Glen Smith [OBA] Wayne Caines [PLP]
Constituency #15 Pembroke East: Scott Stewart [OBA]
Constituency #17 Pembroke Central: Andrew Simons [OBA]
Constituency #18 Pembroke West Central: Nicholas Kempe [OBA]
Constituency #19 Pembroke West: Jeanne Atherden [OBA]
Constituency #20 Pembroke South West: Susan Jackson [OBA]
Constituency #24 Warwick South East: Nalton Brangman [OBA]
Constituency #25 Warwick North East: Jeff Baron [OBA]
Constituency #26 Warwick South Central: Robyn Swan [OBA]
Constituency #27 Warwick North Central: Sheila Gomez [OBA]
Constituency #28 Warwick West: Jeff Sousa [OBA] Dennis Lister III [PLP]
Constituency #30 Southampton East Central: Quinton Butterfield [PLP]
Constituency #31 Southampton West Central: Crystal Caesar [PLP]
- Note: We apologize for lack of videos of today's rollouts, it is due to logistical issues on our side!

Read More About