The PLP announced three more election candidates this afternoon [June 15], with Dennis Lister III to run in Constituency #28 Warwick West, Quinton Butterfield to run in Constituency #30 Southampton East Central, and Crystal Caesar set to contest Constituency #31 Southampton West Central.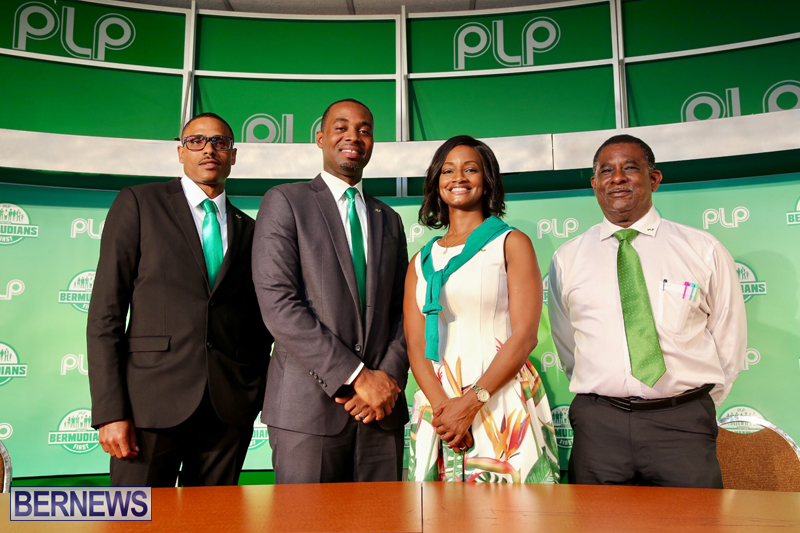 The 28-minute live video replay is below:
Dennis Lister III will run in Constituency #28 Warwick West, a seat which is currently held by the OBA's Jeff Sousa, who won with 63.4% of the vote in the last General Election. The OBA previously confirmed that Mr Sousa will be their candidate again this election. The results from C#28 in the 2012 election are below.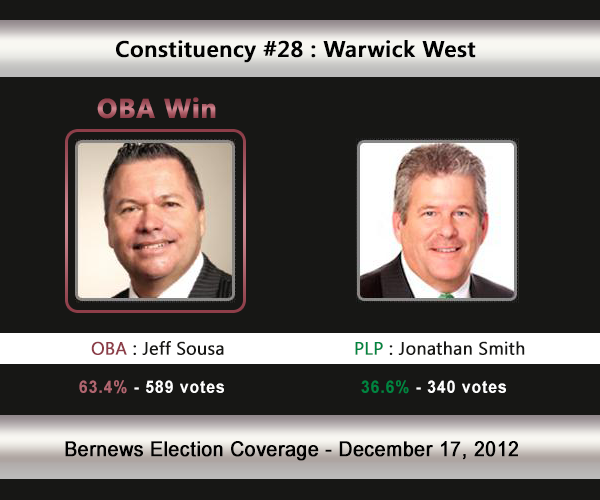 Quinton Butterfield will run in Constituency #30 Southampton East Central, a seat which is currently held by the OBA's Leah Scott, who won with 60.63% of the vote in the last General Election. The results from C#30 in the 2012 election are below.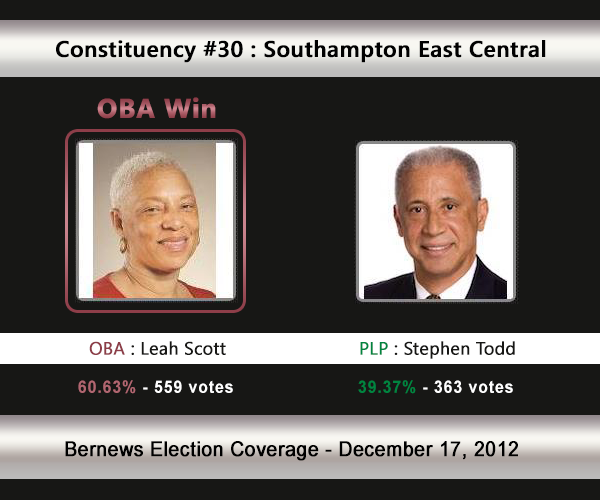 Crystal Caesar is set to contest Constituency #31 Southampton West Central. The results from C#31 in the 2012 election are below.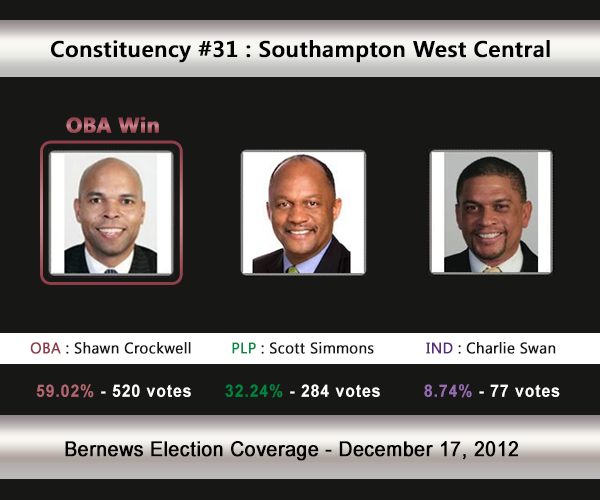 The previously announced confirmed candidates for the July 18th election are:
Constituency #1 St Georges North: Kenneth Bascome [OBA] Renee Ming [PLP]
Constituency #2 George's West: Nandi Outerbridge [OBA] Kim Swan [PLP]
Constituency #4 St George's South: Suzann Roberts Holshouser [OBA] Tinee Furbert [PLP]
Constituency #5 Hamilton East: Peter Barrett [OBA]
Constituency #6 Hamilton West: Simone Barton [OBA]
Constituency #7 Hamilton South: Sylvan Richards [OBA] Anthony Richardson [PLP]
Constituency #8 Smith's South: Rose Ann Tucker [PLP]
Constituency #10 Smith's North: Rev Dr Ernest Peets [PLP]
Constituency #14 Devonshire North West: Wayne Caines [PLP]
Constituency #17 Pembroke Central: Andrew Simons [OBA]
Constituency #18 Pembroke West Central: Nicholas Kempe [OBA]
Constituency #19 Pembroke West: Jeanne Atherden [OBA]
Constituency #20 Pembroke South West: Susan Jackson [OBA]
Constituency #24 Warwick South East: Nalton Brangman [OBA]
Constituency #25 Warwick North East: Jeff Baron [OBA]
Constituency #26 Warwick South Central: Robyn Swan [OBA]
Constituency #27 Warwick North Central: Sheila Gomez [OBA]
Constituency #28 Warwick West: Jeff Sousa [OBA]
Opposition Leader David Burt's Remarks:
Good afternoon to the members of the media, PLP colleagues, supporters and all of Bermuda

With the election 33 days away, the PLP is intent on presenting a winning team; a team with integrity, respect, experience and the determination to put the needs of Bermudians first.

Yesterday, I had the honour of introducing three new additions to our slate. Today, the three candidates you will hear from this afternoon each have their own unique skills and experience that will benefit their constituents and the island as a whole.

For Warwick West, Constituency 28 I'd like to introduce Dennis Lister III. Dennis is the product of a political family legacy. With politics instilled in in him from childhood, he understands the importance of service.

He is an impressive product of Bermuda's Youth Parliament, where he represented Bermuda overseas at the Commonwealth Youth Parliament. Upon completion, to give back what he was given, he returned as a counselor for the next generation of youth parliamentarians.

Dennis has served in the Bermuda Regiment and is an active member in the Seventh Day Adventist Church. I know that his experiences at both have taught him to appreciate and respect cultural, political and economic differences and that all Bermudians deserve the best opportunities in life.

Dennis attended the Bermuda Institute and Oakwood College in Alabama and is employed in the local banking industry. His service to the community includes many years spent on the Bermuda Road Safety council. His time on the inaugural Youth Tourism Board allowed him to develop a great appreciation for our tourism product. As an active member of the Somerset Trojans' football team, he shares my belief that if we invest in our community and sporting clubs, we can reverse the troubling increase of anti-social behavior and gang violence that is plaguing Bermuda and continues to cause pain to so many families in our community.

A dedicated party member, Dennis has served as Deputy Branch Chair where he showed commitment to the principals and values of the PLP and the community.

For Constituency 30, Southampton East Central, I am delighted to introduce Quinton Butterfield. Quinton is the owner-operator of the Central Diagnostics Medical Lab, which has provided medical services to the community for 30 years.

Quinton's legacy of service is impressive. He has been a member of the Board of Education and Deputy Chairman of the Bermuda College Board. He has also contributed his time to the Professions Supplementary to Medicine Board as Chairman and as a member of the Air Operations Board.

Quinton freely gives of his time to all who seek it. In the Southampton Seventh Day Adventist church, he has provided much guidance as a Head Deacon.

He is a success story of the Bermuda Technical Institute, going on to graduate from Oakwood University and winning the Distinguished Alumnus Award at MeHarry Medical College.

Quinton will no doubt bring much wisdom and compassion to this campaign. His experience shows his willingness to listen and to act in the best interests of all.

For Constituency 31, Southampton West Central it is my pleasure to introduce Crystal Caesar. Crystal brings a fresh bright spark to politics and getting to know her over the past few months has been a privilege.

Crystal is the Financial Controller at ASW Law. Her local and international professional experience as a certified public accountant makes her a great asset to the PLP and to Bermuda.

She has broad work experience having worked in the International Finance Division of UPS' headquarters in Atlanta and in the Insurance Division of the Bermuda Registrar of Companies. Her work at the Bermuda Monetary Authority in the Banking regulation division and her many years' experience in positions involving credit financing and relationship management at HSBC Bank Bermuda Limited provide her with a deep understanding of financial matters, making her an asset to us all.

From an early age, Crystal has been involved in giving to the community starting from her time as a Girl Guide, extending to her involvement with Delta Sigma Theta Sorority and her contributions to the Board of Education where she served as Chair of the Scholarship Committee for two years. To name but a few, she has also served on the Board of Governors at the Bermuda College and the Bermuda Arts Council. A Justice of the Peace and a former Youthnet mentor, Crystal exemplifies the best of Bermuda.

Crystal is a proud product of The Berkeley Institute and the Bermuda College. She holds a Bachelor of Business Administration in Accounting from Georgia State University and I know her accomplishments and experience will put her in good stead to represent the people of Constituency 31.

It has been my privilege to stand before you today to present these three candidates, who I know will do all Bermudians proud in this election season and beyond. The PLP is focused on ushering in a new type of leadership that, in government, will put Bermudians first.
Dennis Lister III Remarks:
Good afternoon to Party Leader, the Hon. David Burt, fellow candidates, Party members and supporters, and to family, friends and the media. First I would like to thank the PLP for giving me this opportunity to stand as a candidate for Constituency 28, Warwick West in the upcoming election. I have worked for many years behind the scenes in previous election campaigns and at the branch level; most recently I have served as the Deputy Chair of Constituency 33. The experience I have gained will help me to serve the constituency of Warwick West and Bermuda as a whole.

As I have strong family ties to Warwick, the responsibility I have to the constituents is a personal one for me. As I walk through constituency 28 and I hear the concerns and ideas that have been expressed to me. And with your help we will work together to make this a better community for all of its residents. I have served on the Bermuda Road Safety Council and the number 1 issue we struggle to tackle is impaired driving. Impaired driving is a very serious problem in Bermuda and I encourage everyone to think choose life. I support road side sobriety checks and encourage the police in their fight against impaired driving.

As a young person offering myself in this capacity, I hope to be a role model and to show fellow young people that it is necessary for us to get involved in the political process. I am honored to represent the Progressive Labour Party in this most important general election.

Finally, I want to encourage every voter to come out on July 18 and vote. We all have a voice in this island – let's make your voice, our voice count.
Quinton Butterfield Remarks:
Good Afternoon Party Leader, David Burt, Ladies and Gentlemen, members of the media.

I am proud to be here today as the Progressive Labour Party candidate for Constituency 30, Southampton East Central.

I was a member of the PLP team of 1998. I was there when we celebrated the very first PLP government under Dame Jennifer Smith. I have never seen so much hope and excitement in what was then the New Bermuda.

I want this again, and we need this again, and intend to fight for it along with my PLP colleagues.

The question is how will we do this:

Our Vision 2025 maps out the PLP Plan for Bermuda.

The PLP is the Party for all of Bermuda and all Bermudians. Our membership encompasses all and we work on behalf of all. We have pledged our commitment to bipartisan economic and immigration reform to ensure Bermuda is well positioned for our children and children's children. We understand that some issues need to be separated from the cut and thrust of politics and be put before all stakeholders for input and consultation.

Bermuda is going through difficult times and the only way out is for our leaders to be honest and true to our people as well as to our guest workers and visitors alike. Our people must understand we must make some difficult decisions. This is a balance we must achieve. We must revive our economy to ensure Bermudians have the ability to succeed and share in Bermuda's success. We must become a community where Bermudians feel supported and encouraged by their government and not one where we feel we are second class citizens to guest workers and foreign investors. However, we also must ensure that guest workers are welcomed and that their investments in our island are appreciated.

We need a Government that is not just for those who are doing well, but also for those who need a helping hand; A Government who will educate our people on how to care for themselves, their families and neighbours; a government who will focus on the people and the social ills plaguing our communities and not just on big business.

The past 5 years of an OBA government have been a vast disappointment. The doubling of debt, loss of 2000 jobs and secrecy of government contracts has gone against every promise they made prior to 2012. Bermuda deserves better and I believe that the next PLP administration will deliver.

I want to be part of that team and I ask the residents of Southampton East Central to support me in this journey.
Crystal Caesar Remarks:
Good afternoon to the Party Leader Mr. David Burt, fellow candidates, family, friends, and members of the media.

I am very pleased to be a first-time candidate for the Progressive Labour Party and to serve Constituency 31 Southampton West Central.

As I reflected on the past four years of the OBA government I felt a distinct sense that my interests and concerns were far from a priority. My passion for our country forced me to move from the role of observer to activist. The proposed Pathways to Status legislation and the resistance to it was a crystalising moment for me and taught me a great deal. One lesson is that our involvement in the political process empowers us to make the change we seek to benefit the community.

And we certainly need change.

I believe we can and must do better to reduce the disparities between the two Bermudas, and to ensure that we all have access to opportunity. Too many are being left behind, and in many cases we are suffering from an exodus of many young, talented, and intelligent people. We cannot afford to lose these young Bermudians.

Vision 2025 speaks to the PLP plan for our country. There is much that needs to be done and it will not be easy. However, we must pull up our sleeves and get to work.

I want to see a Bermuda where my two daughters can thrive as citizens of this country; a Bermuda where our education is as much a priority as international business and where schools are given sufficient resources for all children to be successful members of society; where healthcare is affordable and manageable; a Bermuda where our seniors live in dignity and are provided for after decades of building this country; where immigration policy strikes the right balance between encouraging economic growth and strengthening Bermudians.

In the coming weeks, I eagerly look forward to meeting the voters of Southampton West Central, both listening to their concerns and sharing my views on how we can make Bermuda better.

This is a critically important election for the island and I am honoured to be a part of the team which will put Bermudians first.

Read More About