One nation will be crowned champions today [Wednesday] as eight teams prepare to resume competition in the second and final day,of the Red Bull Youth America's Cup Finals on Bermuda's Great Sound.
Day one of the 2017 Red Bull Youth America's Cup Finals belonged to Land Rover BAR Academy who seized the early advantage and now sit on top of the leaderboard with 28 points heading into the final day after two second places and a first in the three day-one races.
Leading the chasing pack behind the British team are Switzerland's Team Tilt on 21 points followed by Team France Jeune [21pts], Artemis Youth Racing [20pts], NZL Sailing Team [18pts], TeamBDA [18pts], SVB Team Germany [15pts] and Spanish Impulse by IBEROSTAR [15pts]
However, with three more races scheduled for today, and a maximum of 30 points still on offer, all of the eight nations remain in contention of being crowned the 2017 Red Bull Youth America's Cup Finals champions.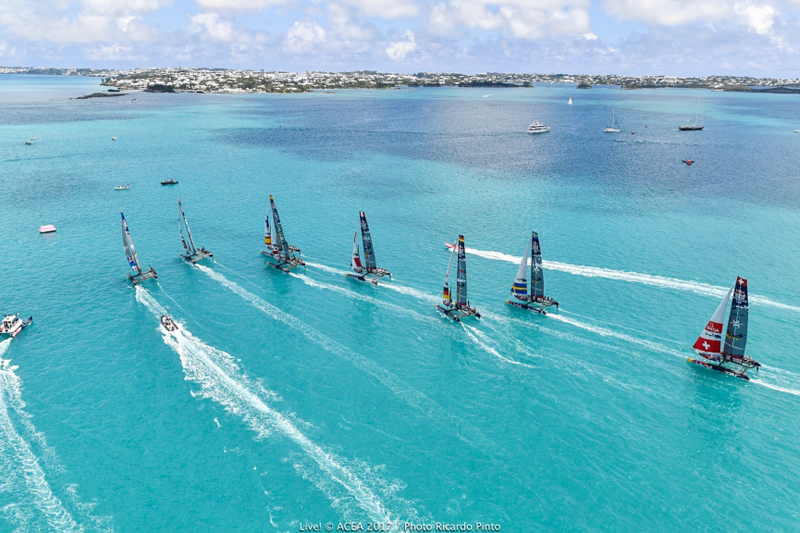 That includes TeamBDA whose incredible story in the 2017 Red Bull Youth America's Cup continued in fine style when they sealed a fairytale victory in the first race of the finals against their seven competitors.
Having given the packed Grandstand and all the TeamBDA fans in the America's Cup Village a huge reason to cheer in race one, races two and three proved tougher for the young team, who head into today in sixth place.
"It is hard to describe exactly how it felt crossing the finish line in that first race.It was just an incredible feeling which feels you with so much pride, it's something I'll never forget," said TeamBDA skipper Mackenzie Cooper, reflecting on his team's fairytale moment in front of their home crowd in the first race of day one of the Red Bull Youth America's Cup Finals.
"That first race was those incredible fans and hopefully we give them more to cheer.
"We showed in each of the races that we are capable of competing against anyone out there and even when we're behind we can claw some places back which is encouraging.
"Anything can happen, we've already seen that and so we won't stop believing we can win this."

Read More About