Bermuda Heroes Weekend kicks off tonight with the highly-anticipated 5 Star Friday Event at Bermuda National Sports Centre.
This event is headlined by D' All Starz, and will feature performances by Blaxx, Ricardo Drue, Teddyson John and Tizzy.
Special guest performances will also include Lyrikal, Sekon Sta, King Bubba and the reigning International Soca Monarch King, Voice – all of whom will be backed by the veteran Soca band.
Speaking with Bernews during band rehearsals earlier this afternoon, Ricardo Drue expressed his excitement on returning to Bermuda for the second year in a row.
"I was here last year for the first time to perform, and on that show I was backed on tracks. The performance was really well-received by the Soca fans and I had such a great time performing that I thought to myself 'our live band experience is something the Fans would love'. Everyone thought it would be an excellent idea to have D' All Starz join the mix in 2017, and now here we are."
Ricardo Drue during band rehearsals at Bermuda National Sports Centre earlier today. He will perform many of his Soca hits alongside Blaxx, Teddyson John and Tizzy of D' All Starz at the 5 Star Friday event tonight.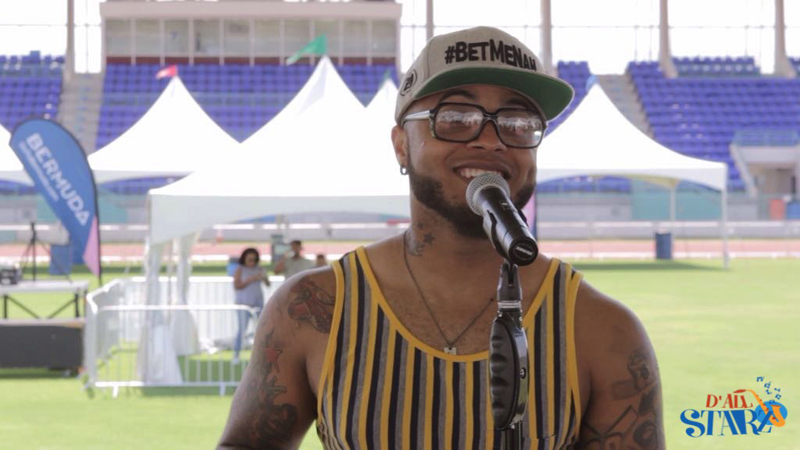 Musical Director for D' All Starz, Carlysle "Juiceman" Roberts said that the audience can expect high energy and a quality performance full of Soca Hit6s in tonight's showcase, which forms a part of D' All Starz Season of Brass 2017 tour.
With this being the band's 4th performance in Bermuda over the years, Roberts is looking forward to starting the Carnival Weekend off with a bang for the people of Bermuda.
"Whenever we visit here, we always have a great time. The people here enjoy Soca music and it shows at every event that we've done – they show us so much love, and this time around with Jason [D'General Sukdeo] and his organizing team has been no different. D' All Starz is really looking forward to hitting the stage and giving the fans a classic Soca live band experience."
For Drue, who is the current Antigua Soca Monarch King, Bermuda Heroes Weekend has the makings of a sensational Carnival experience.
"I absolutely love Bermuda – the beaches, the people, the hospitality, the weather – it's a great tourist destination that has something for everyone," said Drue.
Soca Artiste Blaxx also agreed. "In the last few years, the appreciation for Soca Music here in Bermuda has been on the rise.
"We are hearing more and more great things about Bermuda Carnival in the regional music industry, and that kind of recognition could only mean bigger and better things to come from this island. We are happy to be back to give a memorable performance to the masses."
Soca Fans can also look out for D' All Starz's Ricardo Drue and Teddyson John on Carnival Monday, where they will join thousands of masqueraders on the road for the Parade of the Bands.

Read More About
Category: All, Entertainment, Music, News