[Updated] The PLP held a press conference today [June 22] to announce more of their election candidates for the upcoming General Election, with Vance Campbell to run in Constituency #9 Smith's West, and Rev. Dr. Emilygail Dill set to contest Constituency #23 Paget West.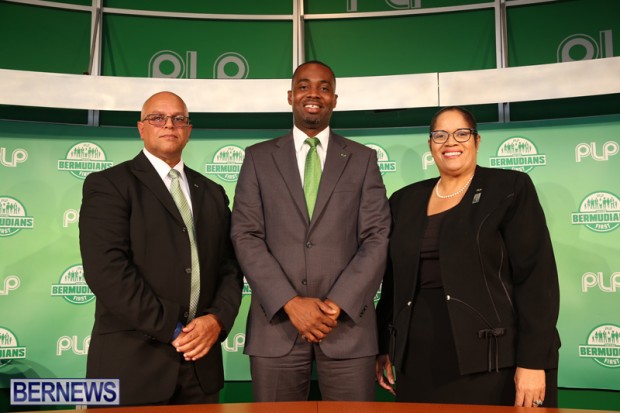 The 15-minute live video replay is below
Update: Vance Campbell's Remarks:
Good Afternoon Party Leader, the Hon. David Burt, Fellow Candidates, Party Members, Family, Friends, Members of the Media and the Voters and Residents of Smith's West.

Growing up here in Bermuda, my mother set high standards for us, she worked very hard and expected much from us. Any attempts by us to resist her plans to drive us forward, thankfully, met with failure. Thank you mom for having the vision to see the end, whilst I was still plodding my way through the beginning.

Today, I am pleased and honored to again stand as the Bermuda Progressive Labour Party Candidate for Constituency 9 Smith's West, offering myself in service to my community, and, thereby setting a high standard for my kids to follow.

I stand here ready, willing and able to represent all who reside in the Smith's West community. If elected as your Member of Parliament, I will work tirelessly on your behalf. I will be available and accessible. My office will be located in your homes and in the streets of Constituency 9 as we meet together to discuss the issues, both local and national. Together, we will come up with solutions or recommendations and we will not rest until the issues have been satisfactorily addressed.

As your Member of Parliament, I will work for the establishment of a Business Advisory Committee consisting of the appropriate Government Ministers, their Technical Support and an Economist. This Committee would meet on a quarterly basis with representatives from the Local and International Business Communities to discuss and share ideas on the Government's Planned Policies that will impact those businesses. In addition to creating the environment that will promote the growth in Local and International Business, it is my belief that Bermuda must diversify its economy. I am in support of the formation of an Economic Diversification Unit, as outlined in my Party's Vision 2025 Reply to the 2017-2018 Budget.

We must ensure that the Public Education System is of the highest quality. Teachers must receive all of the necessary supplies and tools to deliver the best classroom experience. We must have a Public Education System that prepares our children for higher learning and ultimately equips them with the necessary skills to be competitive in the job market. One of the specifics of any reform must include a re-establishment of the Technical Institute. A Technical Institute will reignite interest in the trades and provide more options for our students when it comes to choosing a career path. The PLP is committed to education reform and contained within our Vision 2025, we will create signature schools which will help our students succeed according to their passions and interest levels while receiving solid core education. The reintroduction of the technical institute is included in this plan and I will be very happy to see this come to fruition. We must also commit ourselves to improving and maintaining our school physical plants so that our teachers and children are not exposed to toxic elements.

I believe that I will provide the representation that you require and deserve. I look forward to meeting you on your doorstep to discuss the above issues, as well as others, and I encourage you to contact me by telephone at 591-2344 or by e-mail at campbell@northrock.bm.

Obrigado por me dar a oportunidade de Ihe servir. Thank you for giving me the opportunity to serve you.
Rev Emilygail Dill's Remarks:
Good Afternoon,

To The Hon. David Burt, JP MP, Leader of the Progressive Labour Party, Colleagues and the People of Bermuda; It is with a sense of great expectancy that I assume the candidacy of Constituency 23 for the Progressive Labour Party.

I am a lifelong educator, Minister of Religion and Arts Professional with a plethora of experiences both here in Bermuda and overseas that have honed my skills in a variety of disciplines and effectively prepared me ,to represent you, the people of Paget West as your Member of Parliament.

Paget West is an important component of the Bermuda electorate with a very diverse populace comprised of individuals from all stratas of society. Some would say that in some ways we best represent a microcosm or replica of the two Bermudas that we have heard so much about lately. However, I am bodacious [courageous] enough to believe that together we can bridge the huge divide. I believe that the people of Paget West and Bermudians in general are people of heart who truly love Bermuda and are committed to making it a place where all of its residents can feel safe and each Bermudian will have access to a good education, affordable healthcare, and the opportunity to rise to their fullest potential.

I know the task ahead of us is not an easy one, but together we can move forward to build what Dr. Martin Luther King referred to as the beloved community.

I believe that the PLP is best suited to represent the interests of all of the residents of Constituency 23 and if elected I promise to ensure that your voice is heard, your perspective is considered and your expertise and experience respected and valued as together we work to create sustainable solutions to the challenges that confront US.
Mr Campbell is running in C#9 again, a seat which is currently held by the OBA's Trevor Moniz, who won with 66.18% of the vote in the last General Election. The results from C#9 in the 2012 election are below.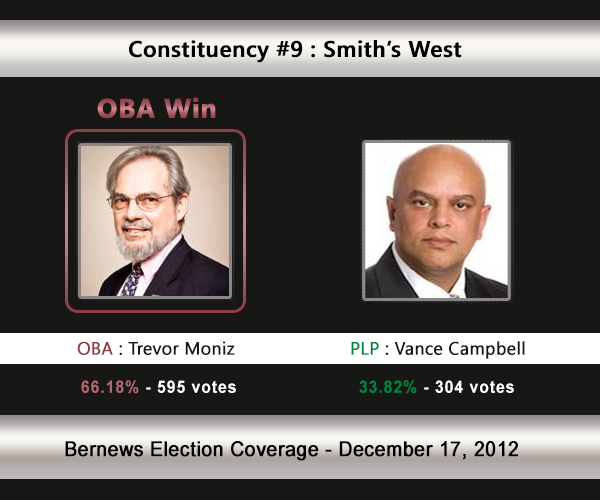 Rev Dill is running in C#23, a seat which is currently held by the OBA's Pat Gordon-Pamplin, who won with 76.99% of the vote in the last General Election. The results from C#23 in the 2012 election are below.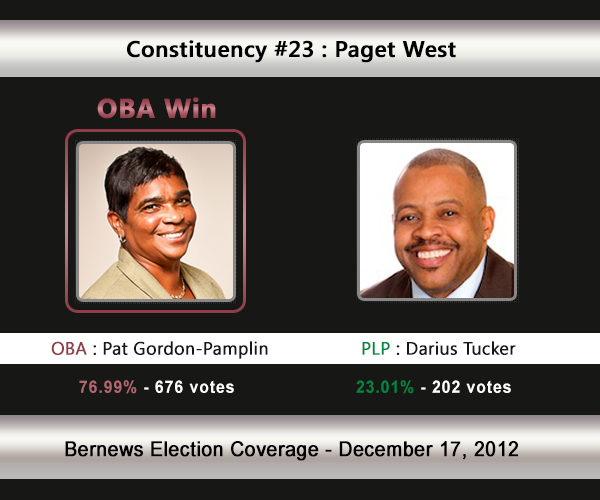 The previously announced confirmed candidates for the July 18th election are:
Constituency #1 St Georges North: Kenneth Bascome [OBA] Renee Ming [PLP]
Constituency #2 George's West: Nandi Outerbridge [OBA] Kim Swan [PLP]
Constituency #4 St George's South: Suzann Roberts Holshouser [OBA] Tinee Furbert [PLP]
Constituency #5 Hamilton East: Peter Barrett [OBA]
Constituency #6 Hamilton West: Simone Barton [OBA] Thad Hollis [IND]
Constituency #7 Hamilton South: Sylvan Richards [OBA] Anthony Richardson [PLP]
Constituency #8 Smith's South: Rose Ann Tucker [PLP]
Constituency #10 Smith's North: Rev Dr Ernest Peets [PLP]
Constituency #12 Devonshire South Central: Craig Cannonier [OBA]
Constituency #13 Devonshire North Central: Fabian Minors [OBA]
Constituency #14 Devonshire North West: Glen Smith [OBA] Wayne Caines [PLP]
Constituency #15 Pembroke East: Scott Stewart [OBA]
Constituency #17 Pembroke Central: Andrew Simons [OBA]
Constituency #18 Pembroke West Central: Nicholas Kempe [OBA]
Constituency #19 Pembroke West: Jeanne Atherden [OBA] Jason Hayward [PLP]
Constituency #20 Pembroke South West: Susan Jackson [OBA] Graham Maule [PLP]
Constituency #21 Pembroke South East: Rodney Smith [OBA]
Constituency #22 Paget East: Dr Grant Gibbons [OBA]
Constituency #24 Warwick South East: Nalton Brangman [OBA]
Constituency #25 Warwick North East: Jeff Baron [OBA]
Constituency #26 Warwick South Central: Robyn Swan [OBA]
Constituency #27 Warwick North Central: Sheila Gomez [OBA]
Constituency #28 Warwick West: Jeff Sousa [OBA] Dennis Lister III [PLP]
Constituency #30 Southampton East Central: Quinton Butterfield [PLP]
Constituency #31 Southampton West Central: Crystal Caesar [PLP]
Constituency #32 Southampton West: Scott Simmons [PLP]

Read More About