The 4th Annual AON Brokers vs Underwriters Charity Cricket Match was rained out in the Brokers' innings after 9 overs.
The Brokers scored 25/3 at the time of rain chasing 94 to win.
Usually the winning charity receives slightly more funds from the charity pool. However, due to the draw game, the charity funds raised was split evenly between the two charities. Aon Bermuda usually donates $2,250 [$1,500 winner/ $750 to the runner up]. Chubb Bermuda contributed an additional $1,000 and there was a donation box at the game that raised a total of $855 from the individual players. The total funds raised was $4,105, Duan Leverock/Claire Salmon – Aon Bermuda co-chairpersons.
The rivalry has now heated up with a non-result with the Brokers still up 2 to 1 in overall wins.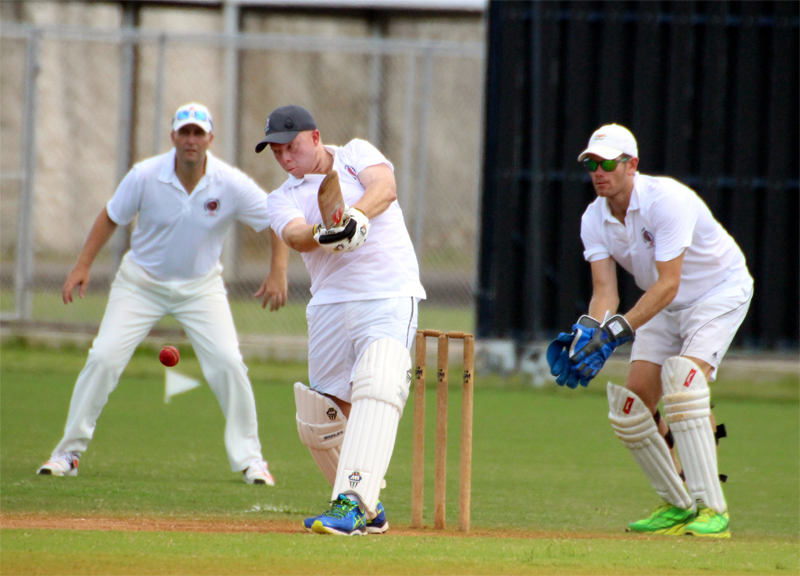 Underwriters Inning
..05 John Hughes Run Out
..00 Robin Woolridge Run Out
..08 Nicholas Boorman c b Ryan Davidge
..03 Gavin Davis b Kian Wookey
..16 Dwayne Adams c & b Nick Cardinez
..01 Harrison Casling c b Anup Seth
..16 Adam Farrell c b Laurence Noble
..21 William Gillett c b Anup Seth
..12 David Jenkins b Fernando Paul
..01 Bill Lazarro st b Donald Folkard
..01 Brian Hayne Not Out
..10 Extras [2b-8w]
..94 Total All Out after 24.4 overs
AON Brokers Bowlers
4.0-0-14-1 Ryan Davidge
4.0-0-13-1 Kian Wookey
4.0-0-16-2 Anup Seth
3.0-0-08-1 Nick Cardinez
2.0-0-08-1 Laurence Noble
2.5-1-16-1 Fernando Paul
2.0-0-13-0 Mark Tinslay
1.1-0-06-0 Brian Lynch
0.4-0-00-1 Donald Folkard
AON Brokers Inning
..00 Kian Wookey b Dwayne Adams
..15 Adam Hopkins Not Out
..05 Colin O'Sullivan c b John Hughes
..03 Darren Cann 3b Nicholas Boorman
..01 Nick Cardinez Not Out
..01 Extras [1w]
..25 Total for 3 Wickets after 9 overs
Underwriters Bowlers
3.0-0-07-1 Dwayne Adams
3.0-0-04-1 John Hughes
2.0-0-04-1 Nicholas Boorman
1.0-0-10-0 David Jenkins

Read More About