Internationally acclaimed organist, Hector Olivera, is set to perform in a recital presented by the Bethel AME Church on Saturday, September 30, 2017.
The concert will honor Pastor, Rev. Ruth D. VanLowe Smith's 20th year in Pastoral Ministry.
A spokesperson from Bethel AME Church said: "Maestro Hector Olivera is a passionate, gifted, and unique musician, whose personal interpretations of both classical and popular music have amazed and delighted audiences around the world."
Born in Buenos Aires, Mr. Olivera began playing the pipe organ when he was three. His career as an organist sky-rocketed from there.
Hector Olivera – Improvisation in Berlin, Sauer Orgel:
In 1965 he was offered a scholarship to Juilliard School of Music and three years later he won the National Improvisation Contest, thereby launching his outstanding professional concert career.
Throughout his concert career, Mr. Olivera has performed in prestigious venues including the Cathedral of Notre Dame in Paris, Grace Cathedral in San Francisco, Carnegie Hall in New York, Royal Albert Hall in London, Spivey Hall in Atlanta, Constitution Hall in Washington D.C, the Fox Theatre in Atlanta, Myerson Concert Hall in Dallas, Verizon Hall in Philadelphia, Segerstrom Center for the Arts in Costa Mesa, Walt Disney Concert Hall in Los Angeles, Sydney Town Hall, Melbourne Town Hall and Brisbane City Hall in Australia.
In addition to his solo concerts, Mr. Olivera has performed as guest soloist with orchestras worldwide, including the Pittsburgh Symphony, the Fort Wayne Symphony, the Dover-New Philadelphia Orchestra, the Dallas Symphony, the Cleveland Orchestra, the Amsterdam Baroque Ensemble, the Minnesota Orchestra and the Pasadena Symphony.
Composer Robert Vandall described Mr. Olivera's performance with the Tuscarawas Philharmonic as "an opportunity to hear and see greatness."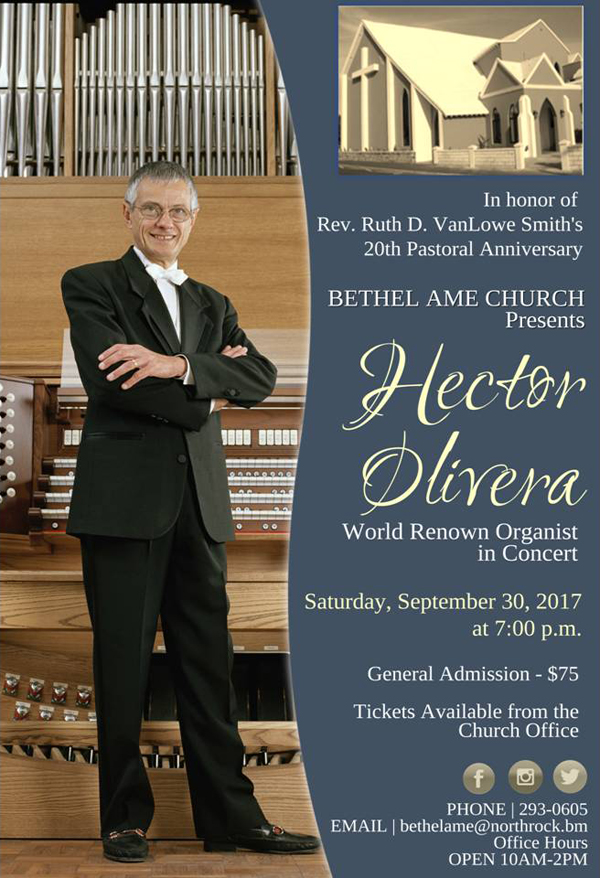 'The Times Reporters,' described an evening with Hector Olivera as: "An event, a happening, a joyful celebration of the sheer power and pressure that a true virtuoso like Hector Olivera can unleash in a concert hall."
Mr. Olivera continues to thrill audiences with both solo classical and orchestral compositions, now released on DVD and more than 20 classical, contemporary, and film score CDs.
For more information on Hector Olivera visit his website here. Tickets available at ptix.bm or by contacting the church office at 293-0605 or by email at bethelame@northrock.bm.

Read More About
Category: All, Entertainment, Music