The St. Paul A.M.E. Church is getting set to host their Gospel Jazz Concert on Sunday [Aug 13] at 6.30pm.
A spokesperson said, "The history of St. Paul A.M.E. Church is deeply intertwined with the journey of Black Bermudians and the larger life of the country for over 140 years.
"It is this great tradition that led to the commitment to begin a project "The St. Paul Gallery" to begin to document and create an exhibit that would share the rich history and legacy of St. Paul with our Church family and the wider community. The gallery features historical artifacts, pictures and recorded information to share our storied past so that the names, and faces of our history are not forgotten.
"The Gallery Committee is comprised of members of the church who are dedicated to preserving our history, and showcasing our future. Mrs. Shirley Richardson, Mrs. Carmen Roberts, Mrs. Charlene Tyrrell, Mr. Roland Francis, Mr. Leon G. Burt led by Chairperson Mrs. Virginia Wilson, MBE, are the hardworking dedicated committee who have been charged with the task of seeing this vision come to fruition."
"We have learned a lot about art, our rich history and the importance of correctly preserving artifacts and pictures so that our story can be told in our own words for all to see." Mrs. Wilson said. "It is important for our children to understand the rich legacy that they have inherited, and to also give them hope for a bright future, one that they can not only look forward to, but also participate in."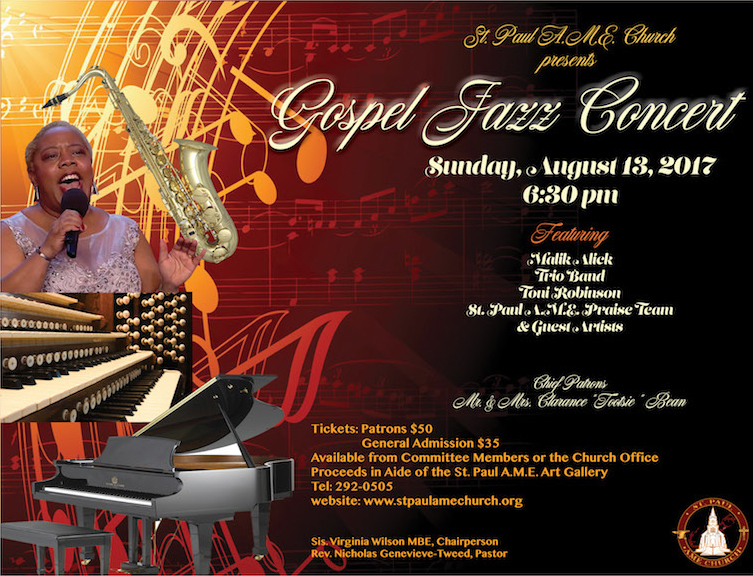 "The purpose of art is to lay bare the questions that have been hidden by the answers." James Baldwin
"On Sunday, August 13, 2017, both the visual and the audio arts will culminate in a Gospel Jazz Concert where the chief patrons are Mr. and Mrs. Clarence "Tootsie" Bean, Bermuda's own renown drummer of international stature.
"We are looking forward to an evening that celebrates our history not only visually, but also musically." Said Mrs. Carmen Roberts.
"In addition to our Chief Patron we are also paying a special tribute to musician Melvin Alick the father of our young church musician Malik Alick, a very talented young man who has followed in his father's musical footsteps.
"We feel it is important to give young people an opportunity to express themselves in positive ways, and what better way, than to give back the talent God entrusted to them."
"Jazz has always been a part of our cultural history, and there is a tight correlation between Jazz and Gospel." Mr. Roland Francis added. "It is fascinating to hear the Hammond Organ used alongside traditional 'jazz' instruments. A Gospel Jazz Concert pays homage to both genres of music."
"The idea for a Gallery was the birth child of our Pastor, Rev. Nicholas Tweed. Mrs. Charlene Tyrell added. "We are looking forward to expanding to the lower gallery."
"The Gospel Jazz Concert will feature local artists, Malik Alick, Toni Robinson, Francine Rollins, the St. Paul A.M.E. Praise Team and other Guest Artists and the proceeds for the concert will go towards completing the Gallery. This will all take place in the St. Paul A.M.E. Sanctuary. Doors will open at six pm, and the concert will commence at six-thirty sharp.
"Patron Tickets for this event are $50 and General Admission is $35 and are available from the church office on Victoria Street or by calling 292-0505."

Read More About
Category: All, Entertainment, Music