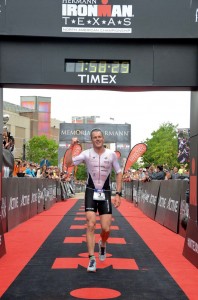 A number of changes, both professionally and personally, have proven beneficial to pro triathlete Tyler Butterfield's 2017 racing season.
Starting with a fourth place finish in January, Butterfield steadily progressed to a victory in June, and now has his sights set on another top performance at the Ironman World Championship in October in Kailua-Kona, Hawaii.
Butterfield kicked the cobwebs off in early 2017 at Ironman 70.3 Dubai, finishing fourth amid a world-class field.
Next up was the Ironman North American Championship in The Woodlands, Texas, where Butterfield broke the eight-hour mark to earn third on the podium. He clocked a finish time of 7:58:29, holding off hard-charging rival and fourth-place finisher Will Clarke by 33 seconds.
Butterfield's upward trajectory continued in May at Ironman 70.3 Monterrey, the Pan American Pro Championship, where he scored second place, just 25 seconds shy of the win and bested only by men's champion Kevin Collington.
In June, Butterfield headed to Ironman 70.3 Raleigh, where his run came into winning form. After a battle on the bike among the leading men, Butterfield started the half marathon more than three minutes in arrears to Andrew Yoder.
He steadily gained ground, however, making the pass to claim the lead two thirds of the way into the run leg. His 3:53:22 finish ultimately gave him a 1:48 cushion over runner-up Yoder.
This steady string of four impressive results was due in part to a focused winter where Butterfield—in contrast to prior years—avoided taking on too much travel and was able to get in sync in a solid training routine at home in Boulder, Colorado.
Butterfield also started June's Ironman Boulder, intending to tackle the local course as atraining exercise. Unfortunately, a slice in his tire while riding in third place derailed his plan.
Butterfield awaited a local friend, who kindly secured a training wheel and helped him get back on the road after a 20-minute delay.
In accepting "outside assistance" from his friend, Butterfield effectively withdrew from the competition, as athletes may only receive help from race officials; however, intent on making the most of the situation and logging a hard practice day, he continued.
After 10 miles of the marathon—enough of an effort to justify time off during an upcoming holiday in Bermuda—he called it a day and pulled off the course.
The Butterfield family then traveled back to Bermuda for a two-week stretch to enjoy a family reunion and watch the America's Cup sailing championship.
Since late June, Butterfield has been back in Boulder, hard at work preparing for two world championship events: the Ironman 70.3 World Championship in Chattanooga, Tennessee [September 9th] and the Ironman World Championship in Kailua-Kona [October 14th].
Although Butterfield has spent more time grounded in Boulder than in years past, his family and home life has still seen several exciting and unusual changes in 2017.
Baby Grace, the Butterfield's third child, was welcomed into the family on January 12th, joining sister Savana and brother Walker.
With a desire for space for their children to be outside and a growing passion for animals, the Butterfields moved from their mountain home to a hobby farm in Longmont, Colorado, where they've accumulated a large population of animals including five horses, three llamas, seven goats, a dozen chickens, two guinea fowl, two dogs and two cats.  When not swimming, cycling, or running, Tyler is occasionally found driving a tractor.
The family will leave the farm temporarily in October to attend the Ironman World Championship, joining Butterfield's parents, brother, uncle, and aunt, who make the journey annually.
The entire family is hopeful that the year on/year off pattern continues for this year at least, and that with everyone on hand to cheer, 2017 will prove the best year yet for Butterfield.

Read More About