At a brief ceremony held recently, the Minister of Education and Workforce Development Diallo Rabain presented scholarship awards to the Department of Workforce Development 2017 scholarship recipients.
The Ministry awarded funding for 14 students studying at overseas universities and/or technical colleges and for four students in the Associate of Science- Nursing d at the Bermuda College.
Minister Rabain with scholarship students and family representatives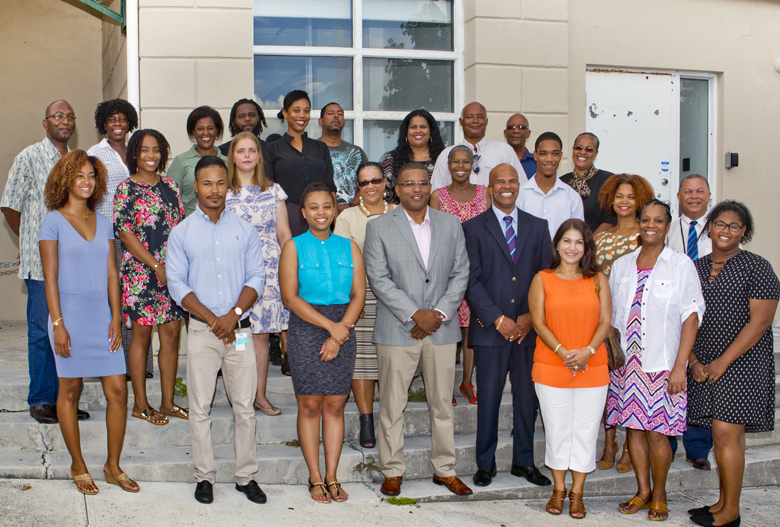 The Department of Workforce Development's annual awards are valued up to $10,000 and can only be used for settlement of tuition costs for up to 4 years of study.
In order to maintain a scholarship award, students must meet a minimum semester GPA of 2.7 [B- equivalent]. Students studying overseas are furthering their studies in business accounting, administration and management, health care, information technology, and engineering.
Minister Rabain congratulated the students and said, "Our Ministry understands how important it is for students to secure funding to complete their education.
"We are committed to making resources available for students and will continue to provide the financial support to pursue higher levels of education. We all look forward to seeing you accomplish our educational goals and return to Bermuda to begin your careers."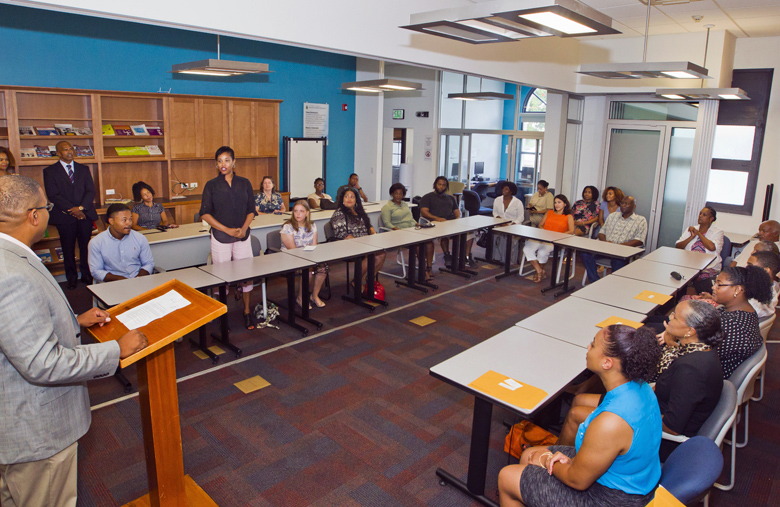 The scholarship recipients and their course of study are as follows:
1. Chantae Hollis, Caribbean Medical University, International Doctor of Medicine Program [MD] [Medicine];
2. Cocy-Lynne Simmons, Nottingham Trent University
3. Jameko Gomes, University of Ontario Institute of Technology, Bachelor of Science [Information Technology];
4. Janario Bean, New England Institute of Technology, Bachelor of Science, [Business Administration];
5. Jonique Crockwell, Liverpool John Morore's University, Bachelor in Science [Health];
6. Joshua Reid, Borough of Manhattan Community College, Associate in Science [Accounting]
7. Marcus Pimental, Sheridan College Institute of Advanced Technology, Advanced Diploma [Engineering];
8. Mason Cartwright, Imperial College, London, Bachelor of Medicine and Surgery [Medicine];
9. Nia Dailey, Spelman College, Bachelor of Science, [Health];
10. Niyokiei Hassell, Middlesex University, London, Bachelor of Science [Health];
11. Quinae Santucci, Mount Saint Vincent University, Bachelor of Arts [Business Administration];
12. Rosemary Swain, Keele University, Bachelor of Science [Nursing];
13. Sharmila Harris, Mount Saint Vincent University, Bachelor of Science [Business Administration];
14. Simeon Edwards, University of West England, Bachelor of Science [Medicine]
Bermuda College Associate of Science – Nursing
1. Corynne Edwards
2. Najah Garcia
3. Terri Tear
4. Angela Sweeting

Read More About