Recquel Furbert, Erik Simmons, and Lateefah Caines have joined the Bank of Butterfield 2017 Graduate Trainee Programme, which offers Bermudian university/college graduates the opportunity to acquire the skills and expertise they need to succeed in the financial services industry.
Working closely with experienced bankers, Trainees will gain real-world experience across a range of disciplines as they rotate through various areas of the Bank.
Recquel Furbert, Lateefah Caines, Erik Simmons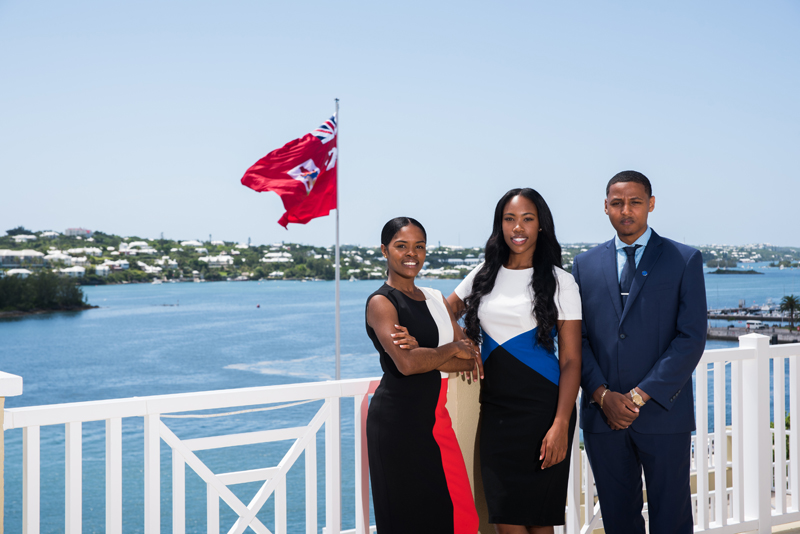 "Recquel graduated from Berkeley College in New York in 2015 with a BA in General Business; Erik recently graduated from Georgia State University with a BBA in Finance; and Lateefah graduated Clark Atlanta University in 2016 with a BA in Business Administration. Both Erik and Lateefah were former Butterfield summer students," the Bank said.
"During the two-year programme, Trainees will complete rotations in retail and corporate banking, lending, compliance, credit risk management, and banking operations. There is potential for one of these rotations to take place in one of Butterfield's overseas offices..
"In addition to business rotations, Trainees will have the support of an internal mentor and a structured development plan aimed at helping them secure a permanent position within Butterfield at the end of the Programme."
Elizabeth Bauman, Group Head of Human Resources explains, "Butterfield's success over the years has been the result of the efforts and enthusiasm of our employees, who are truly the Bank's greatest asset.
"Our continued growth as a leading, independent financial services company will depend upon our ability to leverage the talents of professional, experienced and creative bankers who are dedicated to exceeding the expectations of our clients.
"The new Graduate Trainee Programme enables Butterfield to identify future leaders who fit this profile, whilst ensuring that they receive training and gain experience in the specific skills we need to develop our businesses going forward.
"The Programme represents a unique opportunity for recent Bermudian graduates who have an interest in a financial services career, and we are excited about our role in helping develop future industry leaders."
Read More About