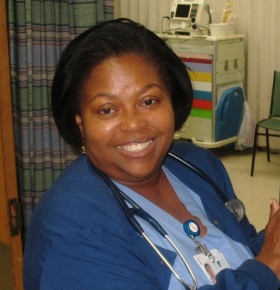 The Pan American Health Organisation/World Health Organisation [PAHO/WHO] requested the assistance of Bermuda Hospitals Board [BHB] Director of Emergency and Hyperbaric Services Dr Roslyn Bascombe-Adams in hurricane relief efforts in the British Virgin Islands [BVI].
Dr Bascombe-Adams is a member of the Regional Emergency Medical Team of PAHO and a certified PAHO Disaster Instructor.
She is also chairperson of BHB's Disaster Management and Response Committee, represents the hospital on the Emergency Measures Organisation and leads the PAHO Mass Casualty Management System training course for first responders in Bermuda.
"We received an urgent request from PAHO to release Dr Bascombe-Adams from her duties at BHB to enable her to help recovery efforts in Tortola following the recent hurricanes," said BHB CEO Venetta Symonds.
"We recognise that Dr Bascombe-Adams is a leading physician in the area of disaster management particularly in our region," she added. "We know the value of her expertise and the calm clarity she will bring to the relief work. We are proud to have her help the Government and people of BVI."
Dr Bascombe-Adams is now on a two-week secondment as part of the PAHO/WHO Regional Emergency Medical Team in BVI.
Bermuda is also sending six BELCO linemen to the BVI, has sent a contingent of 30 soldiers and six police officers to the Caribbean to support the UK's efforts in the Overseas Territories devastated by Hurricane Irma, and locals have, thus far, donated over $30,000 to the Bermuda Red Cross to support hurricane relief.

Read More About