Bank of Bermuda Foundation today [Sept 1] announced the official launch of its dynamic, new website designed to support its efforts in taking non-profit funding to a new level in Bermuda.
The Foundation said, "Following two years of planning, the Foundation has unveiled a more deliberate approach to supporting the Bermuda community. Bold new goals for grant-making have been established, driven by the Foundation's commitment to a long-term vision for Bermuda: All people are healthy, independent, financially secure and connected to community, with equitable opportunities for all.
"The Foundation's new grant-making strategy focusses on four new areas of funding: Economic Participation, Education, Healthy Families and Connected Communities. The new website offers extensive information on the Foundation's funding guidelines and details the new areas in which it intends to focus its grant-making. The website also provides clear information about the process of applying for grants.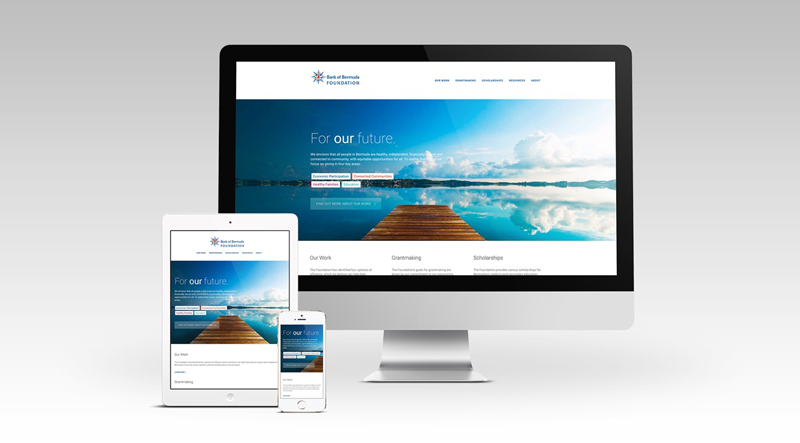 "Designed and developed locally by Sebastian Matcham of Subtropik, the new website provides an easy way to learn about the Foundation's background, the people involved and the process of developing the Foundation's new direction. Soon the site will also feature an online grant application system, enabling local organisations to make paper-free applications."
"The non-profit sector has been included in several ongoing presentations this year, introducing the new grant-making system and has responded eagerly to the Foundation's new goals. With a December 1st deadline for the first round of applications for 2018 grants, non-profit organisations are urged to visit the new website to learn more about the new focus areas for grant-making and the new Application Form. Application Form Orientation is scheduled for early October and all non-profits are invited to attend.
"Under the new restructure, the Foundation is supported by key people in spearheading the Foundation's new goals for grant-making: David Lang, Managing Director, oversees the overall relationships with the community and community organizations as well as the general business affairs of the Foundation; Vivien Carter, Programme Officer, is responsible for developing resources and relationships to assist in implementing the Foundation's new direction; and Kim Pratt, Senior Trust Officer, Butterfield Trust [Bermuda] Limited, handles all inquiries and organisational administration."
Chairman, Tom Conyers, added "Our areas of funding, consistent with our vision, represent a focus on economic equity; education for independent thinking and productive engagement; health and wellbeing for all age groups and an inclusive and welcoming community. The new website provides an in-depth guide to our new grant-making goals and assists potential grantees through the Application process online."
Visit www.bankofbermudafoundation.bm.


Read More About
Category: All, technology