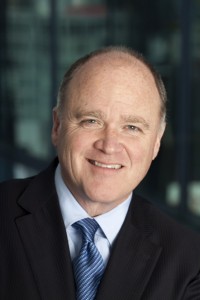 ILS [Bermuda] Ltd., organisers of Bermuda Convergence 2017 announced that Mike McGavick, CEO of the XL Group Ltd, will be one of the event's keynote speakers.
A leader in the industry for more than two decades, Mr. McGavick serves as CEO of XL Group Ltd, which provides insurance and reinsurance risk solutions globally under the XL Catlin brand.
From 2001 to 2005, Mr. McGavick was chairman, president and CEO of Safeco Corporation. Prior to joining Safeco, he spent six years with CNA Financial Corporation, where he held various senior positions, including president and CEO of the company's largest commercial insurance unit.
Mr. McGavick is an active participant in the industry's trade and representative bodies, including serving as Chairman of the Geneva Association.
He has received numerous recognitions for his leadership in the industry including: Insurance Day's Industry Achiever of the Year, Insurance Leader of the Year by St. John's University School of Risk Management, one of the top 100 Game Changers in the last hundred years of the insurance industry by Leaders Edge, the Bermuda Insurance Institute's [Re]insurance Person of the Year, the Review Magazine's Industry Personality of the Year and Reactions Magazine's Insurance CEO of the Year, among others.
Throughout his career, Mr. McGavick has been involved in a number of industry, political, public affairs and community service activities. He was named the Puget Sound Business Journal's Executive of the Year in 2003 and was the 2005 winner of the prestigious Charles E. Odegaard award for his efforts in promoting diversity at the University of Washington. He is a former chief of staff in the United States Senate and ran for the US Senate in the State of Washington.
Greg Wojciechowski, CEO, Bermuda Stock Exchange, and ILS Bermuda Chairman said: "We are very excited to host Mike McGavick as our industry Keynote Speaker during the Convergence 2017 event. Mike is well known in the industry and has been at the centre of the changing nature of risk for more than two decades – not just in the insurance industry – but also in political, public affairs and community service activities around the globe. I'm sure his insights will prove invaluable to our delegates."
More than 300 delegates are expected to attend this year's event on October 18-19th. Last year delegates from 13 different countries attended the annual Bermuda Convergence event – a networking event covering the alternative reinsurance, insurance linked securities [ILS] and collateralised reinsurance landscape
The organisers said, "Bermuda has been at the forefront of the global boom in ILS, with the Bermuda Stock Exchange [BSX] recording a record number of ILS listings in 2016 – 61 in total, with a capitalisation value of $6.2 billion. As of June 2017, there were 218 listings, taking the overall value of securities from $21.2 billion at year's end to $24.5 billion half way through 2017. According to the Bermuda Monetary Authority [BMA], ILS issued from Bermuda represents 73.9% of total outstanding capacity at Q1-2017.
"This year's event promises an exciting line-up of speakers and 'Bermuda Shorts' topics including: Runoff, Rated Reinsurance, Market Uncertainty, Insurtech, Fair Value, Longevity Trends, Cyber, Natural Catastrophes, Emerging Risks, and a special panel on "Flood – working together to close the gaps and mitigate the risk", as well as the popular annual panel with leading Investors."
Kathleen Faries, Deputy Chair of ILS Bermuda Ltd., and Head of Bermuda, Tokio Millennium Re AG, Bermuda Branch said: "With everything happening in the cat market, 2017 looks to be an interesting year. There is no doubt Convergence 2017 attendees will have plenty to talk about and no shortage of relevant topics to learn from during our "Bermuda Shorts".
"With continued support and participation from the across the industry, we are sure to provide another fantastic event in Bermuda, who will certainly play in big role responding to events in 2017 and shaping the future of the industry."
Read More About