Growing up with a mother and grandmother who loved to cook, Lynette Mills started experimenting in the kitchen at a young age.
In her teen years she shadowed the chef at the Jolly Lobster Restaurant at Mermaid Beach, a busy hotel where her mother worked as Maître D; by age 17 she was determined to enter the hospitality industry full time and later found work at Riddell's Bay Golf Club.
Ms Mills is currently the manager at Pink Café, one of three business enterprises of The Hospitals Auxiliary of Bermuda [HAB].
Her team includes Shannon Simons, Head Chef; Merate Phinn, a soup chef and Kissandra O'Brien, a kitchen porter. The front end of the Café is staffed entirely by HAB volunteers [approximately 11 a day] whom are essential to the day to day operation of the business.
Left to right: Merate Phinn, a soup chef at the Pink Cafe, Kissandra O'Brien, a kitchen porter, Shannon Simons, Head Chef; and Lynette Mills, the cafe's manager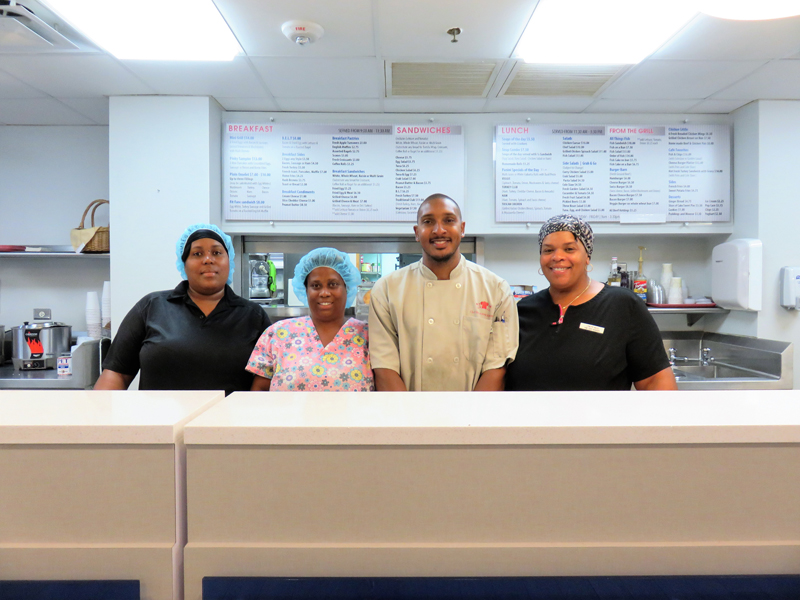 "The most important part of what I do is creating a positive team environment and leading these lovely people," Ms Mills explained. "I pride myself on getting that down because when we work at our best the customers are happy and the Auxiliary as a charity can thrive."
Ms Mills started working with HAB in 2003.
Back then, the Café had a completely different set up. Most of their food items were prepared by outside vendors, whereas now they make mostly everything fresh in house.
"One of our customers' favorites is the ginger bread," the Pink Café manager said. "We had a lady who made it for years, but after she passed away we got the recipe from one of her family members and started making it ourselves. After much tweaking our customers have given their seal of approval that it tastes the same as it used to."
According to Ms Mills, customers today are different than they were when she started working at the Pink Café over a decade ago.
People don't have as much patience and everyone wants their food super-fast.
"We try to take the challenges as they come and keep growing and getting better," Ms Mills explained. "People forget that we are a charity and our servers are all volunteers who give of their time week in and week out."
The Hospitals Auxiliary of Bermuda was founded in 1953 and is one of the oldest and largest charities in Bermuda. Their volunteers donate more than 40,000 hours of service each year; and thanks to their business enterprises The Barn, The Pink Café and The Gift Shop, in addition to membership dues and donations received, the HAB has been able to purchase millions of dollars of equipment for the hospitals.
Ms Mills said: "The Auxiliary does a lot for this community. I think it goes largely unnoticed what they do. A lot of people think of the Pink Ladies or Candy Stripers, but they have no idea that the ambulances and CAT scan machines have come from these ladies and gentlemen who work so hard for the good of the community. Without our volunteers we wouldn't be able to do what we do I am grateful for every last one of them."
HAB encourages the public to continue their support by donating, patronizing their businesses and volunteering their time. For more information on how you can get involved call 236-2488.
The Pink Café is open Monday to Friday, from 9 am until 3:30 pm. They offer a variety of breakfast and lunch items including: Pancakes, Omelets, Paninis, Fish Sandwiches, Salads, with Lunch Specials and two soup selections per day. Also prepared daily is their famous gingerbread and other baked goodies.
Read More About
Category: All, Business, Entertainment, News