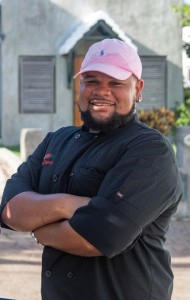 Take Five announced the promotion of Raeven White to Sous Chef at Devils Isle Restaurant.
A spokesperson said, "Raeven succeeds Sherwin Mondejar in the position of Sous Chef. Raeven will be responsible for overseeing the back of the house which includes menu creation, management of the chefs, and kitchen operations."
Matthew Pridham, Executive Chef Restaurants and Catering said, "We are excited to welcome Raeven to the Devil's Isles family. Chef Raeven is extremely talented, with an impressive culinary background, and we are confident that our guests will love what he brings to the table.
"Raeven joined us as a Jr. Sous Chef in October 2020, and we are excited to see him progress into this role. This position is exactly what we had in mind for him from the beginning."
A spokesperson added, "Raeven has matriculated through Take Five Ltd.'s culinary training program. Where he was groomed and trained in kitchen management, menu planning, and health and safety.
"Take Five Ltd. is making a conscious effort to train and mentor young Bermudians in the Culinary Arts. Raeven is the first to successfully complete this version of the company's internal training.
"Raeven has worked in the culinary scene for 10 years. Prior to joining Devil's Isle Raeven worked at Village Pantry, Marcus, Hog Penny, and Pickled Onion. Raeven is a born and bred Bermudian who attended Bermuda College."
"We recognized Raeven's home-grown talent from the very beginning," said Jason Berwick the Co-Chief Executive Officer at Take Five Ltd.
"When we originally interviewed him, he exuberated passion, love, and dedication for food which was very refreshing and contagious. He is an amazing addition to an already great team. We are sad to see our former Sous Chef Sherwin Mondejar leave, but we wish him all the best in his next endeavors. Raeven has a large following that will continue to support him."
"Take Five Ltd. continues to seek out potential candidates for other trainee opportunities within the company."
Chef White said, "I am excited and a little anxious about the new role, Devil's Isle has a really great team, I look forward to working with. The prospect of having creative control of the kitchen is enticing to me. Take Five Ltd. laid out a great program that taught me things I didn't know. This opportunity helped me gain a lot of knowledge and skill."

Read More About
Category: All, Business, Entertainment, News