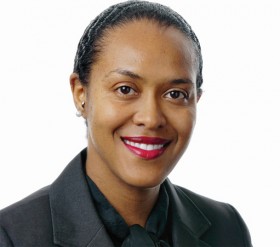 Polaris Holding Company Ltd. announced the appointment of Tammy Richardson-Augustus, a partner at Appleby, to its Board of Directors, effective immediately.
"We are excited to welcome Tammy to the Polaris Board," stated Cheryl Hayward-Chew, Board Chairman. "
And look forward to her sharing her legal expertise in diverse areas including domestic and international mergers and acquisitions, joint ventures, asset financing and general corporate governance, as well as her experience in a broad range of industries including maritime shipping.
"I am especially looking forward to seeing how the Board benefits from Tammy's unique perspective, as a young Bermudian and a leader in her field. Together, we will continue to strive for greater stability and growth of Polaris Holding Company Ltd."
Richardson-Augustus was named a partner at Appleby in 2007; and is also a member of the law firm's corporate department. She joined Appleby as an associate in the corporate and commercial department in 1998, after qualifying to practice law a year prior. In her first role, she practiced securities and funds work in the firm's Bermuda and Hong Kong offices.
She later went on to work as a stagaire in the eCommerce and general corporate department of Linklaters, a multinational law firm headquartered in London. She holds a Bachelor's Degree in Accounting and Economics from Saint Mary's University in Halifax, Nova Scotia in Canada and completed her legal studies at University of Bristol in the U.K. She also has a CPA designation.
"I am pleased to join Polaris' Board of Directors given their corporate values and essential service to the community" said Richardson-Augustus.
"Polaris has embraced a company culture where respect, accountability, and integrity are at its foundation – and this defines not only how they service their clients, but also the manner in which they motivate their staff, invest in equipment and technology and discharge their financial decisions.
"Given our dependence on international trade, Polaris' role of safely and efficiently unloading of both temperature-sensitive and ambient cargoes on ocean vessels is vital to the well-being of the wider community. The Board is a particularly good fit given my container leasing/maritime shipping experience and serving on and advising local and international boards."
Throughout her career, spanning almost two decades, Richardson-Augustus has gained extensive experience working with clients in industries including energy, oil and gas exploration and maritime shipping. Richardson-Augustus has been awarded many professional accolades throughout her career including being recognised by the Chamber & Partners Client Guide, IFLR1000 and Legal 500 as a leading lawyer.
Richardson-Augustus is also active in the non-profit sector, which includes sitting as a board member of XL Catlin End to End. She is also a founding member of Women's International Shipping & Trading Association [WISTA] Bermuda, the local chapter of an international organisation for women in management/ decision-making positions involved in the maritime transportation business and related trades; and a founding member of Bermuda Marine Environmental Protection Association Ltd. [BERMEPA], a division of the North American Marine Environment Protection Association. Additionally, she is a member of the Bermuda Bar Association and a justice of the peace.
With the appointment of Richardson-Augustus, Polaris' board now consists of 8 members, including: Cheryl Hayward-Chew [Chairman], Wayne Caines [Deputy Chairman], Jeffrey Conyers, Howard Pitcher, Paul Hubbard, George E. Thomas Jr. and Warren Jones [Chief Executive Officer].

Read More About