Athletes of all ages and abilities are being urged to sign up for one of the island's top triathlon events, with the Tokio Millennium Re 2017 Sprint Triathlon and Duathlon to take place on Sunday, September 24, starting at Albuoy's Point.
It is the 11th time the event has been held; this year, instead of giving trophies and monetary awards, all the prize money will be donated to the Bermuda Paralympic Association.
Bermudian Paralympian Jessica Lewis said, "Tokio Millennium Re has been an amazing support to me for the last few years and to have that support branch out to the Bermuda Paralympic Association is incredible.
"It will help many other differently able individuals in our community to have the opportunities to fulfill their dreams in para-sport."
Audio of Kathleen Faries talking about the event:
Kathleen Faries, Head of Bermuda at Tokio Millennium Re, said, "The donation was fitting given TMR's support of Ms Lewis as well as WindReach and Boccia Bermuda.
She added, "As a company, we have placed considerable emphasis on supporting sport and the Island's athletes and we have been delighted to help incredible people like Jessica, who is an inspiration to us all.
"The triathlon is one of many events that we organize as part of our commitment to encourage everyone, regardless of age or ability, to take part in healthy activities.
"So I would encourage everyone to come to this event either to participate or to cheer on those taking on this challenge."
A spokesperson said, "Tokio is expecting a higher turn-out of teams this year and athletes Flora Duffy, Tyler Butterfield and Jessica Lewis are all overseas competing in their professional races, leaving the race open for the age group athletes to challenge for overall honors."
Jessica Lewis, Ed Jordan, Head of Capital Solutions, and Kathleen Faries, Head of Bermuda at Tokio Millennium Re: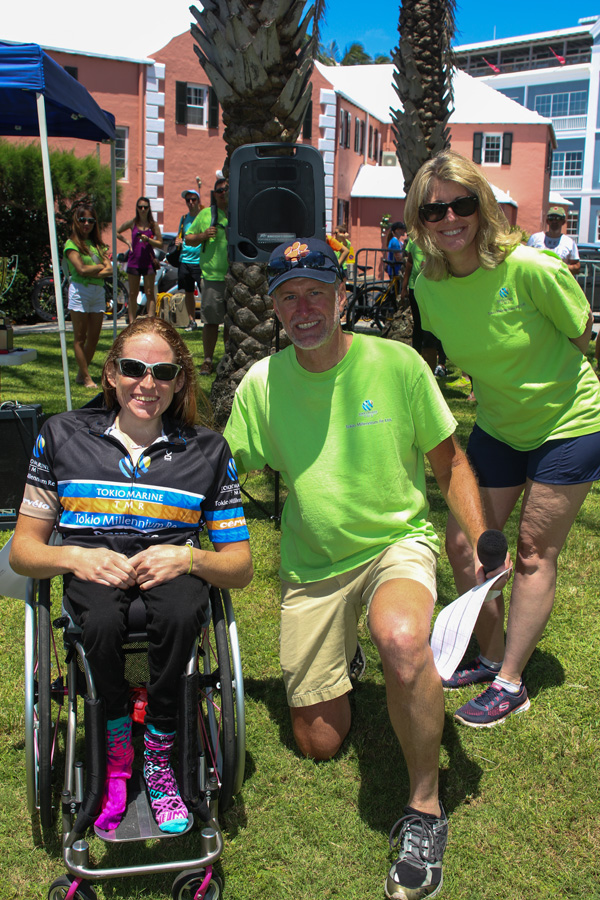 Events for the day, all taking place at Albuoy's Point and along Front Street/East Broadway:
8am Junior duathlon [run/cycle/run] for children aged seven to 15;
8.45am School Challenge triathlon & duathlon for Middle & Senior school teams. Entry is free and school with highest two placing teams win cash donations to buy sports equipment;
9am Try-a-Tri for adults who have not raced a triathlon before, but would like to try it,
10am Individual & Team Sprint Triathlon for adults of all experience levels.

Read More About