Bermuda's Alyssa Rowse raced to 58th place out of 92 starters in the Junior Women's Road Race at the UCI Road World Championships this morning in Bergen, Norway.
With one of the final call-ups to the start line, Rowse began the race with a slight disadvantage but quickly moved up towards the front of the race and held a good position through the first half of the four lap race which included the fairly steep Salmon Hill and then continued thought the streets of Norway's second largest city for a total of 76.4 kilometers.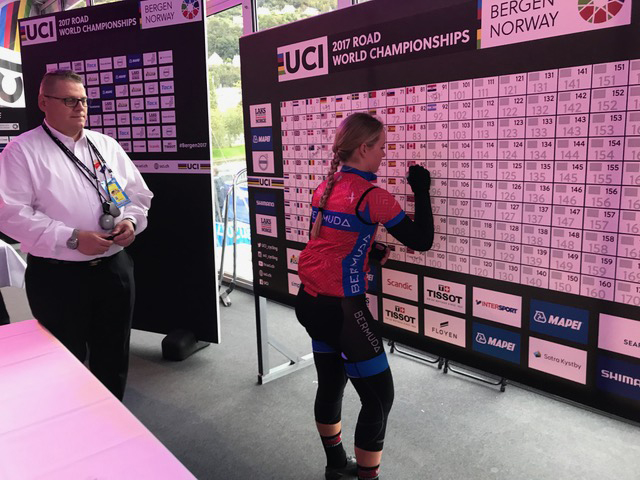 BBA President Peter Dunne said, "Finishing approximately 10 minutes behind the winner in a group of 14 riders, Rowse's race experience is one which she will both cherish and take away some good learning points."
Following the race, Rowse said, "Once I was able to get to the front of the race it was a steady ride. I need to work on my climbing, but I found that on the descents I was making up ground on others. The pack was quite tight and there were several times when I was hitting wheels with others but that seems to have worked out ok."
Tomorrow Bermuda's junior men, Kaden Hopkins and Matthew Oliveira, will race a total of 133.8 kilometers.
The full Women Junior Road Race Final Results follow below [PDF here]

Read More About