The Caines Brothers and Five Star Barbershop held a press conference today to provide information on the upcoming Back to School Extravaganza, which will take place on Thursday [Sept 7] at Heritage Worship Center on Dundonald Street.
Speaking at today's press conference, Deshay Caines said, "This year the Caines' Brothers in conjunction with Five Star Barbershop are presenting the fifth annual Back to School Extravaganza.
"We recognize that many families are trying to make ends meet in preparation for the upcoming school year. We will provide complimentary haircuts for boys, hair braiding for girls, and free school supplies for students between the ages of 5-18.
"The theme for the Extravaganza this year is "Your Future Starts Now". This is our way of empowering our students to believe nothing is impossible for them to achieve.
"Standing shoulder to shoulder with us this year are our community sponsors:
Sun Life Financial
Marsh & Mclennan Companies
Hiscox Bermuda
Sunshine Company
Especially for you Laundry
Titian Express
Beruda Longtail Real Estate
Funkins Lunch Bags
Alpha Phi Alpha Fraternity, Inc
Alpha Kappa Alpha Sorority, Inc
Dunkley's
"We would also like to thank the men and women who have given their time to volunteer their services such as the barbers and the hair braiders. In addition, we would like to thank the volunteers who will assisting us throughout the day of the event.
The event will take place on Thursday, September 7th with doors opening at 8am until 5pm at the New Testatment Church of God – Heritage Worship Centre Hall on Dundonald St. Each Student will receive a bag filled with supplies for school. There also will be motivational speakers throughout the day, a DJ, stalls, games and a wonderful environment for our leaders of the future.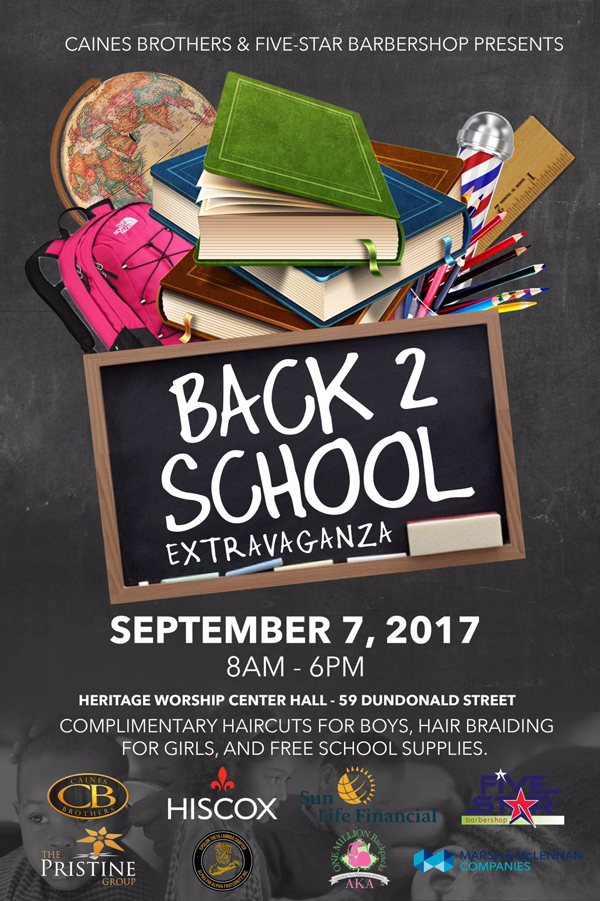 A spokesperson from Sun Life said, "Sun Life Financial International is proud to be a part of the Annual Back 2 School Extravaganza for the third year in a row. We are pleased to once again be able to donate school supplies for more than 600 children, whose families may be struggling with the mounting costs of sending a child back to school.
"Our company motto is that 'we are in the business of making brighter futures happen' and that includes our commitment of giving back to the communities in which we live & work. In recent years Sun Life has embodied that pledge in Bermuda in a number of ways; whether it be expanding our office space to Washington Mall to enable us room to grow locally, or sponsoring the athletes of the 2015 Island Games.
"The Back 2 School Extravaganza is another wonderful opportunity to make a positive impact in Bermuda, and Sun Life would like to thank the Caines brothers for allowing us to be a part of this tremendous event. And finally, to the students, we believe in your potential as the future of Bermuda and wish you a wonderful year ahead!"

Read More About