The Caines Brothers, along with Five Star Barbershop and Alpha Kappa Alpha Sorority Inc, are getting set to present the third annual "Back 2 School Extravaganza" on Thursday [Sept 3] from 8.00am through 6.00pm at St. Paul's Centennial Hall.
Both boys and girls are welcome to attend, with complimentary haircuts for boys, hair braiding for girls, and free school supplies to giveaway.
A spokesperson said, "This year, Caines Brothers, in conjunction with the 5 Star Barbershop, are presenting the third annual Back2School Extravaganza."
Video: Annual Back To School Extravaganza
"We recognize that many families are trying to make ends meet in preparation for the upcoming school year, and there are several expenses, seen and unforeseen. Some of these families simply just need help.
"It is to that end that 5 Star Barbershop has lead the charge, with other volunteer barbers in the community, to provide complimentary haircuts for boys between the ages of 5 and 18."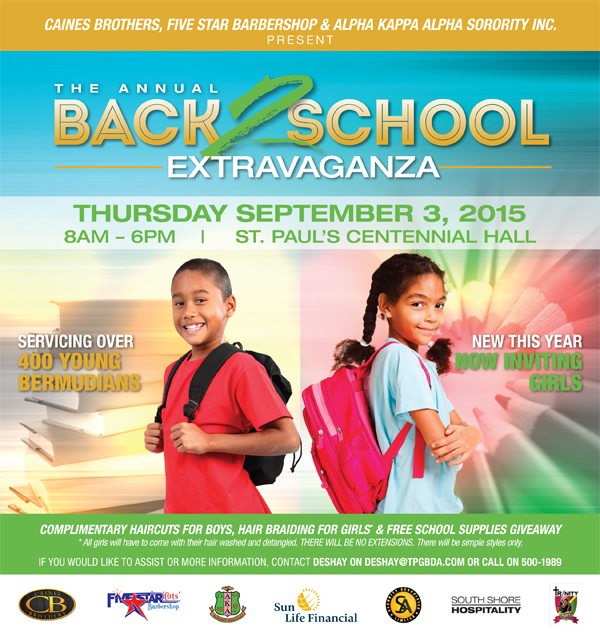 "A new feature this year is the introduction of services for school-aged girls in our community, which includes hair braiding. Leading the experience for girls are the ladies of Alpha Kappa Alpha Sorority Inc; we are truly grateful for their commitment.
"The theme for the Extravaganza this year is 'we believe in you.' This is our way of communicating to our students that the entire community of Bermuda are behind them."
If you would like to assist or for more information, contact Deshay at Deshay@TPGBDA.com or call 500-1989.
.
Read More About