The Caines Brothers and Five Star Barbershop's Back to School Extravaganza held today [Sept 3] was resounding success with approximately 425 boys and 135 girls being served, and 715 school bags and supplies distributed, the organisers said this evening.
"We would like to thank the 22 volunteer barbers, the 18 hair stylists who braided hair and the 50 volunteers, who without their support and dedicated volunteerism, this day would not be have been a success," the organisers said. "The commitment shown by the hairstylists and barbers was incredible as many stayed the entire day.
Premier Dunkley, Sen. Vic Ball, MP Nandi Outerbridge & MP Jeff Sousa with volunteers at the event: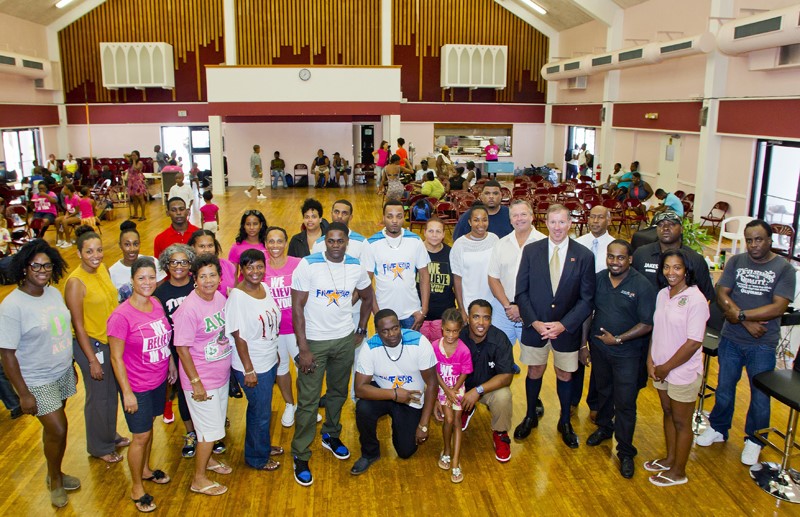 "We would to take this moment to thank the sponsors Sun Life Financial International, Security Associates, Southshore Hospitality Group, Alpha Kappa Alpha Sorority Incorporated, Atlantic Vision Care, St. Paul's AME, Dunkley's and the Super Mart for without your contribution, this day would not have been possible. 
"In addition, we would like to thank those who came in at the last minute to provide school bags and other assistance.
"We thank the Premier Michael Dunkley, Opposition Leader Marc Bean, MP Lawrence Scott and all of the other dignitaries, motivational speakers and singers who motivated and entertained our students. 
"This was an example of the whole community coming together to work for a common cause and this personifies this year's motto which is 'We Believe in You."
Premier Dunkley at today's event: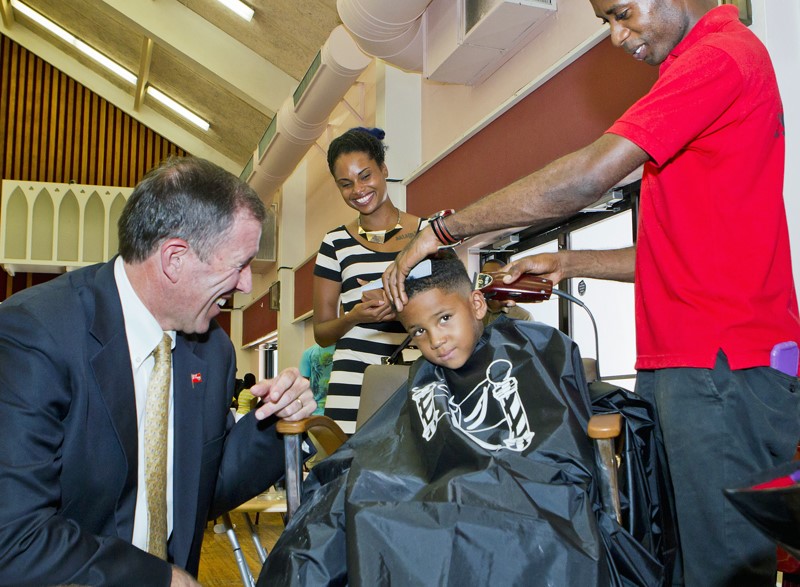 Earlier this afternoon, Premier Michael Dunkley visited the St. Paul's AME Centennial Church Hall to show his support for the"Back 2 School Extravaganza," and he was accompanied by Sen. Vic Ball,  Junior Minister for Community, Culture and Sport Nandi Outerbridge and and MP Jeff Sousa.
Premier Dunkley said he was "very impressed" with the large turnout of youngsters at today's event, which provided complimentary haircuts for boys, hair braiding for girls, and free school supplies for the children.
Following the event, the Premier thanked the Caines' brothers for their "foresight and dedication" in ensuring that Bermuda's families and young people were provided with the support they needed, and he thanked all the community partners involved for the donation of their time and services for such a worthy cause.
MP Lawrence Scott also stopped by the event today: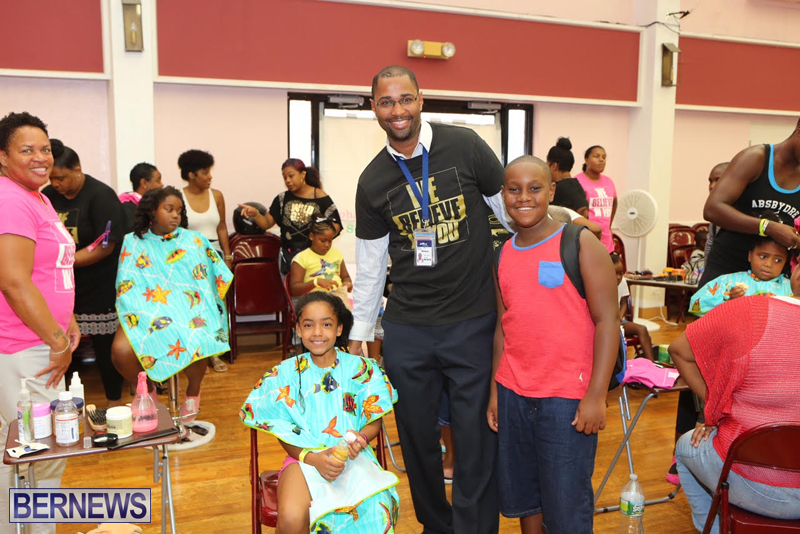 The Progressive Labour Party also congratulated the Caines brothers, Alpha Kappa Alpha Sorority, and all other organisers and participants in today's back to school event at St. Paul's Centennial Hall.
Opposition Leader Marc Bean said, "To see hundreds of students out in preparation for the upcoming school year was inspiring and exciting.
"This is a wonderful event and it shows what can happen when the community joins together. We appreciate the sacrifice and contributions of the barbers, hairdressers, volunteers and all those that make this event a success."
Opposition Leader Marc Bean at today's event:
You can see additional photos and a video from today's event here.
Read More About