[Updated + Written by Don Burgess]
It's not every day you go fishing and discover a strange sea creature, but that happened to the Warren family on Saturday.
Nicole Warren told Bernews, "We were fishing off the dock from Dowling's Marina in St. George. As we were leaving, there was some debris and [my son] Christian noticed the semi-circular shaped creature."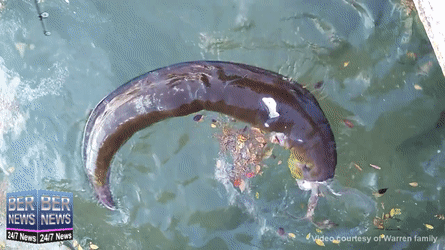 They made the discovery around 6:30 pm. She said at first they thought it was a broken life buoy, but upon closer inspection, they could see it was a swollen sea creature of some sort that was almost six feet in length.
"It had some gashes taken out of the head and abdomen areas."
She said her daughter Christianna thinks it is an eel, "but no one seems to know what it is. Someone from Florida said it was some sort of sea worm."
Mrs. Warren then made phone calls to BIOS and the Bermuda Aquarium, Museum and Zoo. She left a voice mail at BIOS, and the man at the Aquarium said a message would be passed on to the appropriate person.
Two people very familiar with marine life viewed the video and both suggested that this was likely a dead moray eel.
Update 12.36pm: A third person, also a marine expert, confirms this is a dead moray eel.
Read More About
Category: All, Environment, News, Videos