Following the devastation left by Hurricane Irma, the West Indian Association of Bermuda is launching a fundraising campaign to assist the islands, and will be holding a Caribbean Summer Cruise on Saturday 23rd September 2017, with all proceeds set to go towards relief efforts.
A spokesperson said, "The WIA [Bermuda] notes with sadness and concern the devastation and loss of life that has occurred in several Caribbean countries such as Antigua and Barbuda, St Martin, the British and US Virgin Islands, Turks and Caicos, and Cuba in the wake of Hurricane Irma which passed over many of these countries as a Category 5 hurricane between September 6th and 9th 2017.
"Recent information estimates the combined death toll in the affected areas so far to be around 36, with widespread infrastructural damage. Some were hit twice as Hurricane Jose followed closely behind Irma. However no significant additional damage appears to have resulted from his passage.
"WIA wishes to remind the public that while the devastation wrought by these hurricanes has been extensive, it is still early in the hurricane season which is predicted to be an active one. Therefore fund raising will require continued and sustained effort throughout the season and beyond.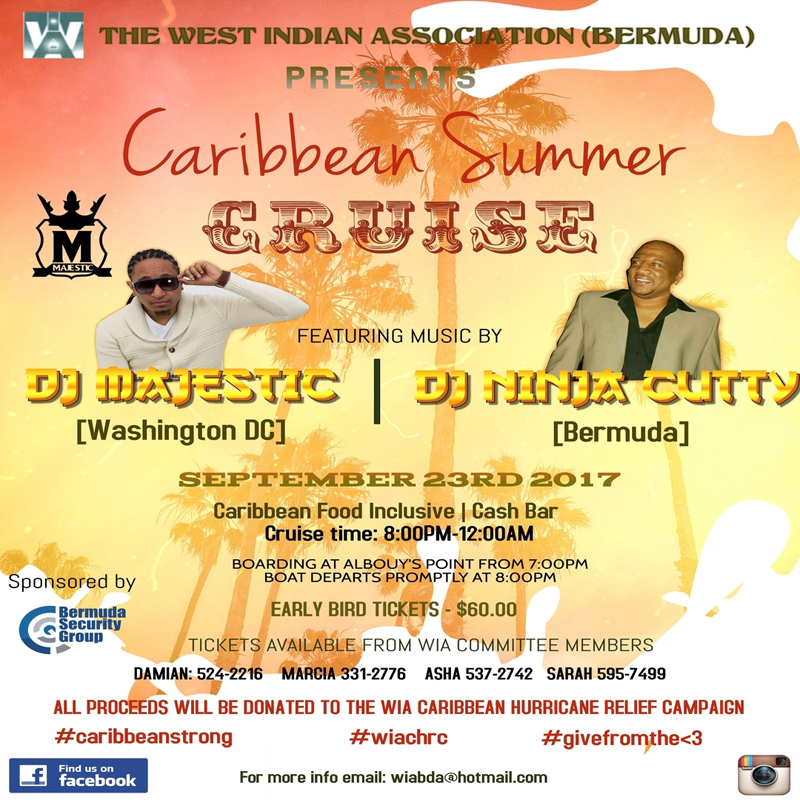 "We are currently gathering and collating information as to the needs of those who have been affected so far and the recovery efforts underway so as to determine priority needs and how best we might assist the humanitarian and rebuilding efforts going on in these countries.
"We have been contacted by the Government of Bermuda and look forward to working with the Government, businesses and community groups and organizations as we have done in the past to raise funds to assist affected countries.
"The WIA will launch its fundraising efforts with its Caribbean Summer Cruise scheduled to be held on Saturday 23rd September 2017. All proceeds from this cruise are earmarked for the relief efforts. Boarding for the cruise will commence at 7.00pm from Albouys Point and the cruise will depart promptly at 8.00pm, returning at 12.00am.
"Early bird tickets are currently on sale at $60 per ticket which includes dinner and can be obtained from Management Committee members or The Edge located at 25 Reid Street in the City of Hamilton.
"We look forward to adding Bermuda proudly to the list of countries and Caribbean and international agencies that are providing much needed donations and supplies. Please support our local fundraising efforts."

Read More About
Category: All