In the wake of Hurricane Irma's direct Category 5 hit to a number of the Caribbean islands, BELCO will be sending a Lineman crew to the British Virgin Islands [BVI] to assist with hurricane restoration efforts.
"A request for urgent support was received by the Caribbean Electric Utility Services Corporation [CARILEC] immediately following the onset of Hurricane Irma", explains BELCO's Operation & Maintenance Lead, Ian Finnerty.
"We received confirmation last night that our team would be dispatched to BVI and are working diligently towards a Sunday morning departure."
Irma's 185mph winds had a catastrophic impact on BVI's electricity infrastructure. BELCO's Team Members will spend the next 4 weeks working alongside the BVI Electric Company in rebuilding and restoring electricity to the people of BVI.
John Martin, Marcus Astwood, Chad Brimmer, Sherman Trott, Shawn Wade, Stevon Trott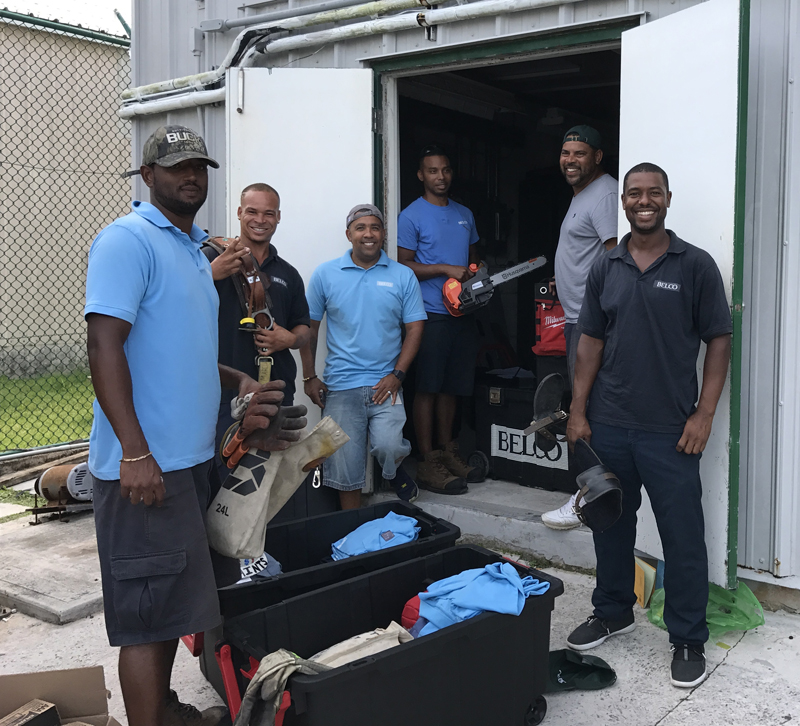 The Lineman Team includes:
Chad Brimmer – Foreman
John Martin – Lineman, Grade 1
Marcus Astwood – Lineman Apprentice
Shawn Wade – Lineman, Grade 1
Sherman Trott – Lineman, Grade 1
Stevon Trott – Lineman Apprentice
BELCO's Team will take with them their own safety and working equipment including chain saws, climbing gear, personal protection devices and other work related equipment [i.e. hard hats, steel toe boots, insulated gloves, etc.]. Safety is the number one priority.
As a member of CARILEC, this is not the first time BELCO team members have travelled to member islands to assist following major hurricane damage.
Bermuda has also benefited from the support of other CARILEC utilities. In 2014, 19 CARILEC Linesmen from the Bahamas, Belize, Barbados and Cayman travelled to Bermuda to work alongside BELCO Team members during restoration efforts following the back to back impact of Tropical Storm Fay and Hurricane Gonzalo.
Sherman Trott and Marcus Astwood pack and log all equipment that will be taken to use during the restoration efforts.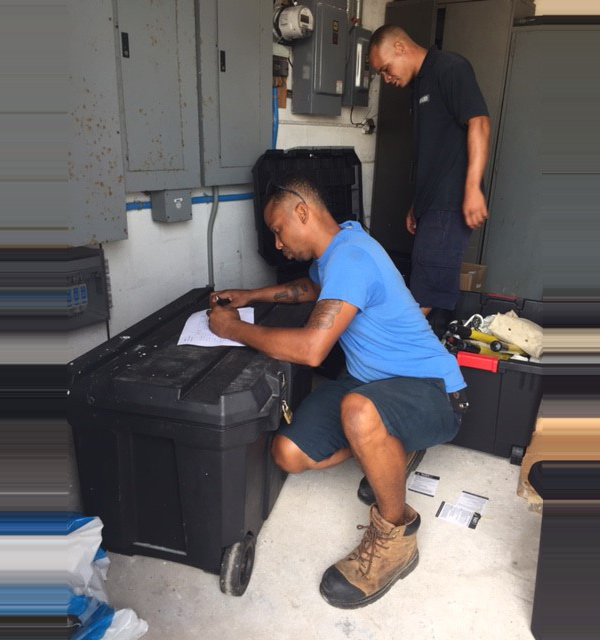 "I am extremely proud of that the expertise of these Team Members will make a positive difference in the lives of residents of BVI," states Vice President of Grid Operations, Dennis Pimentel.
"This is not going to be an easy undertaking for the six gentlemen who are travelling to BVI. They will be away from their families for several weeks, working extremely long hours and dealing with the same challenges that the permanent residents of BVI are currently experiencing.
"The telecommunications infrastructure has been badly damaged. Businesses are only just beginning to open their doors and many buildings, including the hotel that our crew will be sleeping in, are being powered by generators as there is no permanent power yet."
"Our guys are ready to go. They have the experience and the drive to take on this mammoth task. We wish them well and also send out thoughts to all of those communities who are working to recover from Hurricane Irma."
Bermuda has also sent a contingent of 30 soldiers from the Royal Bermuda Regiment and six Police Officers to the Caribbean to support the UK's efforts in the Overseas Territories devastated by Hurricane Irma, and locals have, thus far, donated over $30,000 to the Bermuda Red Cross to support hurricane relief.

Read More About