A train will nostalgically chug once again along Bermuda's Railway Trail, as this weekend the Bermuda Tourism Authority hosts its second Rediscover the Rail Trail event on Sunday [Oct 22] in what's described as a "day of discovery".
In addition to train trolley tours on the trail, Caroline Bay will host a special excursion at Morgan's Point where riders can tour the future home of a Ritz-Carlton Reserve. Fort Scaur, Heydon Trust, Hog Bay Park and Ledgelets Cottage Colony will also be open for special tours.
"At the Bermuda Tourism Authority we always tout the enormous potential of the Rail Trail, but even we were surprised that so many wonderful activities are available to visitors and locals in such a relatively short stretch," said Pat Phillip-Fairn, chief product and experiences development officer at the Bermuda Tourism Authority.
"We encourage people to either walk, bike or take the train on Sunday and we have created itineraries on our website to make it easy to choose your preference."
"Part of our Caroline Bay sales pitch is the Railway Trail," said Sandra Christensen, sales and marketing manager at Coldwell Banker Caroline Bay. "
"We love Bermuda's rediscovery of this continuous national park because it is right on the Caroline Bay doorstep and we look forward to seeing entrepreneurs provide similar experiences to our new homeowners and hotel guests."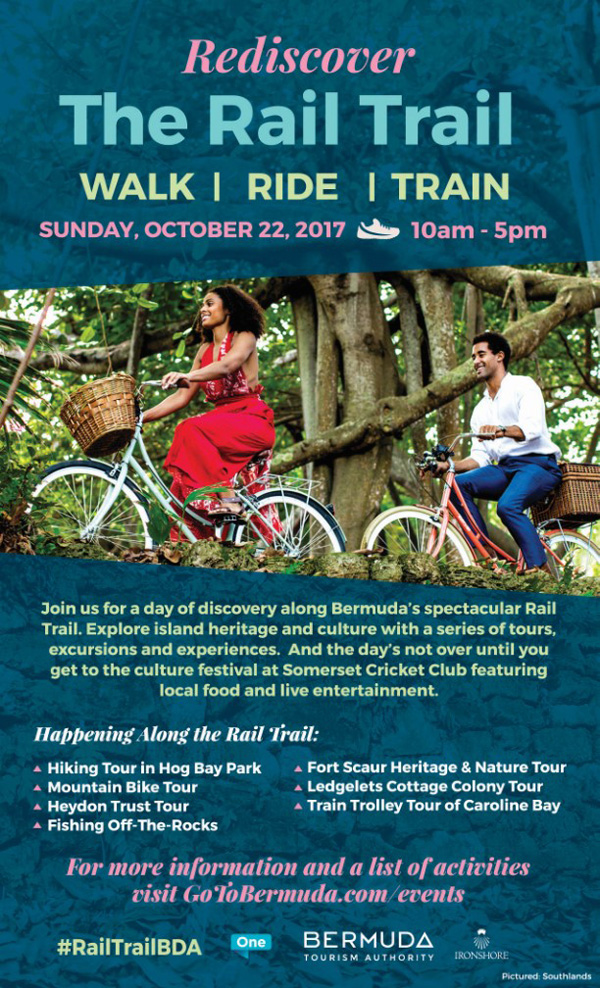 On Sunday, a mountain bike tour and a fishing off-the-rocks experience are also available. Participants are required to register their activities ahead of time online, including an option to rent mountain bikes from Oleander Cycles.
The day's activities are being promoted to visitors and residents. Following the tours, a culture festival will take place at Somerset Cricket Club with live music, food vendors, Bermuda Gombeys and a live Bermuda lobster cooking demonstration.
Dawn Simmons, secretary of Somerset Cricket Club, said: "As a long-time fixture along the Railway Trail in the west end, Somerset Cricket Club is proud to host this celebration of Bermuda culture in partnership with the Bermuda Tourism Authority. We are always pleased to be a part of community-minded events like this that create a welcoming environment for Bermudians and our visitors."
One Communications and Ironshore are partnering with the Bermuda Tourism Authority on Rediscover the Rail Trail.
Ironshore will provide a refreshment station on the Rail Trail stocked with free Ashley's Lemonade and Dunkely's will offer Quaker bars, Frito Lay snacks and bottled water. One Communications is a sponsor of some of the cultural activities at Somerset Cricket Club.
Map of the day's Rail Trail activities [PDF here]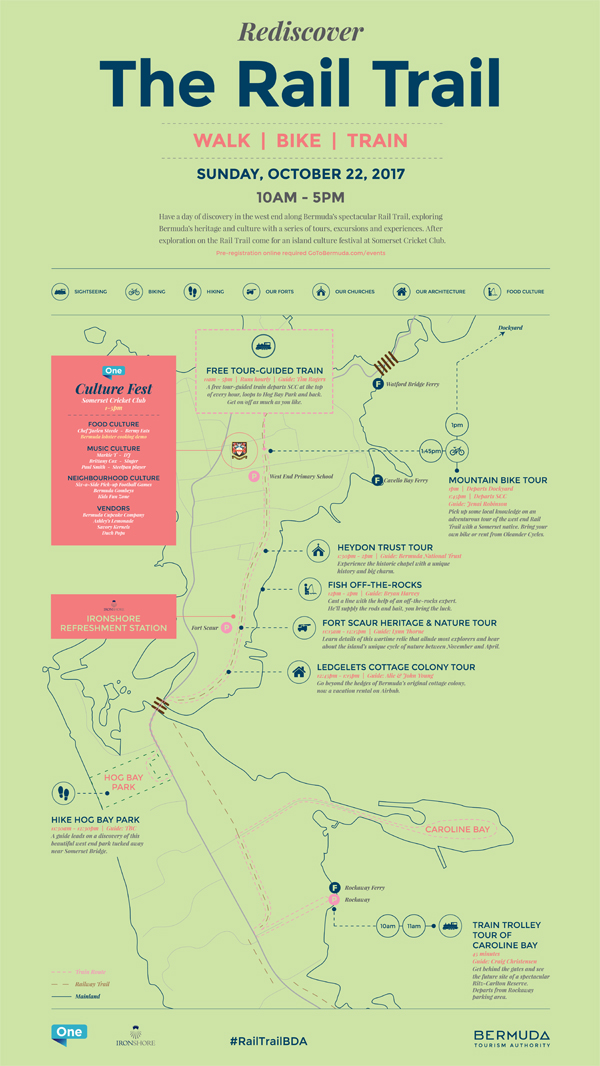 Read More About
Category: All, Entertainment