Clarien Bank today [Oct 25] announced that over $25,000 has been raised by the organization to support hurricane recovery.
Hurricanes Irma and Maria left destructive paths of devastation throughout the Caribbean, and the Clarien Bank hurricane donation drive was established to support Red Cross relief efforts in the region.
Clarien Bank Chief Marketing Officer Michael DeCouto commented: "We sincerely thank the entire Bermuda community for your donations. Critical resources are urgently needed, and your contributions will support our friends in the Caribbean as they continue the difficult process of recovering and rebuilding."
Bermuda Red Cross Executive Director Ann Spencer-Arscott and Mr DeCouto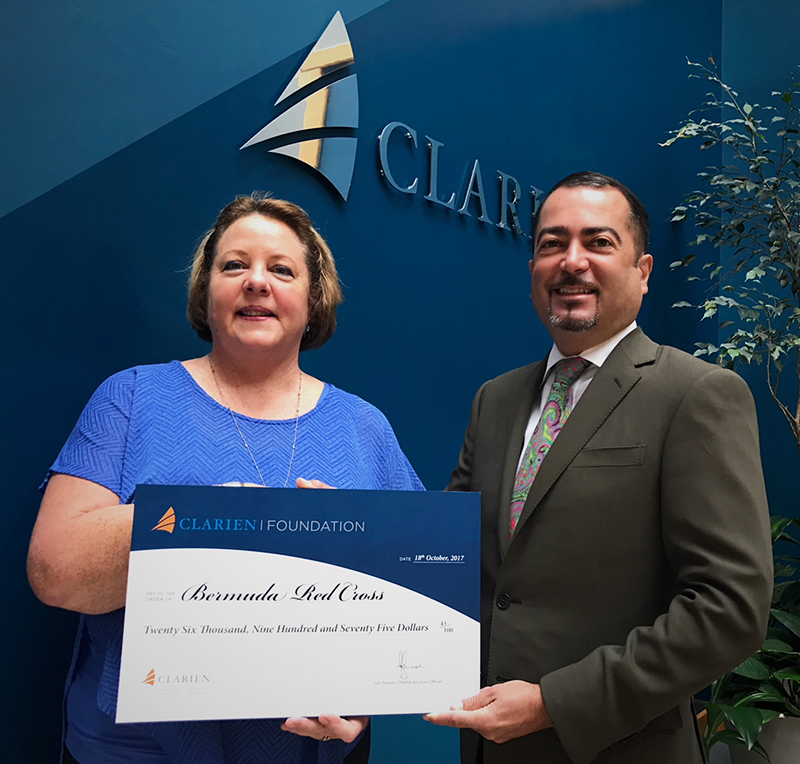 Clarien Bank matched $10,000 in donations. The funds will be managed through the Bermuda Red Cross for direct distribution to Red Cross societies from around the world currently assisting with multi-country relief and recovery efforts in the Caribbean.
Bermuda Red Cross Executive Director Ann Spencer-Arscott commented: "I am always so humbled by the overwhelming support provided to Bermuda Red Cross when we launch a disaster appeal.
"When we see the devastation that has occurred to our sister Islands in the Caribbean, we are reminded that this could have been us and we need to remember how important it is for everyone to be prepared for any eventuality than can occur in our lives. It has been a pleasure to partner with Clarien Bank and with their help, the funds raised has been increased by $26,975."
For additional information, please visit www.clarienbank.com.

Read More About