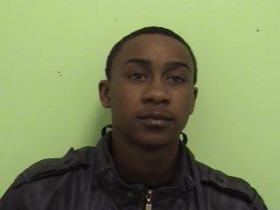 Appearing in Supreme Court this afternoon [Oct 4] Gariko Benjamin was sentenced to life in prison, with the Court ordering he must serve 25 years before being considered for parole.
Benjamin, 25, was convicted of being involved with the murders of Ricco Furbert and Haile Outerbridge, who both sustained fatal wounds after being shot multiple times while inside the Belvins store on Happy Valley Road in January 2013.
He left the island after the murders, resulting in an Interpol notice listing Benjamin as wanted by the "judicial authorities" on charges including premeditated murder and attempted murder, however was eventually brought back to Bermuda to face the charges.
Speaking after the sentencing, Detective Sergeant Jason Smith said, "Today's sentence is a sentence which we believe is just. It speaks to the resolve of the criminal justice system to ensure that in all cases, justice is served.
"We think it also speaks to the fact that criminals may be able to run, but they cannot hide forever and that, eventually, they do get caught.
"We thank the members of the public who have come forward to assist in this investigation, which is, as described by the judge, a horrendous crime; there were two persons who were shot to death, and we are thankful to the public for their assistance.
"We also extend our condolences to the family, and we would like to remind the public that there are still cases that are outstanding that can be solved with their help, and that if they are aware or know any information that could assist police in those investigations, to please make contact with us."

Read More About
Category: All, Court Reports, Crime, News