This past summer, KFC Bermuda recruited several young Bermudians who were eager to 'earn a buck', but to also learn and train in a fun environment.
Zariyah Georges, Kuiana Daniels and Dontae Butterfield all agreed that the summer employment at KFC helped them to achieve business experience through teamwork, organization and dedication, and when asked a few questions about their summer experience, here are some of their responses:
Dontae Butterfield, Kuiana Daniels, and Zariyah Georges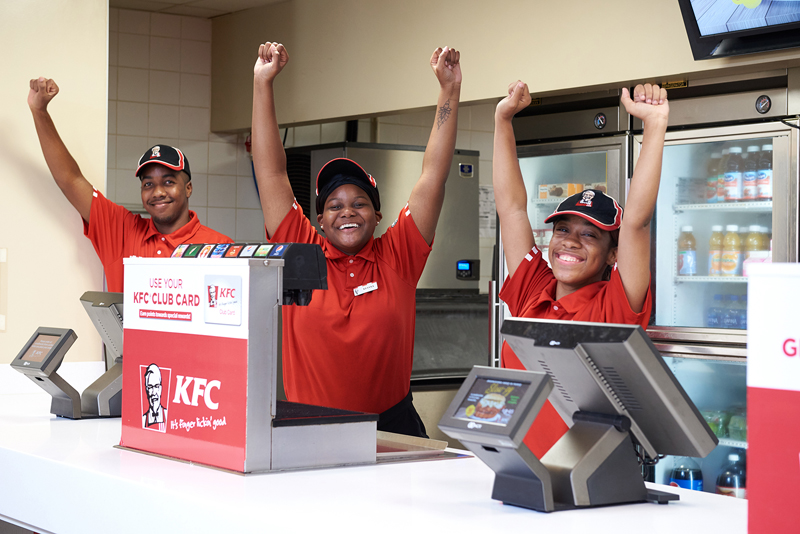 What prompted you to apply for a job at KFC?
"I saw the ad looking for students. It mentioned developing team work skills and I thought I could use that," Zariyah said. "It was also an opportunity to work during the summer and keep the job during school".
Dontae said, "I had a friend who worked here and always told me that it was a good atmosphere and fun place to work".
What did you like most about working there?
Kuiana said, "I like the staff, it's fun to work here. I like the managers too. I have recommended to a few friends that they should work here.".
Zariyah gave a nod to everyone working as a team and helping each other out, while Dontae shared "It's different from what I thought it would be like to work here. As a customer, you don't know what it's like. It gets very hectic and I have a totally different view after working here."
Have you learned anything/developed a skill that you think will help you in the future?
Kuiana said, "I always thought I wanted to work in the hospitality industry and now I know I do. I've learned to be more patient working here and that I need to work fast. It's also made me a better cleaner".
Dontae added "I've learned how to deal with customers in sticky situations and how to keep calm," while Zariyah agrees that patience and teamwork is crucial.
Funds To Help Schooling
Asked how they spent their money after the summer, it appears they are all planning for the future. Whereas some of the money will go to new bikes, the priority was school and spending towards their education.
"I'm planning to go away to school and I want to be able to help my Mom pay for my education", says Zariyah.
Ms. Ginene McSwain, General Manager of KFC, says, "Helping young Bermudians is important to us and the development of the organization. Having the students join our team has been a positive experience for everyone working here and for our customers.".
Read More About