Minister of Education & Workforce Development Diallo Rabain spoke in the House of Assembly on Friday [Sept 29] highlighting the release of 'Young Geographers,' a new textbook for Bermuda's students.
Minister Rabain acknowledged the partnership between the Ministry and the private sector in producing the textbook, which is the first in a series of three new Bermuda Geography textbooks, with 'Young Geographers' being the edition for primary students.
The initiative was led by Lisa Marshall, Education Officer for Social Studies, and published by Wendi Fiedler of Panatel  VDS Ltd.
Ms. Marshall said, "It is very important that our students have access to geography content that is specifically relevant to Bermuda. This type of resource has not been available to teachers at the primary school level. It is my hope that teachers are now able to ensure that while students learn about the world of geography they can do so through the lens of Bermuda.
"This will better equip them to access curriculum content they will be exposed to in the middle and senior school years."
Minister with a group of Northlands Primary School students: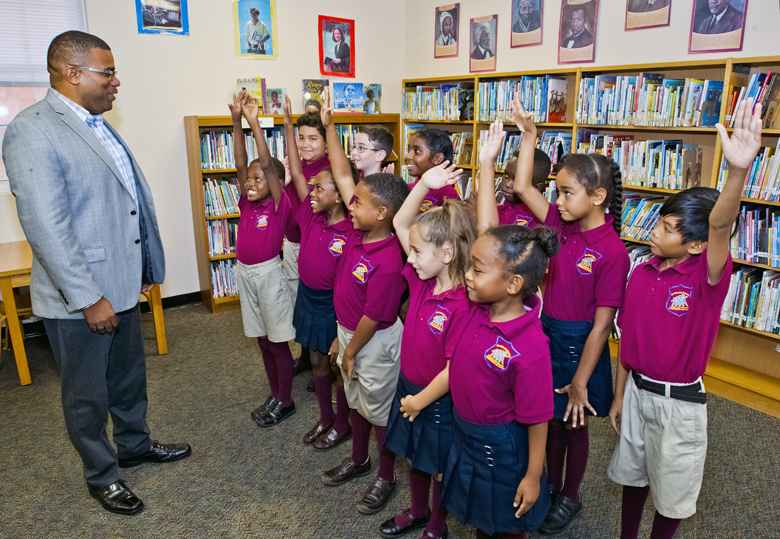 Ms. Fiedler said, "Our aim was to create and produce a series of interesting books with a design layout for ease of reading, with colourful visual support while allowing quick access and understanding of Bermuda's geography for the three levels of reader. We had a wonderful team that understood our vision."
Minister Rabain said in the House of Assembly, "I rise this morning to share with the Members of this Honourable House and to the listening audience, an exciting public–private partnership initiative, related to the release of a new geography textbook for primary schools titled 'Young Geographers'.
"The textbook was a collaborative effort between Panatel VDS Ltd. and the Department of Education. The book which has a Bermudian focus will be a resource for teachers delivering 'Module D' of the social studies curriculum that focuses on the Environment.
"This textbook will be used specifically to introduce our P1 to P6 students to geography and teach them about the Bermuda environment."
Textbook cover: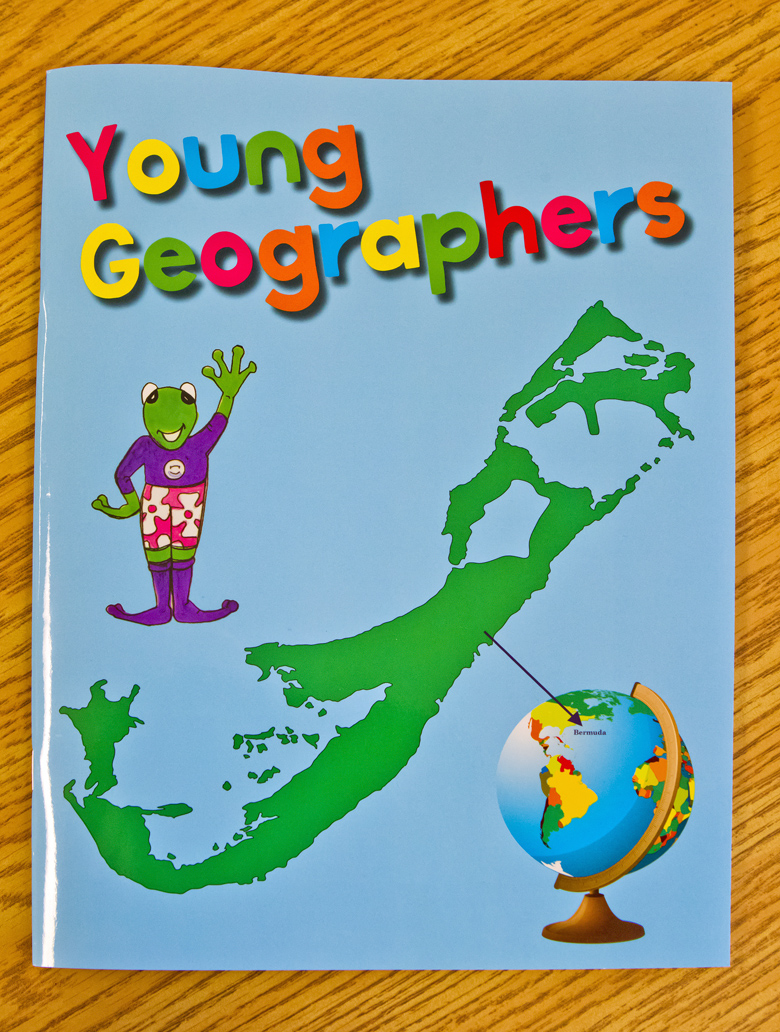 "Let me share two contextual definitions associated with geography and geographers. As we are aware, geography is the study of specific places on earth and the relationships between people and their environments.
"Geography seeks to develop key skills as it relates to understanding where places are found, why they are there, and how geographical areas develop and change over time. Similarly, geographers study how people interact with the environment and with each other from place to place.
"Geographers also classify Earth into regions in order to draw generalizations about the complex world in which we live."
Textbook: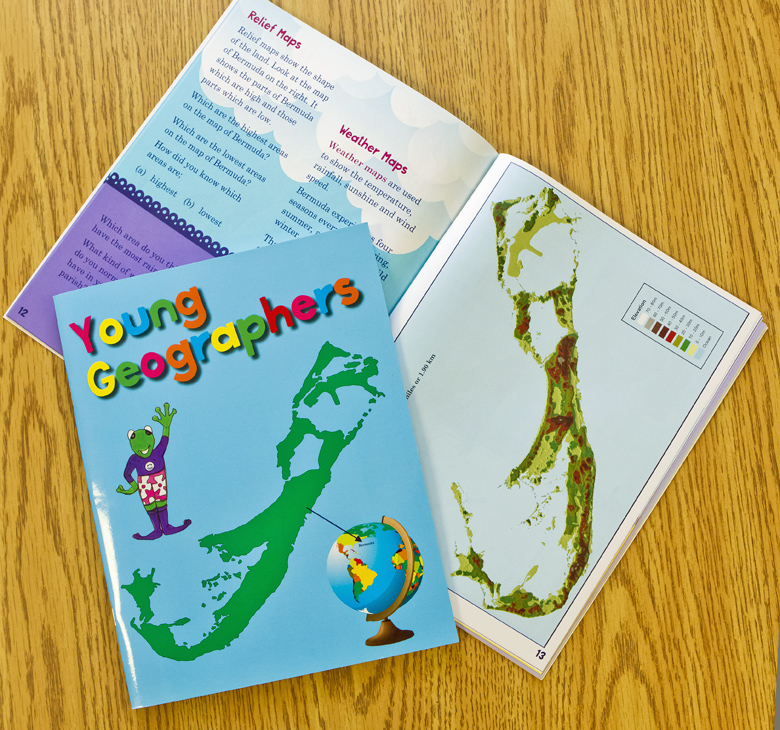 "Our teachers will expose our P1 to P6 students to the world of geography in the Bermuda context through the use of this text book. Students will learn about the various types of geographical maps, how to read city maps and interpret information using tables, graphs, compass points and geographical scales.
"Students will be taught how to navigate the Cities of Hamilton and St. George using topographical maps. They will understand the geographical size and structure of the Island as it relates to parishes and the many smaller islands linked by bridges.
"There will be lessons taught on Bermuda's land formations, its natural rock, caves, Bermuda vegetation, its local plants and animal life."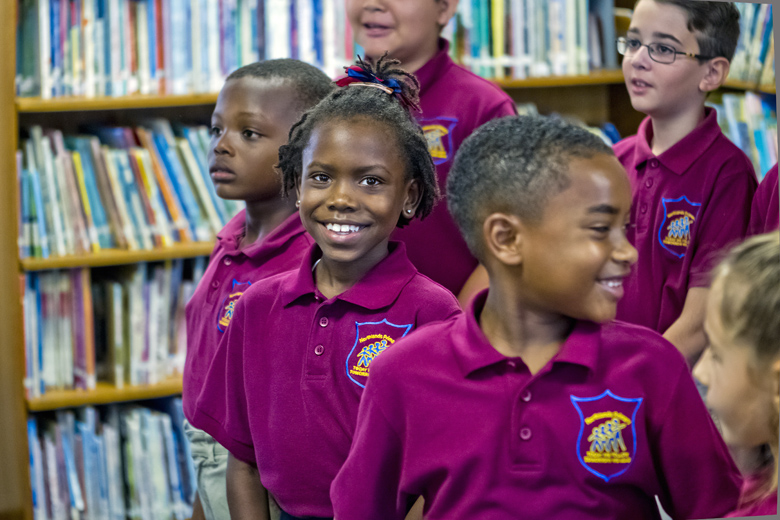 "We all understand the importance of planting seed when the soil is fertile so that it guarantees fruit. This is our intent as we expose the fertile minds of our primary school students to understanding the origins and features of the Bermuda environment.
"The basic geographical concepts understood from the local environment will form the foundation for our students to build on and conceptually link to the global perspective, as they progress to the middle and senior school levels; and ultimately beyond to tertiary schooling.
"Bermuda is a leading international financial centre. Bermuda is also a business hub and tourism destination. Developing these types of skills in our students through the delivery of a social studies curriculum of geography at the early grade levels of P1 to P6 is essential.
"Certainly, such skill sets through continuous nurturing could ultimately lend to the development of a citizenry who understand the relationship between geography and economics; the relationship between humans and the environment in which they live; and the importance of establishing environmental policies for sustainability."
Andrew Dobson, Warwick Academy; Donna Pink, Panatel; Charles Joynes, Northlands Principal; Minister Diallo Rabain; Lisa Marshall, Education Officer and Sean Patterson- Department of Land Surveys.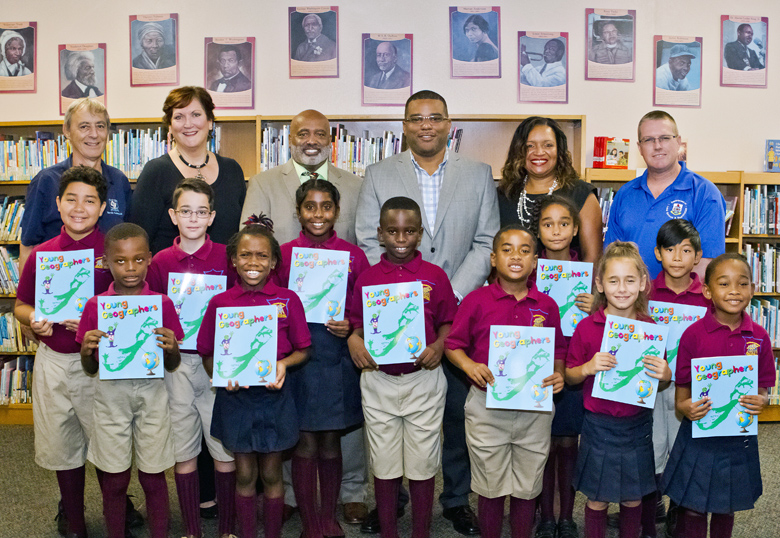 "I would like to acknowledge and congratulate those individuals who were instrumental in making the 'Young Geographers" text book a reality for use in our primary schools. This initiative was led by Lisa Marshall, Education Officer for Social Studies and Wendi Fiedler of Panatel VDS Ltd.
"The actual text in the book was written by Rebecca Chewitt, a former CedarBridge Academy Geography Teacher. Other contributors to the text book were Andrew Dobson, Anthony Wade Richard Lee and Mark Outerbridge who provided photographs; Sean Paterson and Jamie Mc Dowell who provided the maps; Donna Pink, Assistant Project Manager; Candice Dickinson, Design and layout; and, Elizabeth Mulderig, who granted permission for the use of 'Tiny the Tree Frog' a much loved character in her local children's books about Bermuda."
The Minister's full statement follows below:
Mr. Speaker, I rise this morning to share with the Members of this Honourable House and to the listening audience, an exciting public–private partnership initiative, related to the release of a new geography textbook for primary schools titled 'Young Geographers'. The textbook was a collaborative effort between Panatel VDS Ltd. and the Department of Education. The book which has a Bermudian focus will be a resource for teachers delivering 'Module D' of the social studies curriculum that focuses on the Environment. This textbook will be used specifically to introduce our P1 to P6 students to geography and teach them about the Bermuda environment.

Mr. Speaker, Let me share two contextual definitions associated with geography and geographers. As we are aware, geography is the study of specific places on earth and the relationships between people and their environments. Geography seeks to develop key skills as it relates to understanding where places are found, why they are there, and how geographical areas develop and change over time. Similarly, geographers study how people interact with the environment and with each other from place to place. Geographers also classify Earth into regions in order to draw generalizations about the complex world in which we live.

Mr. Speaker, Our teachers will expose our P1 to P6 students to the world of geography in the Bermuda context through the use of this text book. Students will learn about the various types of geographical maps, how to read city maps and interpret information using tables, graphs, compass points and geographical scales. Students will be taught how to navigate the Cities of Hamilton and St. George using topographical maps. They will understand the geographical size and structure of the Island as it relates to parishes and the many smaller islands linked by bridges. There will be lessons taught on Bermuda's land formations, its natural rock, caves, Bermuda vegetation, its local plants and animal life.

Mr. Speaker, We all understand the importance of planting seed when the soil is fertile so that it guarantees fruit. This is our intent as we expose the fertile minds of our primary school students to understanding the origins and features of the Bermuda environment. The basic geographical concepts understood from the local environment will form the foundation for our students to build on and conceptually link to the global perspective, as they progress to the middle and senior school levels; and ultimately beyond to tertiary schooling.

Mr. Speaker, Bermuda is a leading international financial centre. Bermuda is also a business hub and tourism destination. Developing these types of skills in our students through the delivery of a social studies curriculum of geography at the early grade levels of P1 to P6 is essential. Certainly, such skill sets through continuous nurturing could ultimately lend to the development of a citizenry who understand the relationship between geography and economics; the relationship between humans and the environment in which they live; and the importance of establishing environmental policies for sustainability

Mr. Speaker, I would like to acknowledge and congratulate those individuals who were instrumental in making the 'Young Geographers" text book a reality for use in our primary schools. This initiative was led by Lisa Marshall, Education Officer for Social Studies and Wendi Fiedler of Panatel VDS Ltd. The actual text in the book was written by Rebecca Chewitt, a former CedarBridge Academy Geography Teacher. Other contributors to the text book were Andrew Dobson, Anthony Wade Richard Lee and Mark Outerbridge who provided photographs; Sean Paterson and Jamie Mc Dowell who provided the maps;

Donna Pink, Assistant Project Manager;

Candice Dickinson, Design and layout; and,

Elizabeth Mulderig, who granted permission for the use of 'Tiny the Tree Frog' a much loved character in her local children's books about Bermuda

Mr. Speaker, In closing, on behalf of the Government of Bermuda and the Department of Education, I thank all involved in the creation of this new geography textbook for primary schools titled 'Young Geographers'. I am confident that their efforts will benefit both current and future generations of our children in Bermuda.

Thank you Mr. Speaker

Read More About
Category: All, Environment, News