Earlier today [Nov 22] Premier David Burt held a press conference announcing the Government's Blockchain Task Force.
"The task force will look to advance the regulatory environment and develop Bermuda as a destination for Utility Tokens, Tokenised Securities, Cryptocurrencies, and Coin Offerings," a spokesperson said.
"The task force has established two working groups to advance the development of this emerging area of technology for the benefit of Bermuda and Bermudians. The working groups will work under the direction of the Minister of National Security Wayne Caines.
"The Blockchain Legal and Regulatory Working Group will be chaired by Ms. Lydia Dickens, while Mr. John Narraway will chair the Blockchain Business Development Working Group.
Members of the working groups with Premier David Burt and Minister of National Security Wayne Caines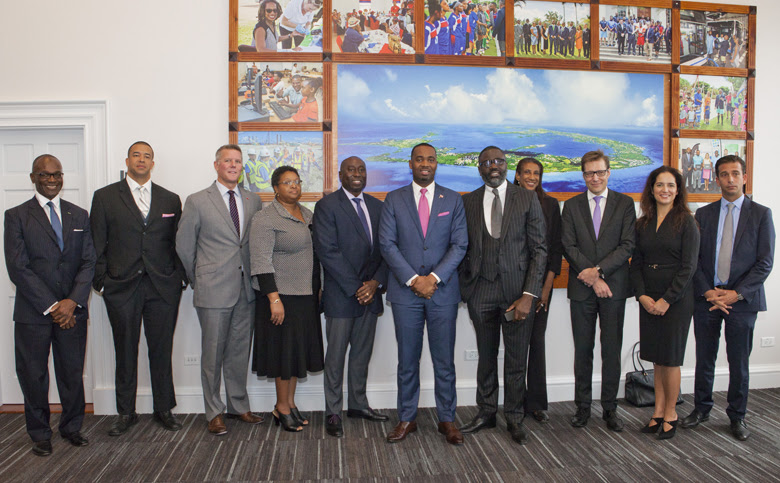 "Ms. Dickens is the Director of the Business Development Unit [BDU] in the Ministry of Economic Development and Tourism. Her work includes working in partnership with the Bermuda Development Agency [BDA], industry focus groups, government departments, and other stakeholders to facilitate legislative and policy reform.
"The BDU also works closely with the BDA to provide assistance to new businesses seeking to establish operations in Bermuda. Lydia has provided legal representation and support on employment litigation and tax matters, major infrastructure projects, commercial development projects, housing redevelopments, and other community development projects.
Members of the Blockchain Legal and Regulatory Working Group are:
Michael Scott, former Minster of Telecommunications & E-Commerce
Kevin Anderson, Senior Analyst Policy, Legal Services and Enforcement – Bermuda Monetary Authority
Sean Moran, Business Development Manager – Bermuda Businees Development Agency
Paula Tyndale, National Coordinator – National Anti-Money Laundering Committee
Sean Smatt, Head of Corporate Banking – Butterfield Bank
Chris Garrod, Director – Conyers Dill & Pearman
Stephen Gift, Assistant Financial Secretary – Ministry of Finance, Government of Bermuda
"Mr. John Narraway is a veteran of the entrepreneurial and mobile technology scene in Bermuda, having created technology-based ventures and held C-level positions in both private and publicly-traded companies.
"John is the co-founder and Executive Vice President of Saker Aircraft that is developing the world's first personal supersonic jet. He also founded Midori Ventures, a company that is designing electric-transport solutions, including the AMP Motorcycle."
Members of the Blockchain Business Development Working Group are:
Alec Cutler, Director – Orbis
Chris Garrod, Director – Conyers Dill & Pearman
Stuart Lacey, Founder and CEO – Trunomi
Stafford Lowe, Chief Administrative Officer – DrumG
Artie Darrell, President and CEO – Darrell International
Read More About
Category: All, Business, News, Politics, technology