On Sunday December 3rd, The Department of Community and Cultural Affairs, under the distinguished patronage of the Premier of Bermuda David Burt, will host The Carifesta Showcase, featuring Bermuda's delegation to Carifesta XIII.
The line-up of performers includes singers, poets, dance troupes and much more.
"The purpose of the showcase is to allow our people here to view firsthand how well Bermuda's participants performed in Barbados at Carifesta XIII – the region's most celebrated cultural extravaganza," explained the Director of Community and Cultural Affairs Heather Whalen.
"We also want Bermuda to be reminded of the array and quality of talent that we have on this small island; and that we should feel justly proud."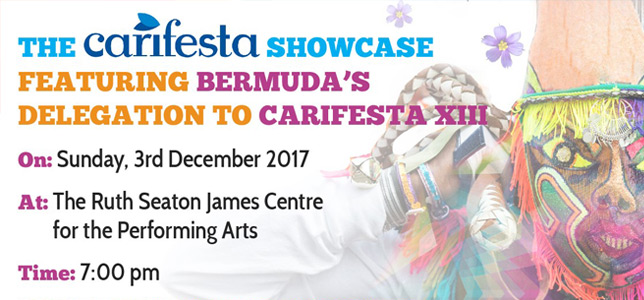 Those performing on December 3rd, include Adum Reb [K.A.S.E.], Alan C. Smith, Arijahknow Live Wires, Cindy Smith, Joy T. Barnum, Rikkai Scott, The Bermuda Gombeys, United Dance Productions, Wall Street Band and Yesha Townsend. There will also be a digital presentation of the visual arts and crafts showcased by local artists at Carifesta.
Carifesta took place from August 17 to August 27. Every two years, Caricom and Cariforum countries of the Caribbean and Latin America gather to celebrate the spirit of their people through the expressions of Art, Craft, Music, Food, Fashion, Film, Folklore, Health & Beauty, Literary Arts, Theatre and Dance at the Caribbean Festival of Arts known as Carifesta. Carifesta provides a forum for the people of the region to be exposed to each other's culture, and in the process, cultivates tolerance and appreciation for differences.
The Minister of Social Development and Sports Zane DeSilva said, "Having had the opportunity to witness some of the early events at Carifesta, as Minister responsible for Culture, I was able to provide support to our participants and enjoy firsthand their stellar performances.
"The way the Gombeys mesmerized and electrified the crowds certainly made me proud to be Bermudian. Likewise, I was extremely impressed with the level of artistry, professionalism and dedication demonstrated by our musicians, dancers, and visual and spoken word artists."
The Bermuda Carifesta delegation also consisted of artwork from the following artists – Robert Bassett, April Branco, Meredith Andrews, James Cooper, Rhona Emerson, Alan C. Smith, Dr. Edwin Smith and Dr. Charles Zuill as well as craft work from Ronnie Chameau, Donna Pink and Nahtasha Smith, cedar work from Jeremy Johnson, Llewellyn Emery and Milton Hill and ceramic Y'art from Stratton Hattfield.
Films were screened as part of the Carifesta Film Festival by Bermudian filmmakers including Adrian Kawaley-Lathan, Kalilah Robinson, Lucinda Spurling and Andrew Stephenson.
Dancer Rikkai Scott said of his involvement at Carifesta in August, "I enjoyed the experience of seeing other Bermudian talent and reconnecting with my country folks. I had an opportunity to talk to a Barbadian Media personality, and they have said they will stay in touch regarding the possibility of me going to Barbados to work at some point."
Scott added the government officers who chaperoned the participants did an excellent job of "taking care of every detail and looking out for everyone involved" and that the officers were extremely well-organized.
The Carifesta Showcase will take place on Sunday December 3rd at The Ruth Seaton James Centre for the Performing Arts at 7pm.
Free Tickets are available from the Department of Community and Cultural Affairs and bdatix.bm or please call 292-1681 for more information.
Read More About
Category: All, Entertainment, News