Global Entrepreneurship Week brought out a wide array of entrepreneurs to pitch their newest innovative way to stimulate the economy by starting new businesses at the tenth annual Rocket Pitch competition held on Thursday evening, November 16th.
This competition was sponsored by the Bermuda Economic Development Corporation [BEDC], the Bermuda Tourism Authority [BTA], the Department of ICT Policy & Innovation [IPI] and the Youth Entrepreneurship Initiative of Bermuda [YEI].
The Island-wide Business Plan Competition was a chance for emerging entrepreneurs to submit a plan to launch an enterprise providing products or services to both local and global challenges of any type.
This year marked the introduction of a new category, Youth Pitch, for students up to the age of 18. The category joined the other four categories: PitchTech, Pitch Pink [tourism], PitchTown [local solution] and PitchGreen.
"The framework of the Rocket Pitch presentation is simple," said Jamillah Lodge, Information Education and Development Officer for the BEDC. "The presenter has five minutes to tell a story to judges and potential investors and then respond to questions.
"This year's pitches were awesome. The feedback we have received has been great and adding in the Youth category was a great opportunity to showcase the young talent we have in Bermuda."
Rocket Pitch Winners: Cire Bean, Catarina Rocha-Bulhoes, Leah Kempe, Surlena Smith, Nakia Smith, Tracey Hayward, Tesa Dill, Chaella Bradshaw-Douglas, accepting for Donavan Burgess.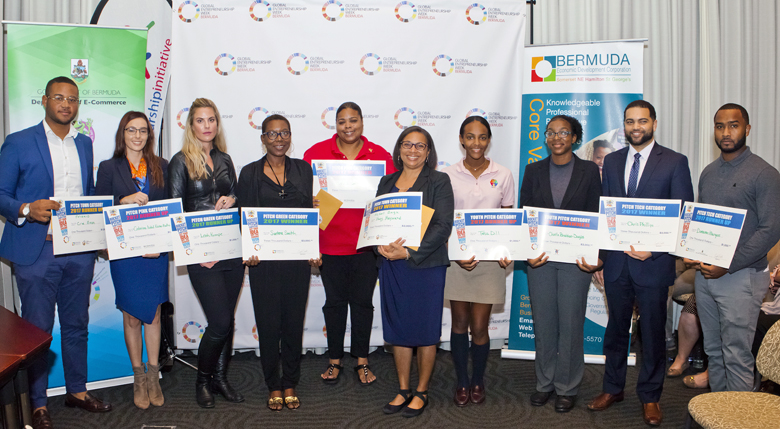 With an eye on a share of the $25,000 prize package that included startup funding and business start-up services, ten finalists pitched their business ideas to a panel of judges for first and second place prizes in each of the five categories.
First up to pitch were the Pitch Tech contestants: Donavan Burgess for his online business Frendliest Skillit, which provides freelance service providers with a way to reach potential customers; and Chris Phillips, for Dealio a mobile app that alerts customers to the closest local deals. Edging out the win in the Pitch Tech category was Chris Phillips.
The judging panel included Dr. Marisa Stones, Director of Department of ICT Policy & Innovation, Tulani Bulford, Sr., Senior Partner of Portland Lane Capital and Monica Dodi, Managing Director of the Women's Venture Fund.
Dr. Stones said, "It is only natural for IPI to not only support GEW as an overarching celebration of how technology and entrepreneurship create significant synergies, but to also sponsor the PitchTech category or the Rocket Pitch competition. We strive to nurture the next great tech-enabled solutions and this competition provides a great opportunity to do it.
"Chris Phillips' Dealio app was selected as the first-place winner because we saw how it could have a direct impact on Bermudians and on Bermuda's economy, evidence once more that technology provides solutions that could simplify life for every one of us."
Contestants in the Youth Pitch category presented next with Chaella Bradshaw-Douglas taking the top spot for her idea for Good Chew: a vending machine business providing homemade healthy snack alternatives. Tesa Dill took the second-place spot with her business idea Off the Chain, a one-stop hotdog shop that would be based in Dockyard.
Judges in the Youth Pitch category included: Doug Selley, YEI President, Buzzy Thibodeaux, Executive Vice President of Junior Achievement and Mary Ellen Koenig, the US Consular General.
Mr. Shelly commented, "YEI is pleased to be able to sponsor this new category. We support youth entrepreneurship through our summer Biz Camps, and we feel that the Youth Pitch is an extension of that support. It is a refreshing sight to see young people come up with such innovative ways to address local problems."
Pitch Pink contestants included Catarina Isabelle Rocha-Bulhoes who pitched Glamping on De Rock, which provides glamourous camping for locals and tourists alike. Nakia Smith pitched Sip and Savor Bermuda, food tours that provide the opportunity to eat and drink like the locals.
Judges for Pitch Pink included Pat Phillip-Fairn Chief Product and Experiences Officer for the BTA, Korrin Lightbourne, Marketing Coordinator for the Chamber of Commerce and Nadia Laws, Owner of Media Maven.
Mrs. Phillip-Fairn stated "The BTA is pleased to continue to sponsor the Pitch Pink category of the Rocket Pitch competition. This year, the competition was tough and both entrepreneurs are establishing businesses that add value to our local tourism offering, but we felt that Nakia's Sip & Savor experience can immediately address a big travel trend – food culture – that's relevant to today's Bermuda visitor, in a highly distinctive way using Bermuda's uniqueness. The fact that her tours also complement BTA's objectives are a bonus. That's why we awarded her the first-place prize."
Contestants in the Pitch Green category included Surlena Smith, for Pon Da Pits, an all-natural deodorant that focuses on using local scents and Leah Kempe who pitched Prepped, prepared meals that provide correctly-portioned and nutritional meal plans.
Ms. Smith took home the first-place prize and was thrilled to win the category stating: "Having officially launched in September of this year, these funds will help me take my business to the next level. I am extremely excited for the opportunity to have been able to participate."
Judges in this category included, Jonathan Starling, Executive Director of Greenrock; Florence Smith, Product Manager, Clarien Bank and Felicia Rickards, BEDC Board Chair.
The last category of the evening to pitch was Pitch Town and included pitches from Cire Bean, who took second place with Pay A Kid an online matching business that matches young people between the ages of 13 – 18 with odd jobs and Tracy Hayward received the first place prize with her pitch for School Boxez, a website that provides parents of children in middle and high school with school supplies.
Erica Smith, BEDC Executive Director stated, "I am so pleased with all of the participants in the Rocket Pitch this year. I do not envy the judges as they had some hard decisions to make. Ultimately all finalists are winners and BEDC is happy to be able to support their business endeavors through hosting this competition."
In addition to cash prizes sponsored by the BTA, BEDC, YEI and IPI, finalists received startup services that were generously provided by Cox Hallett Wilkinson Limited, The Media Maven, Deep Blue Communications, Mediaville, Quantifi Consulting, and Performance Solutions.
Read More About