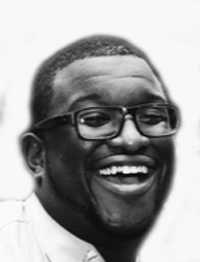 [Written by Don Burgess]
Friends and family paid tribute to a "gentle giant" with an "infectious laugh", who tragically passed away this weekend.
Rakai Augustus was killed in a car accident around 11:40pm on Saturday, October 28 when the vehicle he was travelling in struck a wall on York Street in St. George near the junction with Fort George Hill.
Daniel Augustus said his cousin was not just a relative, but a good friend as well. The pair went to Prospect Primary together.
"He was the true definition of a gentle giant," Daniel told Bernews. "He would brighten a room with his attitude. He was the friendliest guy you would ever meet. If you didn't love Kai, there was an issue with you, not him. I'm going miss having laughs with him."
Alex Dickinson, who was close to Rakai said, "He has been a dear friend for over 13 years. To know Rakai was to love him.
"He made everyone feel like his best friend. He had an infectious laugh and joyful demeanour that was so rare. He was a gentle giant who will be an incredible miss to all who were blessed enough to know him."
Dejon Simmons also described Rakai as the "Big teddy bear everyone loved. I have no bad memories of Kai, and it was never a bad vibe when he was around. I mean the guy is indescribable."
Mr Simmons said Rakai was a "gentle giant" and a "gentle soul and fun to be around. When reading the headline this morning, he was honestly the absolute last person I would think to leave earth this early."
Jevaughn 'Squirrely' Simons said they met several years ago while in the Royal Bermuda Regiment. Mr Simons said, "He was under me as a private, but I loved his attitude and drive.
"He was a great guy to know, and each time I would see him we would have a good conversation and catch up. His personality was second to none always helpful and willing to help his fellow man. He will be a great loss, and I truly will miss him."
Emily Ross said, "Rakai never failed to brighten up your day. He radiated positivity. It was impossible not to smile around him, because his positivity was so honest and genuine you couldn't help but feel it too.
"He was funny, he was kind, he was famous for his Kai bear hugs. He loved his mom. He encouraged you to find happiness in the simple things. He was grateful for every day. When I think of Kai, I think of happiness, humour and hope. A light has gone out."
Read More About
Category: Accidents and fires, All, News