Coldwell Banker Bermuda Realty and The Coalition for the Protection of Children are joining forces again for their 15th annual 'Toys for Tots' campaign.
A spokesperson said, "The Coldwell Banker Elves are at it again with their annual Toys for Tots campaign! Every year for the last 15 years Coldwell Banker Bermuda Realty has partnered with The Coalition for the Protection of Children to execute this wonderful initiative, which provides a new toy for children of the Bermudian community who otherwise likely would not have received a gift at Christmas time.
"The annual 'Toys for Tots' campaign was adopted locally in 2002 and modeled after a similar initiative started by the Marine Corp in the USA. Since then, the Bermudian community has responded with more and more generosity each year, which has really helped this cause to evolve into something special.
"It has grown so much over the last 15 years that this year the organizers are putting a new spin on the cause. This year the drive will also focus on providing for the families that are supported by the Coalition in ways that will allow the local charity to offer better support of these families year round.
"They are still welcoming toy donations, however they are also asking for donations of necessity items like diapers, toiletries, gift certificates for school uniforms and other clothing items, as well as items for some of the older kids. Monetary donations are welcomed as well, which will go towards the Coalition's Breakfast Program as well as the educational services they provide throughout the year.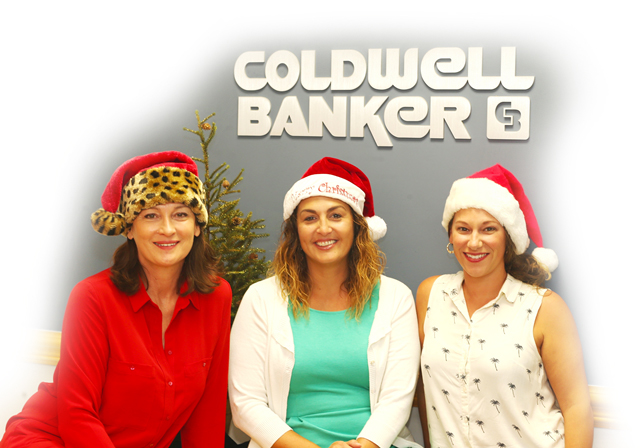 "The Toys for Tots cause is not just about "giving" and "getting", but more about the happiness we want everyone to share in at this time of year.
"It teaches us and our children the ability to be a bit selfless, to appreciate what we have, and to experience a growth in our character that comes from recognizing and helping those in need.
"Many of us take for granted the simple joy we experience at this time of year while giving and receiving. Toys for Tots strives to ensure that all of our children get to feel that same joy, both at Christmas time, and all year 'round .
"Starting November 1st through November 30th toys may be dropped off at Coldwell Banker Bermuda Realty or may be purchased and left at the red drop drop-offs: The Annex Toys, Kit N Caboodle, Price Rite, Gorhams, Arnolds Discount Warehouse, Little People's toy or Willow Stream Spa.
"Special thanks to Best Shipping and Joe Vieira Trucking Ltd. for providing the drop off boxes and trucking service to deliver the toy to the Coalition for the Protection of Children office.
"For any questions you may have, or for more information on how you can get involved please feel free to contact Sarah, Angela or Clare [contact information listed above]."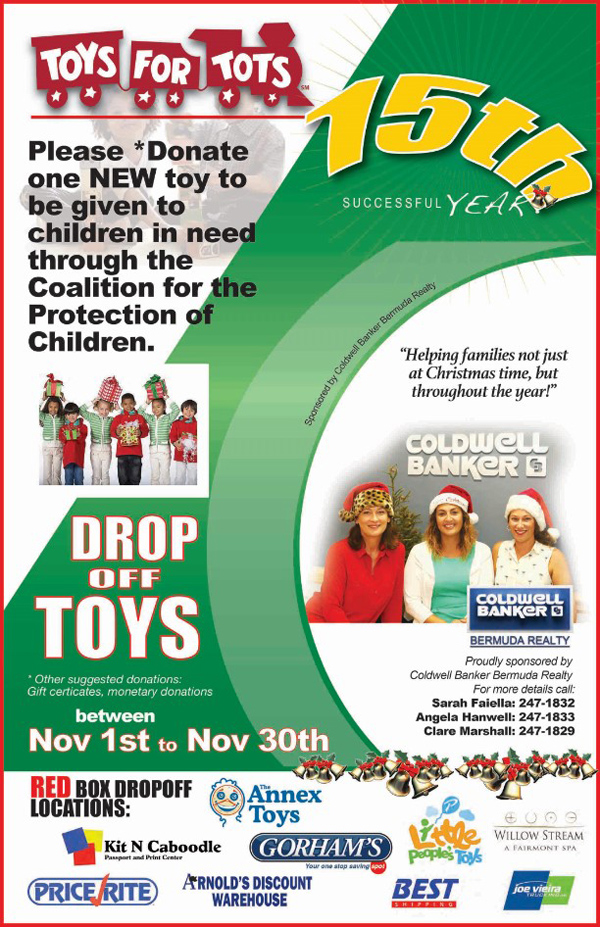 Read More About
Category: All, Entertainment