In conjunction with Global Entrepreneurship Week, the Bermuda Economic Development Corporation [BEDC] hosted its first annual Small Business Awards recently, with the event hosted by Craig Tyrrell.
The Elbow Beach Hotel's Ocean Suite was transformed into a formal dinner setting with live fish and floating marbles as centerpieces. The packed room was welcomed with opening remarks from Jamahl Simmons, Minister of Economic Development and Tourism.
The Minister stated, "We are here tonight to celebrate you inspiring entrepreneurs and businesses owners. In this room, there is proof that Bermudians have what it takes to reinvigorate our local economy. I congratulate all those who were nominated. Whether or not you will be accepting an award tonight, you are to be applauded for your outstanding achievements."
Over a buffet dinner, the attendees were first treated to a original musical selection from Ms. Olivia Hamilton followed by an inspiring speech from Guest Speaker, BEDC former Board Member and owner of Four Star Pizza and Glaze, Marico Thomas.
Mr. Thomas took guests down memory lane as he told a story of how he began his foray into entrepreneurship starting at age 10, through to his current age and how life changing it has been for him.
He said,"My values and motivations have been shaped buy the desire to care for family, through being afraid to fail, of disappointment, of hurting people's feelings, of not doing the right thing and by a sense of duty."
Minister Simmons congratulating Mark Prior on winning the Entrepreneur of the Year Award, photo courtesy of Robert Daniels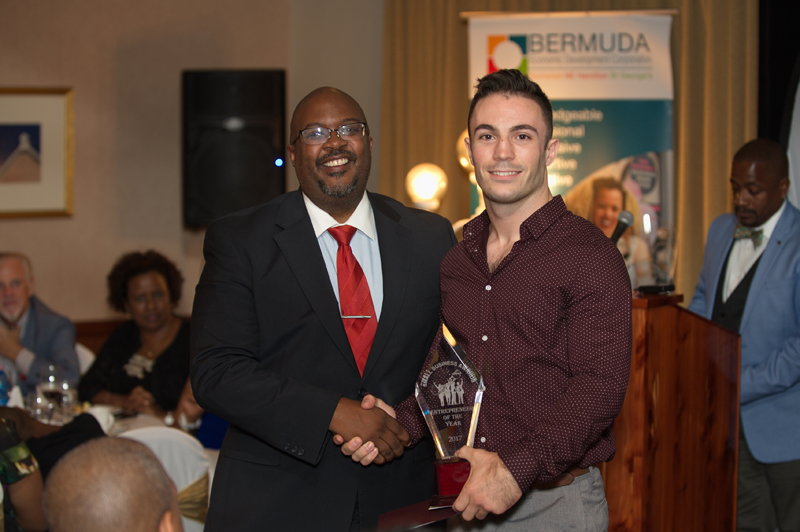 Whilst the purpose of the evening was to award Small Business Owners, throughout the evening, guests were able to win raffle prizes graciously sponsored by RHB, CK Designz, Elbow Beach Bermuda, Graphic Language, Lido Complex, One Communications, Port Royal Golf Course, Medical House, Terceira's Gas Station, and Rellz Hott Graphics.
The categories for the awards included: Entrepreneur of the Year, Business of the Year, Most Enterprising Young Entrepreneur, BEDC Client of the Year, and People's Choice.
The Nominees in Entrepreneur of the Year category included Felica De Roza, FDR Essentials; Mark Prior, Bermuda Combat Club; Ashley Stevens, Ashley's Lemonade; Raymond Walker, Belcario Thomas and Dennie O'Connor, Beach Boys Ltd., Tobacco Bay; Coral Wells, Connectech, Rickeisha Burgess, Duch Pops; Mstira Weeks, FryDays and Mystiques; Paul Trew, Gold Star Transport; Jolessa Holdipp, Klassiq Kidz; Ayesha Peets-Talbot, Sabrina Famous and Beth Hollis, Ocean Rock Wellness; and Khalilah Nisbeet, Occasions Bridal and Formal.
The Entrepreneur of the Year Award went to Mark Prior, owner of the Bermuda Combat Club, who said: "I had a lot of ups & downs since coming back to Bermuda, but I was passionate about Brazilian Jiu-Jitsu and Mixed Martial Arts and wanted to share it with everyone that I could so starting Bermuda Combat Club has allowed me to do this."
He continued, "From the number of entrepreneurs in the room, it is obvious that Bermuda is bouncing back from hard times. As someone once said, 'if you're going through hell, just keep on walking.' Thank you."
.
The Business of the Year Award nominees included The Bermuda Centre for Creative Learning, Bermuda Combat Club, Evolutions Gym, Frydays, Pawfection, Red Bicycle, Beach Boys Ltd., Tobacco Bay and Scribbles Art Shack.
The Award went to Beach Boys Ltd., Tobacco Bay and Beach Boys Business Development Officer, Belcario Thomas said. "Beach Boys Ltd., Operators of Tobacco Bay are thrilled to have won BEDC's Business of the Year Award. The BEDC agency has been instrumental in our success providing loan guarantees, micro loans, business courses, and helpful East End Zone support."
"Winning this Award is truly a testament to our team-members and industry stakeholders who deserve all the praise for embracing a spirit of collaboration and cooperation, particularly within the St. George's community."
Mr. Thomas added "With this 2017 Business of The Year Award, Beach Boys Ltd. is excited to announce the opening of a 2nd east-end Beach location. A new "Pop Up" experience in partnership with the Bermuda Land Development Company and the Bermuda Tourism Authority."
The Most Enterprising Young Entrepreneur category brought some attendees to tears during the evening as the awards were presented.
Guests were treated to a sound bite of the three finalists' interviews wherein they stated why they should be considered as the Most Enterprising Young Entrepreneur.
The three finalists in this category included Cire Bean, Pay-A-Kid; Ashley Stevens, Ashley's Lemonade; and Rickai Lightbourne, Kool Toon Tees.
Each finalist received an award, with Rickai Lightbourne accepting the 2nd runner up award, Ashley Stevens was 1st runner up, and Cire Bean took home the top prize.
BEDC's Ondreyah Rochester said. "All of the finalists are winners and deserving which is why we made the decision to give each of them an award."
The People's Choice Nominees included Ashley's Lemonade; Beach Boys, Tobacco Bay; Bermuda Combat Club; Dimensions Hair Salon; Duch Pops Bermuda; Gold Star Transport; KOT Nail Studio; Lifestyles Co. Ltd.; Occasions Bridal & Formal; Ocean Rock Wellness; Scents-A-Lot; Klassiq Kidz; and Scribbles Art Shack.
The top three were Mark Prior of Bermuda Combat Club with 213 votes; Shakirah Brangman of KOT Nail Studio with 231 votes; and the winner of the People's Choice Award went to Jolessa Holdipp of Klassiq Kidz with 326 votes.
The BEDC Client of the Year Award nominees included Belcario Thomas, Dennie O'Connor and Raymond Walker, Beach Boys Ltd., Tobacco Bay; Alexandra Mosher, Alexandra Mosher Studio Jewellery; Colina Outerbridge, Quantifi Consulting; Mark Prior, Bermuda Combat Club; and Irvin Hendrickson, Hendy's Laundromat.
Alexandra Mosher took home the top award, saying, "This award was completely unexpected, and I am thrilled to be accepting it on behalf of our company along with my business partner and husband, Darren Maksymetz.
"The BEDC has been an excellent resource and partner over the years, and has helped me through both educational courses and competitions that they have run. They do incredible things for entrepreneurs and we are grateful to have been selected as the 2017 Client of the Year." ​
In addition to the Small Business Awards, Stephanie Lee, founder of Women Who Own and Manage Businesses [WOMB] also announced the winner of the Female Entrepreneurship Award for 2017 as Chrisanthi Bartley of Scribbles Art Shack.
The BEDC Small Business Awards was conceived to celebrate the accomplishments and the great work that small business owners around the Island are engaged in.
Erica Smith, BEDC Executive Director, said, "It has been an objective of the BEDC to host an awards ceremony to celebrate our entrepreneurs and small business owners. We are thrilled with these first awards and look forward to hosting these awards on an annual basis.
"Small Businesses are the lifeblood of our local economy and they should be recognized for the key role they play in making Bermuda the vibrant Island it is."
Click to enlarge photos:
Read More About