[Written by Nathan Carr]
National women's footballer Akeyla Furbert, 22, sits down with Bernews to discuss her time spent stateside, explain the immense pride she has in representing her country and offer advice to younger Bermudians on what they can do to enhance their chances of success.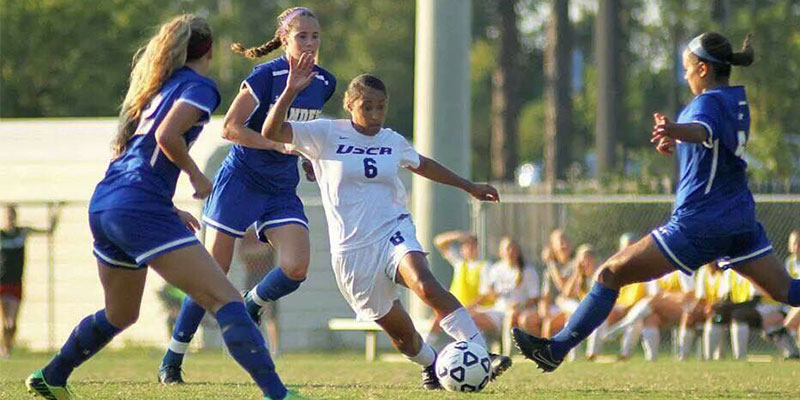 Q: First and foremost, how did you originally get involved in football?
I've played many sports. Mostly to get out of class when I was younger to be honest, but also because I pick up things very quickly and enjoy playing. I played basketball, netball, field hockey, cricket, softball and track and field. I also danced but football will always be my first love. My family is not a big football family, so I wouldn't say it's genetic. I would just kick around in the backyard from about the age of two and I guess that's where my love for the game began. I played recreationally until Ria Smith encouraged me to join PHC. At ten years old that was a pivotal decision for me and my development as a young player. Wendell Furbert soon came on board and I would say he had a huge hand in setting the foundation that helped me become the player I am today, in terms of mindset, knowledge and ability. I'm grateful for his role in that.
Q: Whereabouts in Bermuda are you from and what does it mean to you being from Bermuda?
I live in Warwick Parish, close to the south shore, so the beautiful views and the Bermudian vibe are what I missed most while I was away in school. I left at the age of sixteen to attend Montverde Academy in the USA, so I've been living overseas so to speak for quite a few years. I think being away helped me gain a new appreciation for this little dot in the Atlantic Ocean. I love saying I'm from Bermuda. I liked to make the joke to my teammates 'I live where you vacation'. I would post pictures on Instagram all the time. I'm truly blessed to call this island my home.
Q: You've now left but how did you find things at the University of South Carolina Aiken in the USA?
I recently graduated with a Bachelor's in Exercise and Sports Science from the University of South Carolina Aiken. As I mentioned before, I attended Montverde Academy in Florida for high school where I played football and basketball. I had no idea where I wanted to go to college. All I knew was that I didn't want to freeze in the winter, I didn't want to be too far from home, I didn't want to go to a big school and I wanted to play football. I could've possibly had the opportunity to play basketball, but I knew college was more competitive and I was short. Despite encouragement from my basketball coaches, I decided to stick with football. USCA was everything on my checklist so it was a no brainer. Small town, small school, on the east coast, in the south and I got a scholarship to play football.
It was a good choice for me but I struggled in my freshman year. For some reason I wasn't in love with the game as much anymore, my confidence was extremely low, and I wasn't performing. It was a different style of play, faster pace, a lot more fitness. Training at home is definitely more relaxed. I was also anti-social off the field and often kept myself to myself in my first year. My sophomore year was better socially, but it wasn't until my junior year that I really excelled on the field. I found that fire and passion again and my confidence increased tremendously. I developed a lot during my time there both on and off the field and I'm grateful for the experience. Senior day came way too fast. I miss going to war with my team.
Q: What would your advice be to any young, budding Bermudian footballers in terms of getting opportunities overseas?
Bermudians have so much talent and potential. I see so many people doing great things and there are many who will have opportunities coming. A lot of times we feel like our talent will carry us. Once you get off this rock, you'll see everyone else is just like you. You have to be different. You have to make yourself stand out. You have to show them something they haven't seen. Talk to people who have been there. When they tell you something you don't want to hear, don't get discouraged or prideful. Take that information and use it. Stay on top of your education because even though you don't think it's important, it is. It's so very important to be mentally tough. Keep your attitude in check and your work ethic high. Don't talk too much, let your ability speak for itself. Keep striving. Whatever your dreams are, believe in yourself.
Q: What does it mean to represent your country on the international stage? Very few people will ever get to experience something like that…
Representing your country is truly an honour. No feeling compares to putting on that jersey, walking out onto the field in front of a crowd and playing football for everyone at home. I've had the opportunity to do so since I was twelve in multiple sports. My first tour was the Under-17 World Cup Qualifiers in 2007. I never realized how great of an honour it was until I was older. When I went to college my teammates thought it was the greatest thing. They would ask me all these questions, but for me it was such a normal thing. Bermuda is so small we often don't understand how big it is to represent our country sometimes. It's such a privilege and I can't wait for my next opportunity.
Q: What do Bermuda need to try and do, in your opinion, to be able to compete consistently with the rest of CONCACAF? There's obviously lots of talent on the island…
Bermuda needs more professionalism in general. Having the experience of playing in college and then coming back home, you can see the differences. Honestly it frustrates me sometimes because we have the potential. There is so much talent on this island, but the mindsets are what set us back. We're entitled. We think we deserve everything. We don't want to train. We don't like the coach so we don't want to play. We don't like the country the tournament is in so we don't want to travel. We don't understand that it's a privilege and an honour. We don't realise it's not really about us. It's about the country. Consistency is also important. The women's teams train consistently. When those who are overseas come back they jump right in to the routine already established. It allows us to create a cohesiveness that is important in games. I think that has had a positive impact on the women's team's performances over the past few years, especially for a country which has no female leagues. We must want it. I think if everyone comes with the right mindset we'll go far.
Q: Describe your style of play and position on the pitch and what qualities make you stand out?
I'm an easy-going type of person. I've had a lot of experience and watched a lot of people. I'm always open to criticism. Tell me what I did wrong, should've done and can do better. I give it my all always and I love being underestimated. I'll play wherever the team needs me to. I've played every position in a football team before. However, my main position is in midfield. I personally prefer central midfield, but I'm known more for playing on the wing. In school, because we played a 4-3-3, I often played as a striker, but I would treat it like a winger. I'm not a hold-the-ball-and-turn kind of striker. I was an off-the-ball second run type of striker. I play very simple. I like a lot of one-twos and through balls as I prefer to chase the ball on the wing. I don't like to hold the ball very long. When I was in college, my speed really intimidated my opponents. I would use that to my advantage and run at defenders in the middle. The whole defence would breakdown and open up the field for my teammates.
Q: Who's your biggest inspiration in football?
I would have to say Naquita Robinson and David Bascome. Both treat me hard, tell it like it is and don't take any nonsense, but that just makes me better. The first time I played under Coach Keta I was around the age of 13. For ten years she's been helping to make me the player I am today. She has so much knowledge when it comes to the game. I'm always willing to know what she has to say and what she's thinking. She cares about women's football and has worked tirelessly over the years to develop women's football in Bermuda along with some other people.
Not only that, but she was nice on the field in her prime too. I first went to one of Bascome's camps when I was about seven years old. As I've gotten older we've crossed paths a lot and he's kind of taken me under his wing. He has a lot of experience that many don't have. He knows a lot about the game and the business side of it as well so he's able to give insight on both sides. I just listen when he talks and take it all in because I plan on being around football for a long time even once my playing days are over. I have a lot of respect for these two people. I've learned so much from the both over the years and they still continue to teach me new things.
Q: Finally, what do you hope to achieve in your career both in the short-term and long-term?
Now I'm just trying to settle into adult life at home. Other than the national team, I also train with Flanagan's Onions' men's team in the Premier Division and play netball with North Village Lady Rams to stay active. I'm looking forward to seeing what the senior team looks like once everyone returns from school and it gets closer to the tournament. My goal is to at least make the CONCACAF round in the next World Cup qualifiers and make it to the Women's World Cup in 2023.
Participating in the World Cup would be the experience of a lifetime and that's the main thing I want to accomplish before I hang up my boots. I don't have any plans to further my career professionally or anything like that. That would've been awesome, but now that I've had experience teaching, I love it. I wasn't sure what I wanted to do after college, but having the opportunity to work under Dean Minors over the past few months has been an enlightening experience and I want to focus on a career in teaching.
Photo courtesy: Joseph Johns. Sports journalist Nathan Carr previously ran the Home of Caribbean Football, and reports on football throughout the region, and also serves as a guest contributor to Bernews. You can read his past reports on Bermudian football here.

Read More About