Today [Dec 20] at City Hall, Mayor Charles Gosling presented CADA and the Salvation Army with donations from the City.
"The donations represent the City's ongoing commitment to contribute to organizations that play a pivotal role and provide much needed services within the community especially during the holiday season," the City said.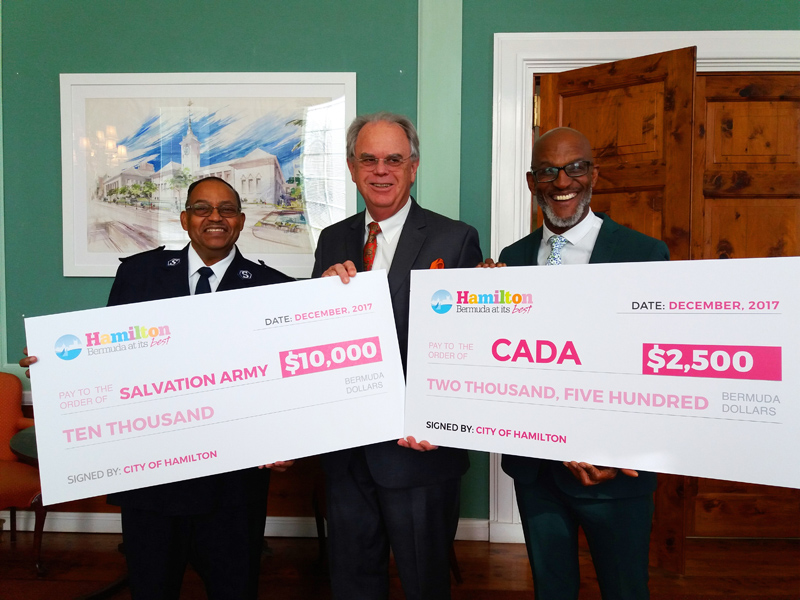 Anthony Santucci of CADA accepted the $2500 cheque on CADA's behalf. He said that CADA has been providing late night rides home with the Let Us Drive program on Friday nights for almost ten years resulting in more than 16,000 people being driven safely home.
"We are saving lives," he stated.
The Let Us Drive service is available on Friday nights between 3:15am and 3:45am in the with departures from outside of the LOM offices.
Calvin Ming, Divisional Director of Public Relations and Development at the Salvation Army was on hand to accept a $10,000 cheque.
He added, "The Salvation Army is thankful of this and we are moving funds along to bring some hope to those who are in a hopeless situation."
Of the donations, Mayor Gosling said, "As a City, we need to do what we can to help."
The Salvation Army Kettle Drive is still underway throughout Hamilton and any donation, not matter how big or small, is greatly appreciated.
Read More About