[Written by Nathan Carr]
25-year-old Bermudian international Dante Leverock chats with Bernews about his career so far, ambitions to play abroad again and why he feels Bermuda should be aiming to become one of the best sides in the Caribbean.
The towering defender is currently playing on the island but working diligently to get back into the professional game having recently played for Harrisburg City Islanders in the United Soccer League and Ilkeston in the English non-league.
Photo courtesy of Harrisburg City Islanders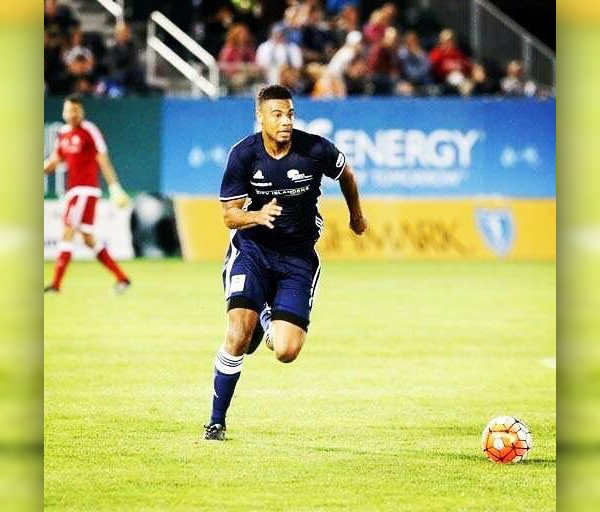 Q: How did you first get involved with the beautiful game?
A: I first started playing for my boyhood club Dandy Town Hornets at the age of five. I played with my friends from school and we all played for the same club, so we would play all day long. Growing up I was an attacker and a pretty good goal scorer.
I've travelled all over the world through football at both club and country level so looking back now I'm grateful for the doors football has opened for me.
Q: You mentioned that you're currently on some trials at different clubs. Can you please elaborate on that – where exactly and for how long?
A: I'm currently playing in Bermuda for Robin Hood, however, some opportunities to get back into the professional game have come up so I'm back and forth trying to sort some things out to get back into professional game.
Someone very close to me passed away recently and he was at his happiest when I was playing football so that's what I plan to do – to make him proud.
Ideally, I want to be playing football for a living waking up every day touching a ball and having had that opportunity for the past three years I want to get back to that level. That is my goal.
Q: How much of an influence does somebody such as Nahki Wells have on you as a Bermudian player playing in the English Premier League, arguably one of the biggest leagues in global football?
A: For me if you are playing football and getting paid to do so at any level it's an achievement in itself but Nahki is an inspiration to all the young Bermudian footballers who want to reach the pinnacle. He's shown it's possible for a Bermudian player to play in arguably the best league in the world.
I think because of the growing network of scouts and coaches; Bermudian players are getting more opportunities to go overseas and play in colleges and professional teams. That can only improve the national team at all levels, both men and women. A lot of the youth teams have had success recently which shows the hard work that has been done by everyone and the talent that we have on this island.
Q: What's the next step for the Gombey Warriors in terms of development and ensuring progress is made with the national team?
A: In terms of the senior team we want to be one of the best teams in the region. It won't be easy, but we do have a plan in place.
The opportunity is there especially with the new Nations League tournament which will give us more competitive games. That can only benefit us. The next cycle of tournaments will be vital for Bermuda to show the region that we can consistently compete and do well at these tournaments.
Q: What would you say is your biggest strength on the pitch?
In my opinion, my biggest strengths on the field are my physicality and communication which I feel are needed as a centre-back. I like to play like an old-fashioned centre-back, which I feel is growing out of the game. If I had to compare myself to another footballer it would be Rio Ferdinand – he was a strong figure when he was playing and a real leader.
Q: Who would you say has been your biggest role model in football?
A: My biggest role model is my cousin Khano Smith. He was one of only a few Bermudians to play in Major League Soccer and he motivated me to become a professional footballer. I thought if he could do it then I could as well.
- Sports journalist Nathan Carr previously ran the Home of Caribbean Football, and reports on football throughout the region, and also serves as a guest contributor to Bernews. You can read his past reports on Bermudian football here.

Read More About