The Department of Customs recognized twelve Trainee Customs Officers [TCO] who successfully passed the Basic Customs Officer Training programme.
The 12 TCOs are Clynae Burrows, Rickai Burrows, Joshua Fox, Michael Furtado, Shirieka Lambert, Larry Marshall Jr., Miguel Medford, Amir Ming, S. Jodi Simmons, Macio Talbot, Saleem Talbot and Anthony Zuill.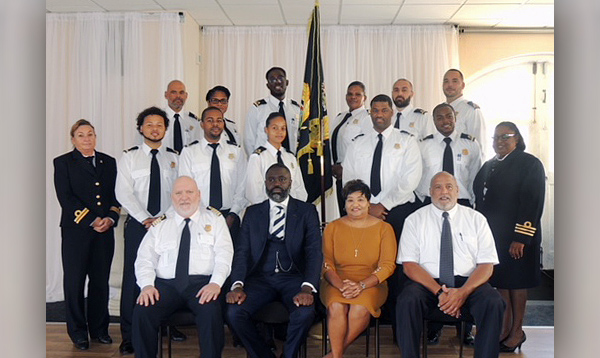 "The 12 TCOs were the successful candidates out of 541 applicants," the Ministry noted.
"And for the last eight months they have undergone a rigorous on the job training programme, which included specialized training in preparation for the America's Cup and the busy summer cruise ship season. Next steps for the 12 TCOs will be additional training which will culminate in final testing to be a confirmed Customs Officer."
Minister of National Security Wayne Caines attended the ceremony and said, "On a daily basis, our Customs Officers are responsible for collecting revenue and protecting our borders, so it was extremely encouraging to see the addition of these new Trainee Customs Officers to the ranks of the Department.
"The Ministry has worked tirelessly in recent months with the Collector of Customs to fill a number of vacant posts in the Department. This is vital to the responsibilities Customs has in border control generally and for ensuring Bermuda passes muster in the anti-money laundering regime.
"This Ministry will continue ensuring that the Collector and the Collectorate have the support and resources they need to carry out their critical duties."
The Collector of Customs, Cindy Pearman, pointed out that this year's group of TCOs bring a range of experience to the Customs Department, with various individuals having worked in several career industries both locally and overseas.
During yesterday's recognition ceremony, the TCOs were highlighted for various achievements, including: Highest Test Scores – TCO Clynae Burrows, Most Customs Seizures / Drugs and Commercial Infractions – TCO Rickai Burrows; and the Collectors Commendation for excellence interdiction – TCOs Shirieka Lambert, Miguel Medford, Clynae Burrows and TCO Rickai Burrows.
Read More About