Bermuda's best tennis players clashed over the weekend at the W.E.R Joell Tennis Stadium for the annual Men's Over 30 vs Under 30 team competition.
Both teams featured some of the top-ranked players on either side of the divide; seasoned national squad players Gavin Manders and Jenson Bascome represented the Over 30's, while David Thomas and Neal Towlson led the attack for the Under 30 team.
The annual competition, the brainchild of former BLTA President, William Way Sr., hadn't been played in over a decade but was kick-started last year. With the 'Young Guns' emerging victorious in 2016, along with key players ageing up to the Over 30's team this year, the match was bound to be a see-saw battle filled with twists and turns from the outset.
David Thomas, captain of the Unders described the event as, "A great platform to engage players young and old who genuinely love competing to come together before the holidays to fight for bragging rights for the upcoming year. It's also an opportunity for some of the guys that have been abroad in school to showcase what they've been up to for the past few months."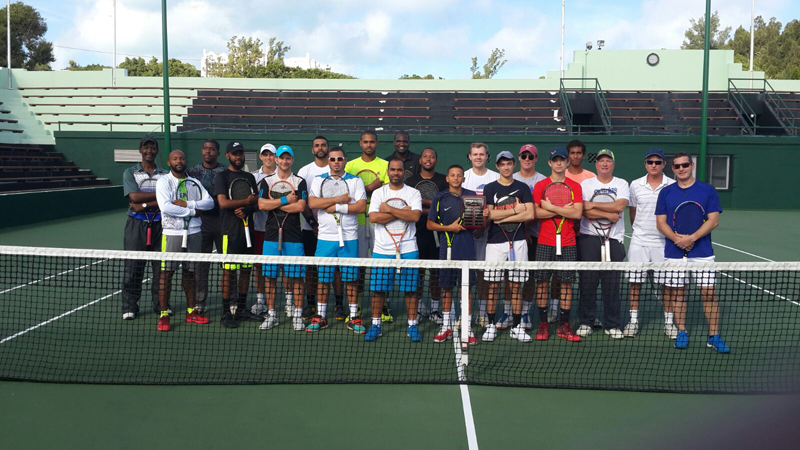 The Overs drew first blood as the pairing of Jovan Whitter and Stuart Smith used their heavy experience to defeat Denzel Hollis and Daniel Phillips 6-1, 6-2.
The Overs took a commanding lead after winning the battle between the top two teams on the day, with Bascome and Sam Butler holding Thomas and Courtland Boyle at bay 6-3, 6-4.
The Unders began clawing their way back into the tie with cousins Neal Towlson and Trey Mallory securing a much-needed victory over skilled veterans Gavin Manders and Michael Way, 6-1, 6-4.
In a matchup that will likely go down as the match of the day, Chris Weeks and Jack Keyes led a spirited come from behind victory that set the table for the last match, 'winner-take-all' finale. They won a nail-biter, defeating Romar Douglas and David Jenkins 4-6, 6-3, 10-8.
The final match on featured players ranging in age from 16 to over 65, truly showing that tennis is a sport for life. With the tie all knotted up 2-2, wily veteran Earl Leader and big-serving Kyle Williams struck first, winning the first set, 7-5.
Not to be outdone, the youngsters came back with a vengeance in snatching the second, 6-1. With tension rising, and all of the players from either team surrounding Court 5 to spur their teammates closer to the finish line, the Unders held their nerve in the tiebreak to win the match, and the fixture, 10-7.
Thomas continued, "It's not often that you get everyone availabile, as we saw today with both sides missing some key players. That said, it was a special day and I'm grateful for all the players who were able to participate. You have to put your best foot forward, and we excited to come from behind and pull this one out, even if only by the skin of our teeth!"
Over 30's Team: Gavin Manders [Captain], Jenson Bascome, Sam Butler, Jovan Whitter, Michael Way, Romar Douglas, Stuart Smith, David Jenkins, Earl Leader, Kyle Williams
Under 30's Team: David Thomas [Captain], Neal Towlson, Chris Weeks, Jack Keyes, Courtland Boyle, Trey Mallory, Denzel Hollis, Luke Stirling, Scott Redmond, Daniel Phillips

Read More About