BELCO sent its third crew to Tortola, British Virgin Islands [BVI] on Monday to further assist with ongoing hurricane restoration efforts following the devastating effects of the Category 5 Hurricane Irma.
Hurricane Irma, one of the most powerful hurricanes ever to be reported, caused wide-spread destruction throughout BVI, including its national electricity grid.
This was followed, two weeks later by Hurricane Maria, and between both hurricanes, approximately 90% of BVI's electricity network was destroyed, including damage to BVIEC's own power station, disabling 34.5 MW of its generating capacity.
Jamaal Salam, Craig Brangman [Team Leader], Jason DeRoza, Marcus Astwood, Shawn Wade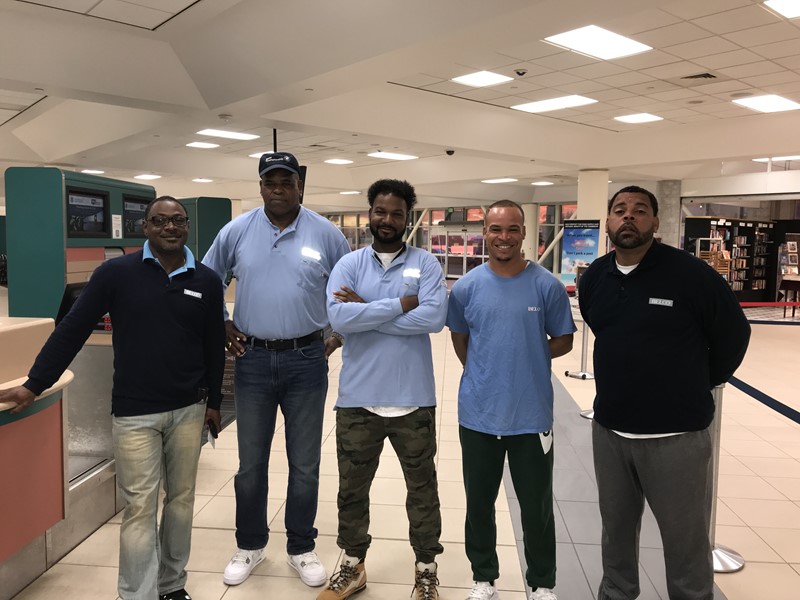 BELCO explained that reports received by Caribbean Electric Utility Services Corporation [CARILEC] and BVIEC in early December, at the time BELCO's second crew was returning to Bermuda, indicated that approximately 42.5% of BVI's average load [or 14MW] was online; approximately 50% of the network had been energised; and approximately 45% of customers had been reconnected.
BVIEC, the Island's electric utility also made a formal plea to all external utilities that had provided support from September through December 2017, to have crews return to BVI the new year in order to achieve their goal of having full power restored to BVI by the end of February 2018.
BVIEC's request for additional support did not fall on deaf ears with BELCO, and on Monday, January 22nd, 2018 a crew of five Linesmen were deployed to Tortola, BVI, four of whom had previously served.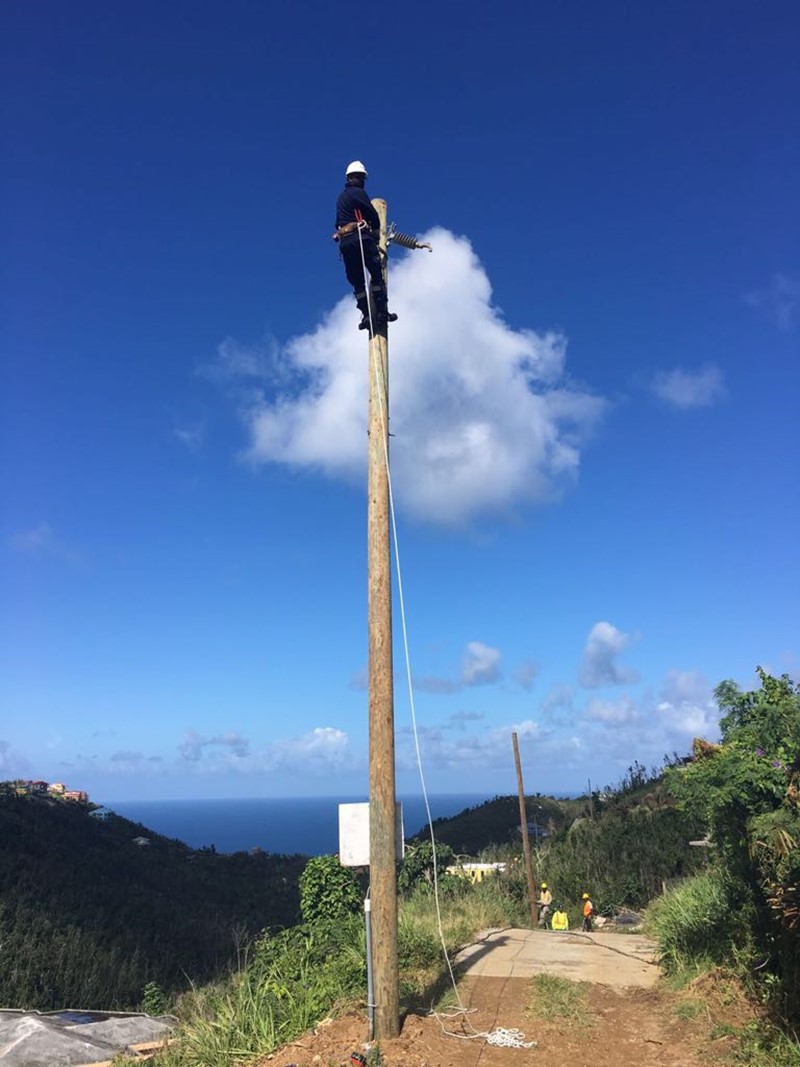 The current Lineman Crew includes:
Craig Brangman – Team Leader [2nd deployment]
Marcus Astwood [3rd deployment]
Jason DeRoza [2nd deployment]
Jamal Salaam [1st deployment]
Shawn Wade [2nd deployment]
When asked why he would sign up for a second deployment when the working conditions were so tough, Team Leader, Craig Brangman shared, "Our job is to put peoples' power on and to put smiles on their face when they get their electricity. These people have been without power since September 3rd. Our job is to make sure we give them back their power."
"People are happy we are back, the reception that we got when we arrived back in Tortola was great. Everyone that we knew, and the people in the areas where we are working, were really happy to see us back and to have us here working. This is what we do.
"And we appreciate giving power back to people who need it. It's hard work; it's not easy – but this is what we signed up for. This is what we are blessed to do."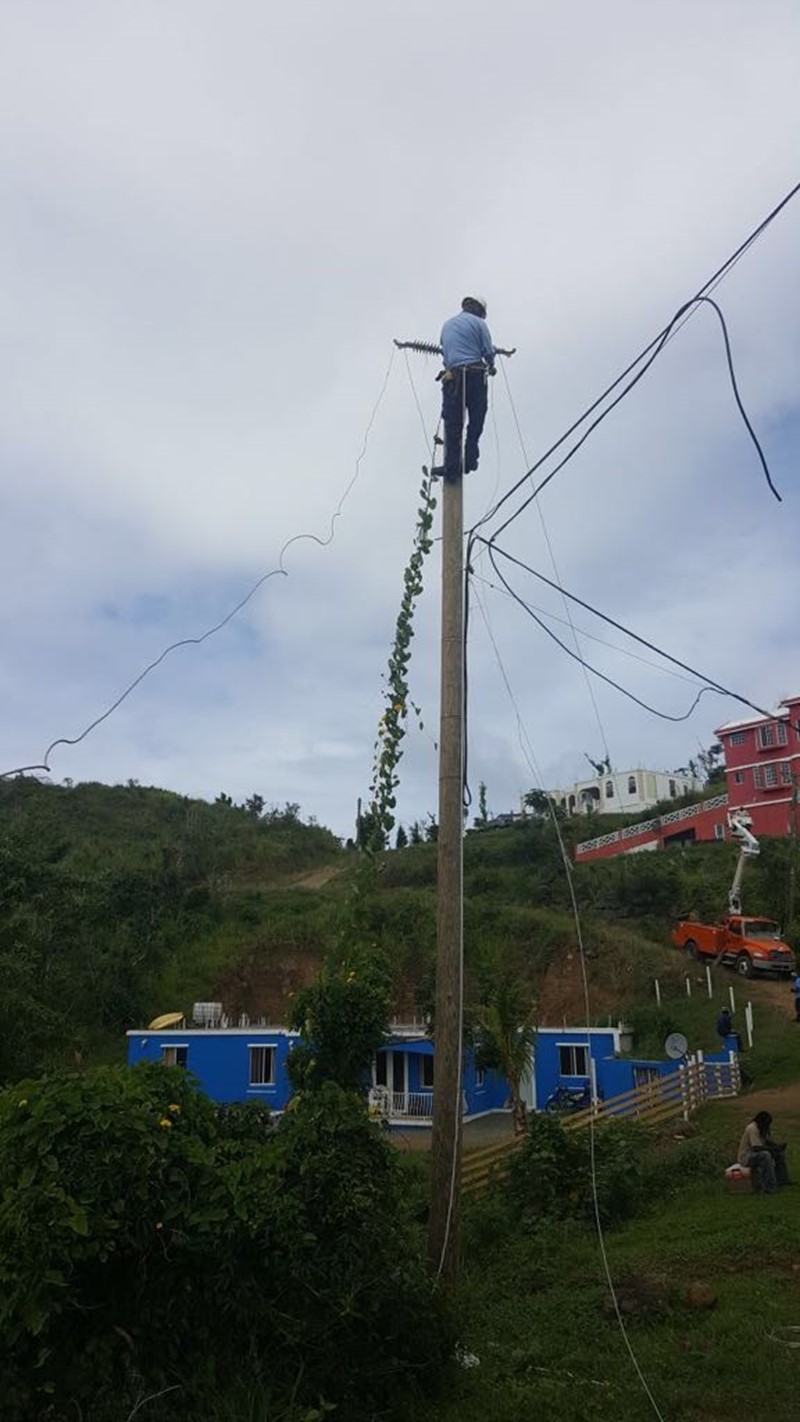 The current BELCO crew is expected to remain in BVI for a six-week period where they will continue to work on rebuilding the Island's electricity infrastructure and restore power to local residents. It is anticipated, however, that BELCO will continue to provide support crews until power is fully restored to BVI. The public can keep track of BELCO's BVI Linesmen Crew on Facebook and Instagram.
"Borrowing from the recent words of BVIEC's General Manager, from the beginning, it was clear that this race was not a sprint, it was a marathon," says Vice President of Grid Operations, Dennis Pimentel.
"This is critical work for our fellow Islanders in BVI, who three and a half months later, have yet to return to a sense of normalcy following Hurricane Irma. It is BELCO's intention to support the restoration of BVI's electricity infrastructure through to full restoration. Why? Because it is the right thing to do."
"And I must express how proud I am of all three Linemen Teams and everyone within the BELCO/Ascendant Family who have worked so hard to ensure we have been able to provide such an impactful level of support to our sister island, BVI."

Read More About