BELCO's Lineman Crew — originally scheduled to depart on September 16th — will be flying out tomorrow [Sept 27] in order to help restore electricity in the British Virgin Islands.
"Following the devastating effects of the 185mph winds of Category 5 Hurricane Irma to BVI's electricity infrastructure, BELCO had responded to a request for urgent support from the Caribbean Electric Utility Services Corporation [CARILEC] by confirming the availability of a team of 6 Linemen Crew," BELCO said.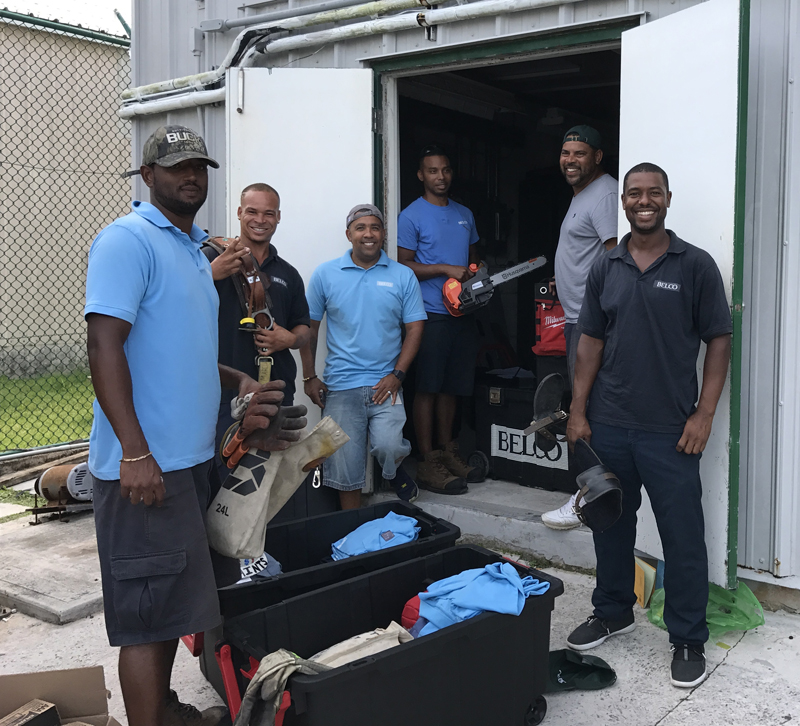 "Due to the impending direct impact of Hurricane Maria to BVI, the need to ensure the safety of our Team members and the need to ensure Bermuda had enough manpower in the event Hurricane Maria set course for Bermuda, BELCO delayed the departure of the Crew.
"New travel arrangements were undertaken as soon as BELCO was advised by CARILEC that it was safe to do so.
"The Lineman Team travelling to BVI includes:
Chad Brimmer – Foreman
John Martin – Lineman, Grade 1
Marcus Astwood – Lineman Apprentice
Shawn Wade – Lineman, Grade 1
Sherman Trott – Lineman, Grade 1
Stevon Trott – Lineman Apprentice
"They will spend the next four weeks working alongside the BVI Electric Company in rebuilding BVI's electricity infrastructure and restoring electricity to the people of BVI.
BELCO's Vice President of Grid Operations reiterated his pride for the Team, saying: "I am extremely proud of these guys.
"This is no small task and will not be undertaken in an environment of comfort. Their expertise is going to be used to bring back some sense of hope to BVI residents as they work through the rebuilding of infrastructure and restoration of power."

Read More About