Fish Chowder, Japanese Beef Curry, Fish 'n' Chips, Chicken Quesadilla, Seared Wahoo Bites, Margherita Pizza, Lobster Curry, Thai Rice Paper Wrap, Marinated Pork Teriyaki, Shark Bruschetta, Rum Cake, and Chocolate Mousse are just a few of the options available for the lunch portion of this year's Bermuda Restaurant Weeks, with fourteen restaurants offering $22 lunch specials.
This year's Bermuda Restaurant Weeks runs from January 11 through February 4, with 51 local restaurants taking part. All the restaurants are offering three-course dinner menus with three price tiers at $32, $42 and $52; and for the second year lunch has been made available as part of the promotion, with over a dozen restaurants offering special lunch menus.
Restaurants serving lunch specials, list extracted from full brochure [PDF here]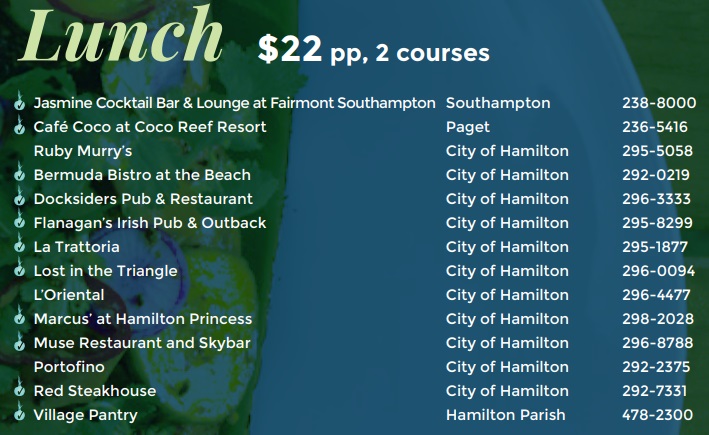 Restaurants offering the $22 lunch specials include Cafe Coco, Bermuda Bistro, Docksiders, Flanagan's Irish Pub & Outback, La Trattoria, L'Oriental, Lost in the Triangle, Marcus', Muse Restaurant, Portofino, Red Steakhouse, Village Pantry, Ruby Murry's, and Jasmine Cocktail Bar & Lounge.
Thanks to assistance from the BTA, we have compiled all the lunch special menus, which can be seen below. We listed a brief summary of the offerings under each header, however for a more comprehensive description of the full offerings please click the PDF link. We are working on the dinner menus, and will post them in a subsequent article!
Cafe Coco At Coco Reef
Bermuda Bistro
Flanagan's Irish Pub and Outback
La Trattoria
L'Oriental
Lost in the Triangle
Marcus'
Muse Restaurant
Portofino
Red Steakhouse
Village Pantry
Jasmine Cocktail Bar & Lounge
Docksiders Pub and Restaurant
Ruby Murrys

Read More About
Category: All, Business, Entertainment, News