Recent "remarks and insinuations" about senior Public Officers are "unfortunate and inappropriate," Cabinet Secretary and Head of the Civil Service Dr. Derrick Binns said, adding that "in the face of this unfortunate commentary, Public Officers will continue to provide impartial support to the Government of the day."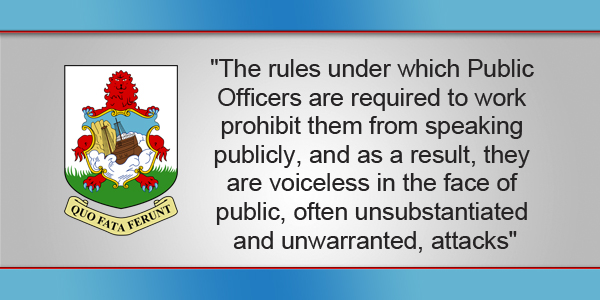 In a statement which aimed to "address disparaging comments made recently about senior executives of the Public Service," Dr. Binns said, "The role of a Public Officer is to serve the elected Government of the day, provide sound technical advice and implement policy decisions. This guidance is based on many years of knowledge, skill and expertise and is carried out with professionalism and integrity.
"The rules under which Public Officers are required to work prohibit them from speaking publicly, and as a result, they are voiceless in the face of public, often unsubstantiated and unwarranted, attacks. This does not give anyone the right to malign the personal or professional reputation of any Public Officer.
"Recent remarks and insinuations made about senior Public Officers in response to the Governor and Premier's decision to separate the posts of Secretary to the Cabinet and Head of the Public Service, and comments made about the Permanent Secretary of Health as reported by the local media, are unfortunate and inappropriate. These attacks undermine the hard work of Public Officers and impugn their integrity.
"In the face of this unfortunate commentary, Public Officers will continue to provide impartial support to the Government of the day. I publicly thank the hardworking and dedicated men and women of the Public Service for their unwavering commitment to the people of Bermuda."
Read More About