[Updated] Minister of National Security Wayne Caines and Gang Violence Reduction Coordinator Pastor Leroy Bean held a press conference this morning [Jan 11] to announce the 'Peacebuilder' programme.
The press conference has just concluded and we will have additional information later on, and in the meantime the 14-minute live video replay is below.
Update 1.47pm: The Ministry said the PeaceBuilders initiative aim is "to deploy a team of citizens to support neighbourhoods, to reduce tensions in recognized 'hot spots and to provide a reassuring presence in the event of a crisis. Crisis situations can range from a national disaster, anti-social behavior or gang violence.
The first training session gets underway on January 20th. Topics will include:
Mental Health and Gangs – Dr. Carla Bean
Mental Health First Aid and What To Do During A Crisis – Dr. Cherita Raynor and Dr. Shawnee Basden
Managing Crisis – Petra Spencer-Arscott
Disaster Management – National Disaster Coordinator – Steven Cosham
Understanding Your Role At A Crime Scene – Superintendent Darrin Simons
Understanding Grief During A Crisis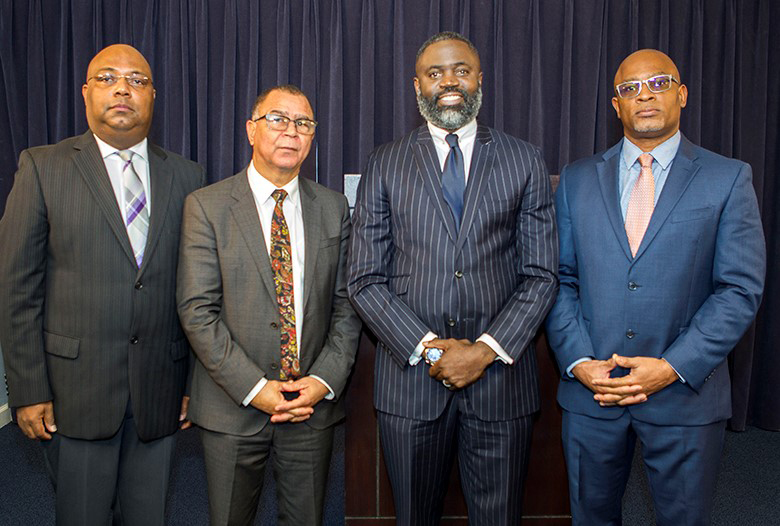 Minister of National Security Wayne Caines remarks:
This new year of 2018 is full of promise and the Ministry of National Security is determined to continue the community engagement that has positively impacted our efforts to combat violence and anti-social behavior.

Most of the meetings I attend, whether with business people, clergy or ordinary citizens, usually end with people asking how they can help. There is a lot of untapped goodwill in Bermuda and we believe that the time has come to put that to good use.

Today, I am pleased to announce a new initiative within the Ministry of National Security called "Peacebuilders". We will take the concerned citizens, the corporate entities looking to give back, parents, friends; anyone willing to serve; and train them in some basic skills. The aim is to deploy a cadre of citizens to support neighbourhoods, to reduce tensions in recognized "hot spots" and to provide a reassuring presence in the event of a crisis. One-hundred and nineteen [119] people have already signed up and expressed an interest in supporting the community in this way and the first training session will take place next Saturday January 20th at Heritage Worship Centre, Dundonald Street.

This is an exciting prospect and I am confident that this will serve to empower ordinary citizens to lead change in the lives of those looking to break the cycle of violence and anti-social behavior. Under the leadership of Pastor Leroy Bean, we have assembled a team of professionals to deliver the training on topics like "Mental Health First Aid" and "Managing Crisis".

Although this initiative has its origins in a need to deal with these community issues, the possibilities for growth are equally as important. I have asked the Ministry team to incorporate a disaster management piece to the training so that Peacebuilders can also be used in community assistance in the event of any national disaster. Bermuda will be well served by the manifested commitment of those who want to help.

I am pleased to be joined by Dr. Carlton Crockwell, COO of Security Associates Ltd. and Mr. Keith Jernigan Sr., Vice President Electronic Systems and Services, Bermuda Security Group. This Group of Companies has taken a leadership role and is the proud sponsor of Peacebuilders.

Through their generous support, we will provide our trained personnel with distinctive vests that clearly indicate that they are a part of Peacebuilders. This kind of partnership is vital to how we move from just talking about issues to actually impacting the lives of the people we serve.

Thank you for your support.
Read More About