Hamilton Insurance Group, the Bermuda-based holding company for insurance and reinsurance operations in Bermuda, the U.S. and at Lloyd's, today [Jan 11] announced a shift in the funding strategy undertaken by its Community Giving Committee.
"Following strategic planning that identified opportunities to align Hamilton's philanthropy in Bermuda with the Company's mission of writing the future of risk, members have decided to transition from funding a number of Bermuda-registered charities to adopting a philanthropic focus that makes a meaningful difference to the root cause of a community issue," the company said.
"As a result, the committee has allocated the majority of its funding during 2018 to an organization that contributes to the digital literacy of Bermuda's youth. This organization is technology incubator ConnecTech.
Left to right: Ciarra Wells, West Pembroke Primary School, Jasmine Scaiffe, Gilbert Primary School, Kathleen Reardon, CEO Hamilton Re, Diallo Rabain, Minister of Education and Workforce Development, Noah Kipps Gibbons, Purvis Primary School, and Coral Wells, President, ConnectTech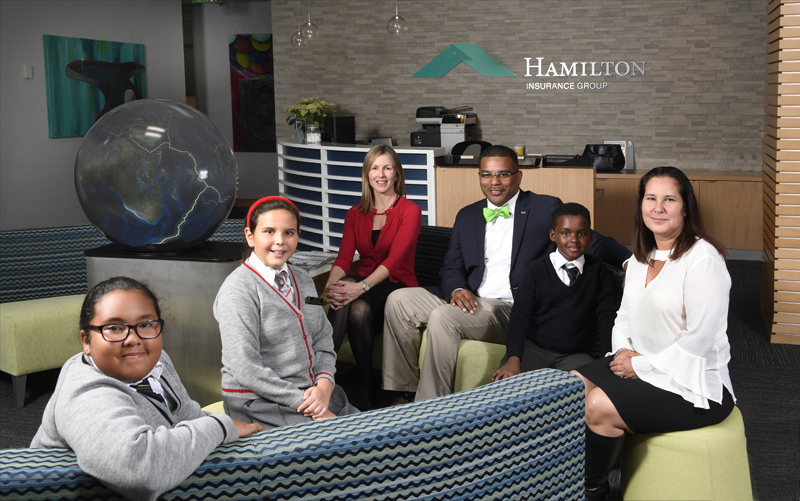 Hamilton's funding for ConnecTech will be in support of two coding programmes that will be offered during 2018: the first, which begins on Monday, January 15, is a pilot programme in Bermuda's public primary schools. This programme will focus on teaching primary school students to code.
The second, which will be offered during school breaks and holiday periods, is the Django Girls coding programme. This international programme will bring expert instructors to the Island to offer young girls a customized opportunity to learn to code. Hamilton's support will broaden the reach of the programme to students who wouldn't otherwise have access to this acclaimed programme.
"We're delighted to partner with ConnecTech on these important initiatives," said Hamilton Re CEO Kathleen Reardon.
"We're excited about the opportunity to broaden the access Bermuda's young people have to the digital learning that will enhance their competitiveness as they progress through school and on to higher education.
"Their exposure to technology, computer science and computational thinking will be an invaluable tool, not only in our young people's educational development, but in the ongoing development of Bermuda as an international business centre.
"As a company that depends on a sophisticated, multitalented workforce to achieve its mission, and that prefers to hire local talent, this investment in Bermuda's future workforce and the Island's overall competitiveness makes good sense for many reasons.
"We're looking forward to working with Coral Wells and her team as these programmes are introduced to the community this year. We'd also like to express our appreciation to Minister of Education and Workforce Development the Hon. Diallo Rabain, JP, MP, Acting Commissioner Kalmar Richards, and the Ministry of Education for facilitating the introduction of this programme across all public primary schools, and to One Communications for the provision of free WiFi."
Minister Rabain said: "Last year, the Ministry reached out to ConnectTech to inquire about developing a coding programme which supports STEAM Education in our public schools. Today, we are pleased to extend our gratitude to Hamilton Insurance Group for their generous sponsorship of the ConnectTech coding programme that will be implemented this month in public primary schools.
"At present, a few of our primary schools integrate coding into their curriculum. With the ConnecTech programme, all primary schools will be able to implement the new programme or enhance their existing programs. Coding is a fundamental skill for young children to get them ready for movement into computer programming by covering the basic programming concepts.
"The new partnership between Hamilton Insurance Group, ConnecTech and the Department of Education is an example of how working together we can enrich and expand school programmes. Ultimately the students win, schools win and the community wins."

Read More About
Category: All, Business, News, technology