Dennis Brown and Cal Blankendal, President and CEO of Bermuda's Brazilian Football School [BBFS] are inviting the public to an information session about the launch of the new F.I.R.S.T. program.
The event will be held today [Feb 6] in the Bermuda High School gymnasium, getting underway at 5.30pm.
A spokesperson said, "The program will be introduced at 5:30 pm and the players will have an opportunity to showcase their skills from 6:15 to 7:30 pm.
"The coaching will be led by President Dennis Brown – Head of Technical and Coaching Development. CEO Cal Blankendal will lead the academic and life skills development programs and will assist President Brown with coaching.
"Both President Brown and CEO Blankendal are UEFA B licensed coaches with Brazilian Schools, Futsal and Coerver skills Youth Diplomas."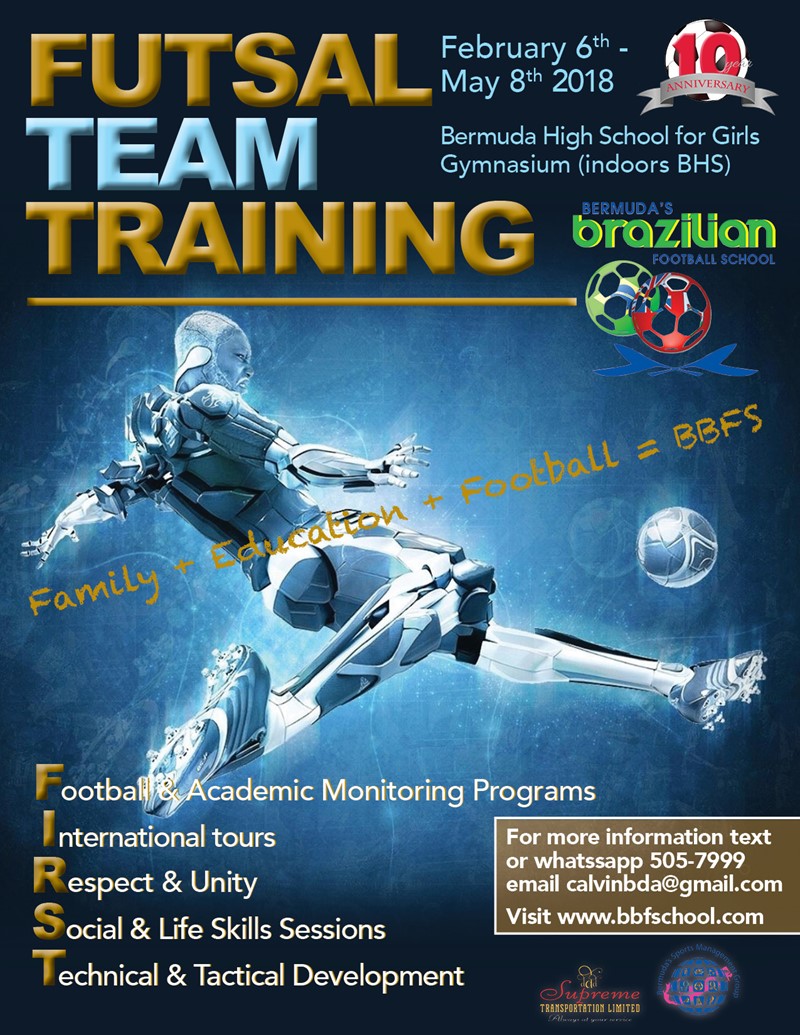 "Join the F.I.R.S.T program, where the core focus is on you, the player, your family, your education, developing your futsal and football talent to achieve academic success and life skills.
"The acronym F.I.R.S.T stands for Football and Academic Monitoring; International Tours; Respect and Unity; Social and Life Skills Seminars; Technical and Tactical Development Sessions.
"The F.I.R.S.T program will equip your son/daughter with enhanced skills both on and of the field.
"The training sessions will be held on Tuesdays from 5:30 to 7:30. U7 – U11 will train from 5:30 to 6:30 and U13+ from 6:30 to 7:30 pm.
"To participate, all players must have a positive attitude, physical fitness [desire to improve their personal health], attend school or be gainfully employed, submit reports cards/academic progress reports, be open to receiving positive criticism, be available for training and matches, be drug free, and not involved or affiliated with anti-social or gang related activities."

Read More About