In celebration of the school's 120th anniversary, the Berkeley Institute Anniversary Celebration Committee is shining a spotlight on its alumni, with the ninth profile highlighting Patricia Gordon-Pamplin, Class of 1966, Gold House.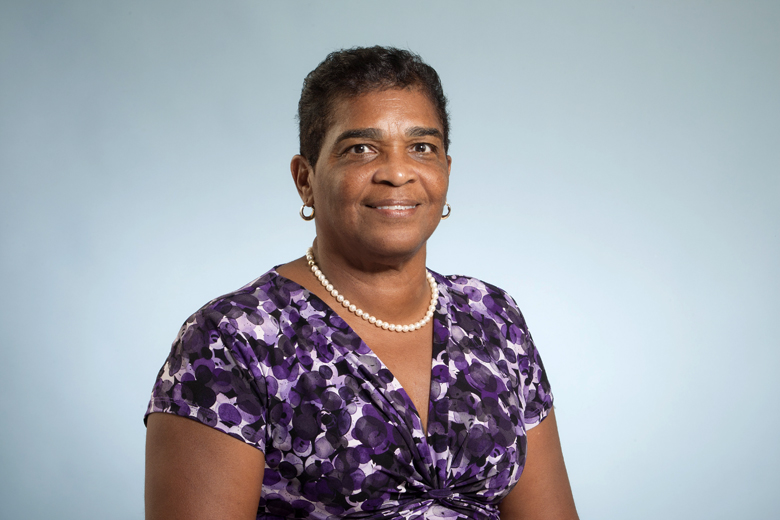 What does it mean to you to be a Berkeleyite?
Pride in knowing that I am able to contribute selflessly and willingly to our society.
What is your fondest memory of your time at The Berkeley Institute?
Being called to the office for circumventing the rules.
What made The Berkeley special to you?
The love and support of my teachers and peers, the learning environment and the innate ability to discern at an early age how to enjoy my vocation such that my employment provides great enjoyment.
How have you applied the motto Respice Finem to your life?
With every decision, I strive to be fair and consistent, knowing that others are watching and perhaps even emulating. I therefore guide, counsel, direct and mentor at every opportunity knowing that my input could change lives, hopefully for the better.
How did your time at Berkeley aid in your decision for your career path?
The ability to get through bookkeeping at RSA 1 & 2, followed by GCE "O" in the subject cemented my love for the subject and my ultimate career choice.
What advice would you give to current Berkeley students and other young people?
Be respectful of your families, knowing that you represent them when you leave home, be appreciative of your teachers as they are there to guide and counsel you, and love and embrace your peers so that you can be a support system for each other to traverse the minefield of life successfully. Learn all you can, be like a sponge, and apply vigorously all that you learn in an environment where you will be happy.
What factors played a role in your decision to attend Berkeley?
Won a scholarship in the days when fees were required to be paid, and having been sent abroad to Jamaica rather than taking up the scholarship, I returned to complete high school at The Berkeley.
Who was your favorite teacher and why?
Edwina Smith who was my advocate to beg on my behalf to be reinstated to a class from which I had been expelled!
What was your favorite subject and why?
English, as the ability to articulate effectively has always been a goal.
How has/in what ways have Berkeley alumni helped to shape Bermuda?
Berkeley alumni have provided significant and impactful leadership in all areas of our country, from Parliament to Civil Service to professions such as medicine, law, banking.
What advice would you share with a student pursuing a career in your field?
The accounting field is wide open for Bermudian talent as there is a significant number of foreign accountants who fill the demand that we have not been able to satisfy. Follow closely behind accounting, I would recommend underwriting.

"From the onset Berkeley has been a beacon for the minds of tomorrow," Berkeley's 120th Anniversary Celebration Committee noted.
"The green and gold family is steeped in tradition and culture in academic excellence, Berkeleyites have made and continue to make profound and valuable contributions to Bermuda and the world.
"The Berkeley Institute wants to recognize the exciting and innovative things our alumni are doing, here in Bermuda and around the globe.
"Berkeleyites compromise all walks of life and careers from academia and athletes, to banker and business owners, educators and engineers, politicians and preachers, dancers and doctors to homemakers and hoteliers.
"We are recreational athletes to athletes on the world stage. Classroom debaters to barristers, boardroom strategies to Cabinet Ministers."
And as part of the celebration of Berkeley's 120th anniversary, alumni of the school are being featured on Bernews, and you can read a profile on Juan Philip Wolffe here, Florenz Webbe Maxwell here, Garon Wilkinson here, Candace Furbert here, Shernette Wolffe here, Scott Wade here, Mustafa Manders Ingham here, and Kristin White here.

Read More About